No more boring dinner gatherings! go for the most extravagant colour combinations for dining rooms. Get yourself away from the boring white and cream colours – there is a better scope now. You can easily strike the right atmosphere of comfort and refreshment into the dining rooms. Some of these most unexpected and amazing dining room colour combinations are sure to splash calmness and brightness. These days whenever we talk about colours be it the top interior colours of the year or for that matter choice of colours for any space. Two-toned walls seem to be the top priority. It can hardly go wrong. So why not create a dining room colour combination as well?
The dining room is a space in your home where you can genuinely go for combinations that are out of the box. The biggest and the most important thing that allows you to be more on the creative side is that we don't spend much time there. However, with certain unique combinations every time you go there you won't be disappointed. The right choice of colours makes your experience smooth and beautiful. For you to take inspiration, we have come up with our suggested colour combinations.
The content is created after in-depth research on the latest combination of colours and a full-proof comparison of the top blogs. However, note that the list given below is not in any particular preference. You may seek combinations according to your likes and dislikes. One may also experiment and create their unique set of combinations after taking inspiration.
You may also read colour combinations for other spaces: Two Colour Combination for Living Room Walls | Modern, Two Colour Combination For Bedroom Walls in 2021, Interior Paint Color Trends 2021 | Color of the Year
1. Steel Blue and White | Dining Room Colour Combination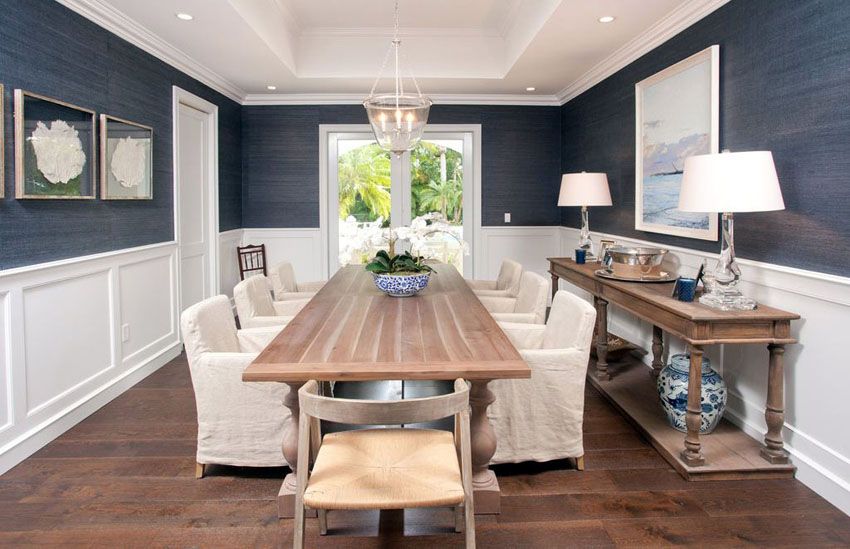 Have you heard of steel blue?. Though the name suggests that it might be some silver colour but no, it's a shade of grey and blue. It is usually referred to as blue-grey colour. This colour combination of steel blue and white helps create a fresh and sophisticated atmosphere in your dining room, you might think you are sitting in some five-star restaurant or hotel. The coolness of blue and crispiness of white, gives a very eye appealing look. The look is so luxurious that it will make people rethink the shade. With this colour combination, you can go for any aesthetic or statement-making piece of decor. It will very easily blend with your walls. The versatility this shade of blue-grey provides you with pieces of decor will leave you amazed!
2. Cozy Yellow and Off-white
You can create a very gorgeous-looking dining room with this combination. It would help you create a warm and inviting environment. With yellow geometric patterns and decor items go really well. You can have both a formal and appealing space that is sure to become a perfect dining ground. Any item of wall decor particularly paintings in general create a very luxurious look. On the dining table, you can add a flower vase that will naturally complement the yellow shade. However, with yellow, you can also go with a white shade instead of off-white. The shade of yellow has a special place for indoor plants, as yellow is a natural colour. And for some reason, yellow encourages natural plants. Confused about what plants to go with? Read Best Indoor Plants that clean and Purify Air | Improve Air Quality Remember when using this colour combination consider lighting of your dining room area.
3. Pale Pink and Bright White | Dining Room Colour Combination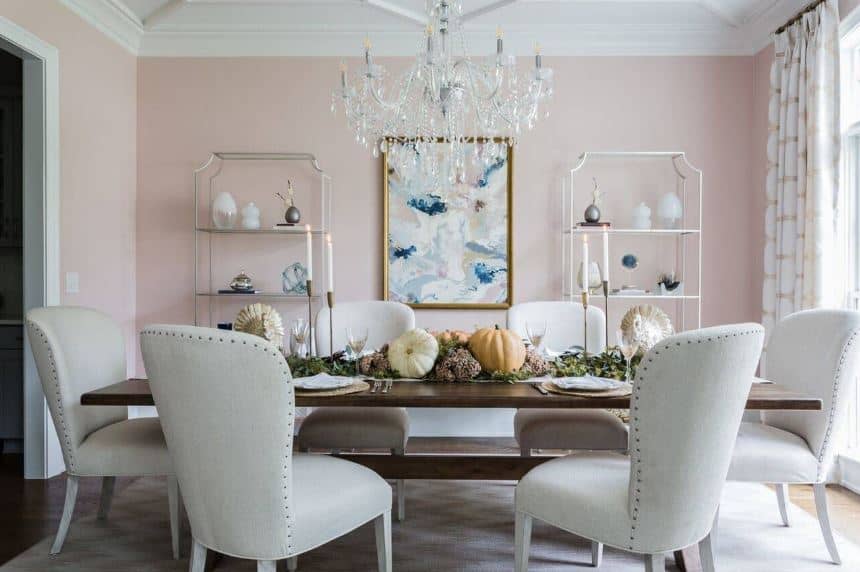 Want to go with the traditional way of paint colours for the dining room?. Well then go with a modern twist. For a perfect soft and elegant look in your dining area consider this delightful combination. The pale pink is that shade that will allow you to have the perfect traditional yet modern ambiance. If we talk about bright white, you can make it more impactful by going for white furniture and frames. While adding dashes of black will add a statement, making it look really professional and classy. You can always add a geometric chandelier which will further enhance the colours. Paintings are highly encouraged in this combination.
4. Bold Blue and Cream
Undoubtedly, the stereotype breaker. Leaving behind the images of light and soft ambiance. This is a very bright and appealing combination you can go for dining rooms. This combination allows a lot of room for experiment, you can easily go for curtains with printed fabrics of your choice. You have a broad spectrum for furnishing and adding wall decor pieces. The traditional wooden furniture is the key to these colours. The bright colours easily accept such traditional pieces. You can also create an aesthetic wall, where you can fill it with photo frames and create a family gallery. What better place than the dining room to have a touch of family memories?
5. Forest Green and Brown | Dining Room Colour Combination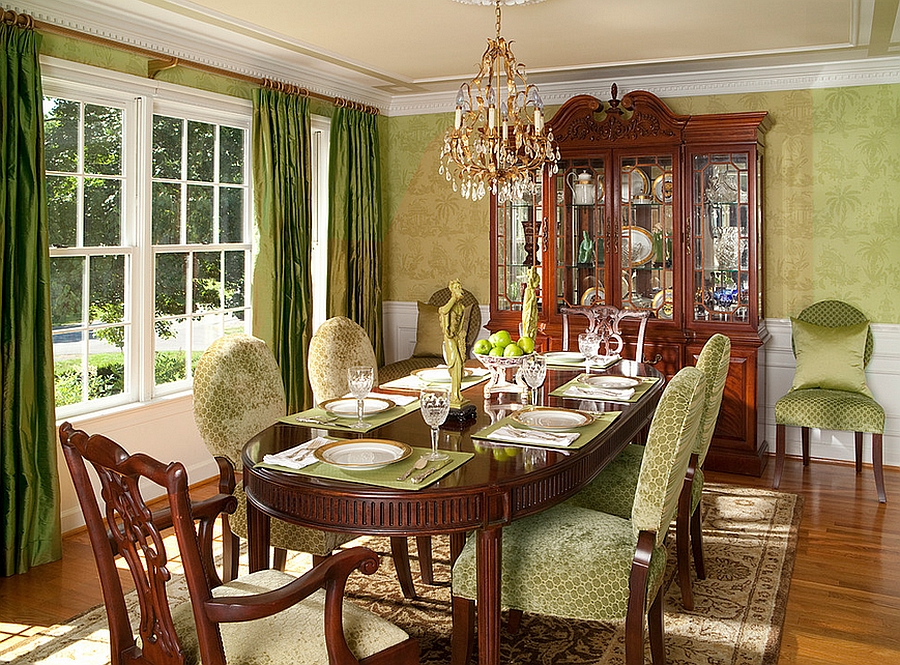 If you are aware of the designers' favorite shade for this year, then you know how safe this combination can get. Earthy and natural shades are in the trend and are charting on the top. The forest or the jungle colour brings full nature vibes and the combination with brown will definitely reflect another level of nature and earth. When it comes to decor and furnishing your dining room you can add mirrors and wooden frames they will easily blend with your walls. Just like the yellow shade they too encourage natural indoor plants. With the base, being green white and brown colour furniture will look great. While opting for this colour combination in your dining room you will be able to create a cozy and inviting space for gatherings.
6. Shades Of Grey
We have talked so much about this in our other colour scheme blogs. Yet again, we really won't get tired of talking about grey and its versatility. You talk about any hue, and grey can be combined with it. And forget about other hues grey can create magical combinations with its own shades. You can easily opt for grey as it is perfect for any room. Be it the living room, bedroom, and dining room. Grey is the safest choice of colour if you really want a modern look. They serve greatly when it comes to creating an aesthetic wall, or in adding pieces of decor.
However, it is advisable to pick grey under some experts guidance according to your room. It is very important to read your space properly, otherwise, you may create a blunder. As grey acts as magnetic for sunlight, sometimes they will create stunning ambiance and sometimes you may not appreciate it.
7. Sunny yellow and Warm Cream
Bright yellow adds so much brightness that will fill your entire space with positive energy. While the warm cream balances the brightness out. If you are looking for a combination of both bright and pale colour then no other better combination than this. You can have both the traditional vibe of dining rooms and at the same time enjoy the modern look. Yellow allows you to have stunning pieces of decor and plants. However, the warm cream allows for pieces of decor as well. You can create an aesthetic wall on any of your favorite walls. The room will surely allow you to have cabinet shelves and boxes. You can go very simple yet very luxurious by adding a mirror as the centerpiece.
8. Wine and White | Dining Room Colour Combination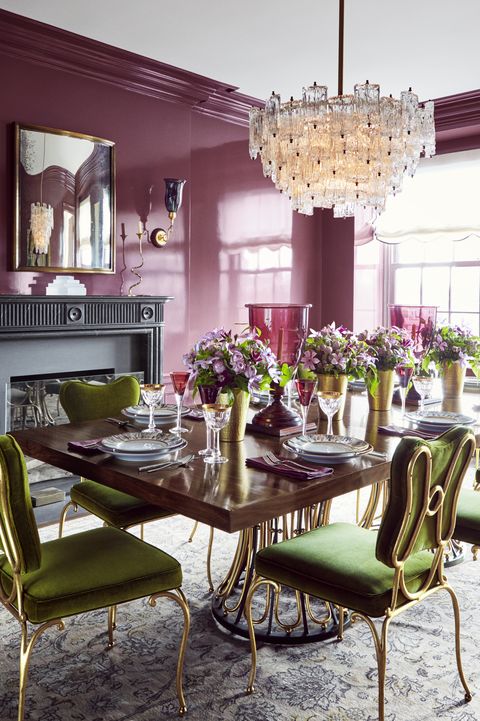 The most flattering and rich combination that you can choose. The luxury and royalty this combination can bring are matchless. The richness of wine colour and crispiness of white provide a very aesthetic look. You must go for rich brown furniture with bedded chairs. Chandeliers are a must if you plan for this. The best part about this combination is that you hardly will have to put on any add-ons. The shade wine is enough to create a perfect ambiance of modernity and class. A white set of furniture and curtains too will look stunning. To create a bold look you can opt for dashes of black by bringing in black cabinets and shelves. It is advisable to have natural lights entering the space.
Ultimately, the choice of your colour combination should reflect your personal taste and creates an environment where guests feel welcoming. For a properly furnished home that looks rich and sophisticated only proper painting with the right combinations will not be enough. Decorate your home with the right decor items that will enhance your efforts in painting.
Hope the blog has been informative enough for you to guide you in planning the right combinations of colours for your dining room. Feel free to drop in your suggestion in the comment section below.
Shop among the best Interior Design and Home Furnishing products here. Follow Us on Instagram, Pinterest for more ideas.