Choosing colours for your home is a very personal choice. However, with the right guidance and suggestions, you can acquire the best choice for the same. Choosing a good colour combination for the living room is very important, as it is the place where we spent most of our time. Believing the top designers and the colour trend of the decade two-colour combination for the living room is the best decision you can go with. Right combinations will make your living room a perfect reflection of your personality. Certainly, the best way to give your guest a peep into your personality.
After doing thorough research on the trending colours and best combinations, we have curated this list that will brighten up your living room like never before. These combinations will surely create the best of moods and energies in your living room. Right colour combinations pave way for the right interiors. Hence check out our list of colours and get yourself a perfect interior look.
Also read: Interior Paint Colour Trends 2021 | Colour of the Year
1. Black and Off-white
The most classic colour combination. Though the black colour is considered to be adventurous, it is significant to know that this is not as risky as it is talked about. Black has the potential to optimize space, and what better place than living room to get optimized. The class, sophistication, and modernity black has is matchless. However black is the colour that is often avoided but when combined with light neutral shades they can give you a stunning ambiance. With black, you get a big room for experiments. Colours like black allow you to opt for statement lights.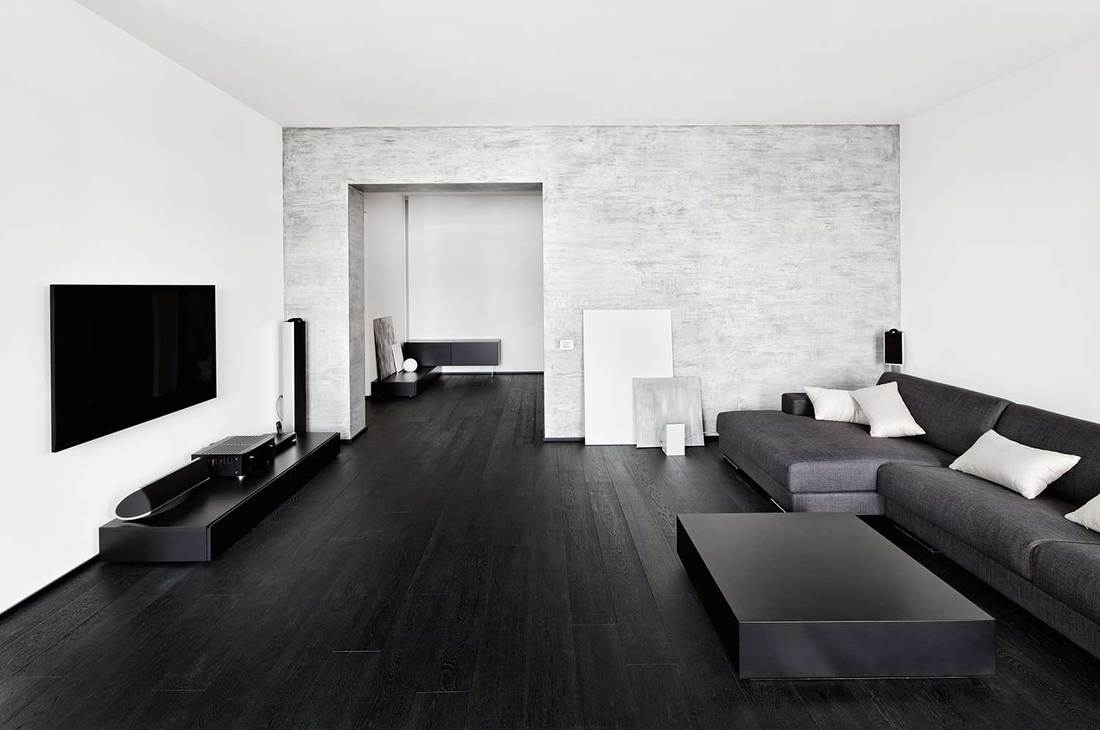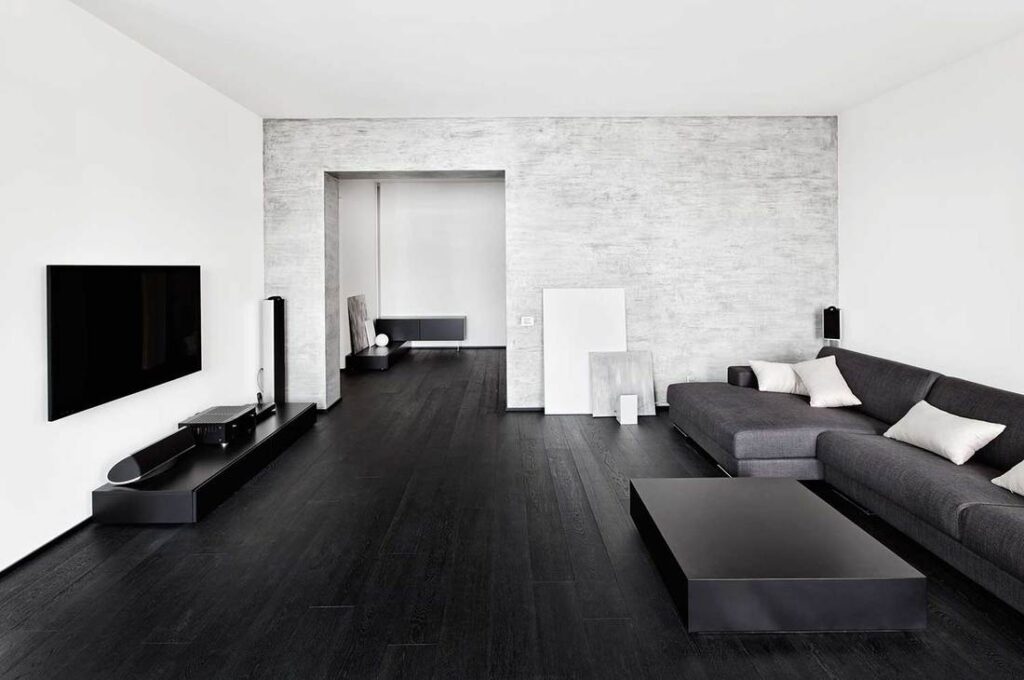 With this combination, you can go for off-white paint and black colour furniture. This pattern of design will give you a classy and advanced interior look. You can easily get a luxurious look with few right combinations. Another preferred idea you can go with is by going for geometrical patterns on the wall with either black colour or off-white. The simplest way you can opt for is to go with by painting your central wall with black and the rest of them with off-white. The black base allows you to create an accent wall. Which then allows you to go for wall-hanging items. However, it is advisable to take proper suggestions and advice from designers or colour experts as per your room.
2. Purple and White | Two Colour Combination For Living Room
We all want a living room that is welcoming and appealing to the eyes. If you too are looking for something like this then purple and white is your combination. This combination helps you create a spacious ambiance and light environment. You will love to sit and relax in your living room like never before. Purple is said to bring royalty and modesty. Above all purple has a very calming effect. Purple and white both have the potential to give you a lot of space for experiments. A combination of white and purple in itself creates great hues that will help you have a very exquisite living room.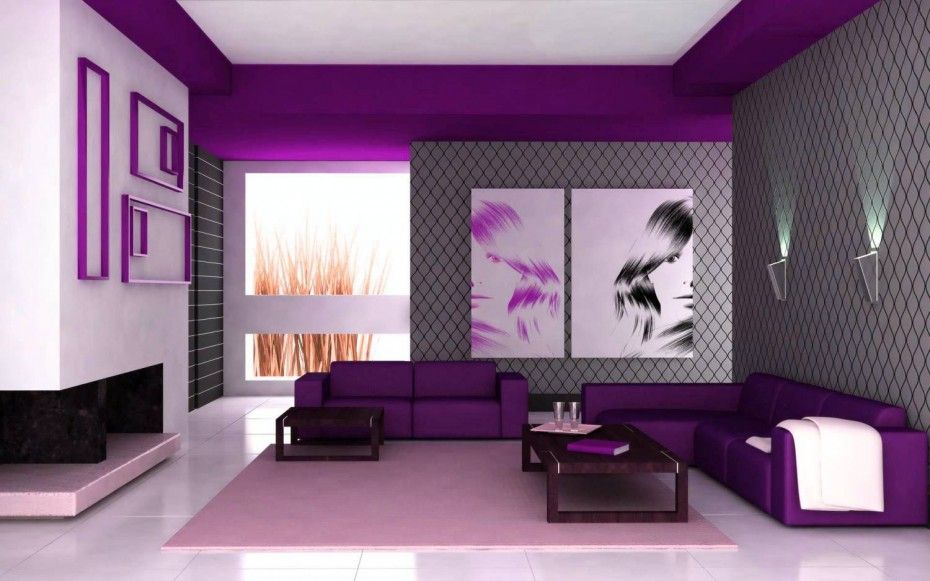 You can go for white false ceiling and purple walls. The right shade of purple should be decided as per your space. You may go deep to very light. White or off-white furniture looks great in such colour combinations. The shade of purple allows you to have an accent wall in the living room. You can fill the wall with frames and paintings.
3. Green and Cream
With the right shade of green, you can have a living room that will make everyone go for the same shade. If you are someone who loves nature and earthy tones then green and cream is the best option you can go with. You can also add dashes of brown into your space giving you a complete nature and earthy-inspired look. If you are planning to give your home a refreshment then this is the safest option. The colour green is believed to bring in good and calming vibes. Both the shades green and cream in themselves are full of experiments allowing you to have more creative and innovative looks.
If you have windows make sure to keep them open. Natural lights allow these shades to create a better and more relaxing environment. You can have a more impactful look by adding green cushions and curtains. With the choice of earthy colour combinations, you must keep some indoor plants. You will be amazed to see how amazing your living room looks.
4. Shades of Grey | Two Colour Combination For Living Room
Grey is in every sphere, you name, and grey pops up in the charts. Be it a bedroom, dining room, and living room shades of grey have their place. The most versatile shade you can get and think of is grey. Innumerable benefits of opting for grey. One can easily create a combination of different shades of grey. Grey has the potential to give you a very luxurious look. A class and sophistication that you can create with grey are priceless. You can also create various combinations with furniture and other accessories in the living room. Curtains and cushions play a great role in such shades. So give them proper attention.
Shades of grey allow you to create accent walls with all of their shade, so you have a broad spectrum for decorating your walls with any creative wall hangings. Grey is the modern colour of the year and is here to stay for a long time. Therefore it's a safe and easy option.
5. Ice Blue and Yellow
You must have guessed by the name itself how beautifully terrific this combination can look. The colour ice blue is a very refreshing colour and the brightness and the shining yellow can bring into the living room are matchless. The best things come in pairs hence the two best of the best shades are paired to create a stunning ambiance. Yellow is supposed to bring glory and peace into your living room. You will successfully get a pleasant and cool environment by these combinations. The shade of yellow allows for art and creativity. Whatever colour you choose to keep in the darker shade, make sure to combine it with furniture, cushions, or curtains.
You can also keep ice blue in the lighter shade and combine it with a similar shade of the sofa. Also, experiment with different wall hangings. You may try for paintings and frames.
6. Red and White | Two Colour Combination For Living Room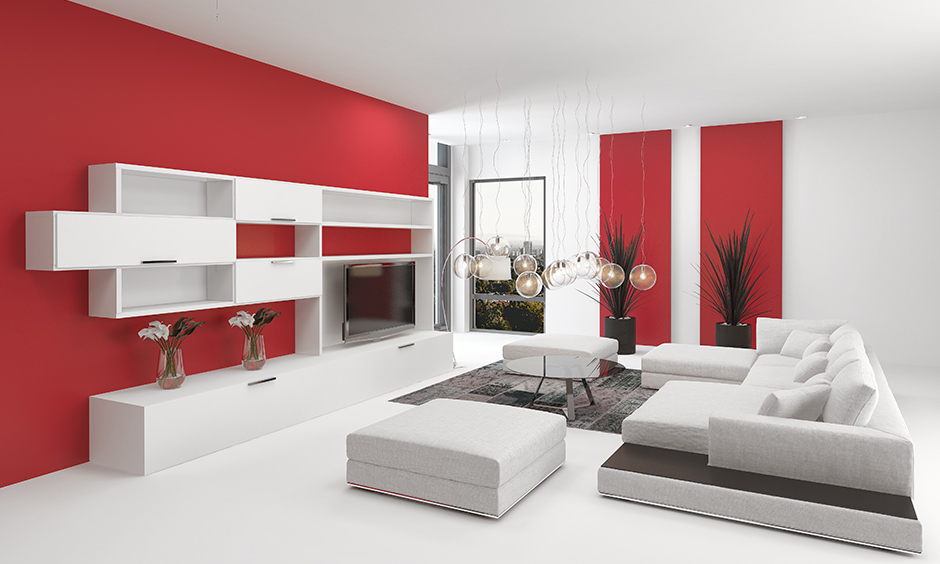 A very classic combination that is very common to be seen in living rooms. You can create a lot of varieties and combinations with this pair. Either you can pair it with your furniture or create an accent wall. Red and white allow you to go for rich statement lights that will surely enhance your paintings and interiors. This particular combination is set to create a perfect space for a house that has a rich and modest look. Red allows your living room to be bright and appealing.
7. Brown and Cream
Undoubtedly a very delicious-looking colour combination. Both the tones are very elegant and sophisticated which is sure to bring glamour into your living rooms. You get a full resting ambiance a place where you can genuinely relax. You can go for furniture that is gold pink, blush, and brown. The contrast created here has a sharpness in itself that allows you to have a very modern living room. They allow you to have an extremely rich look and at the same time helps you maintain modesty. You can go for either a brown shade cushion or cream curtain. Both the colours are very versatile.
8. Royal Blue and Pink | Two Colour Combination For Living Room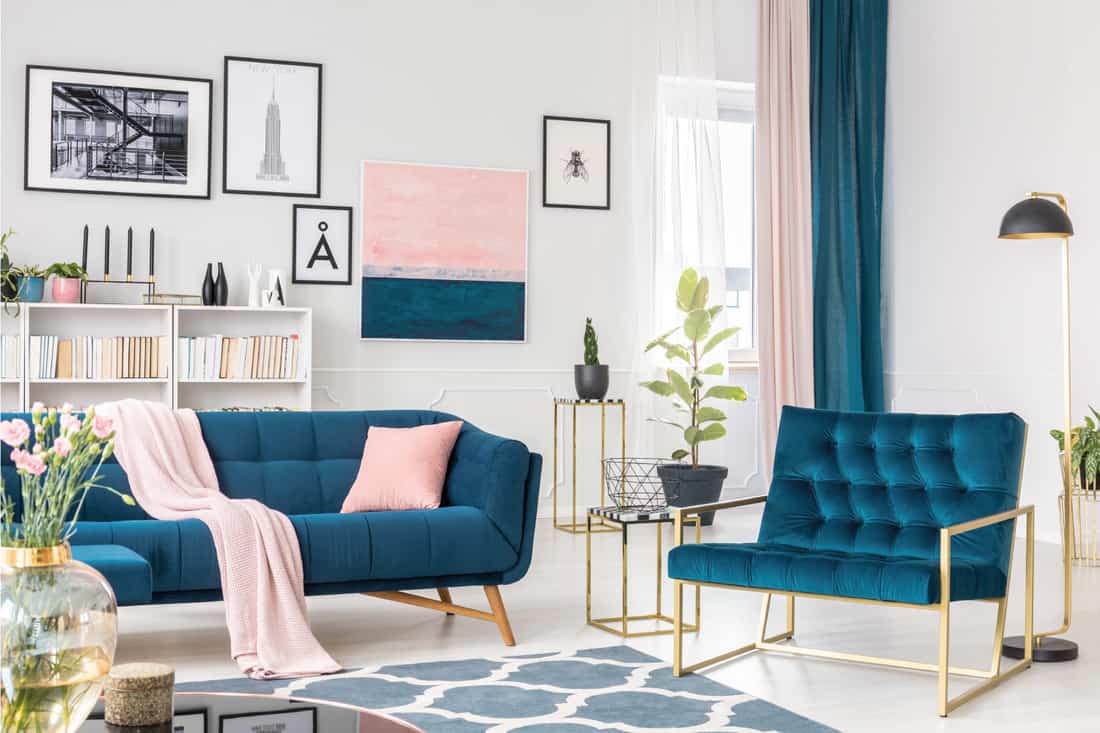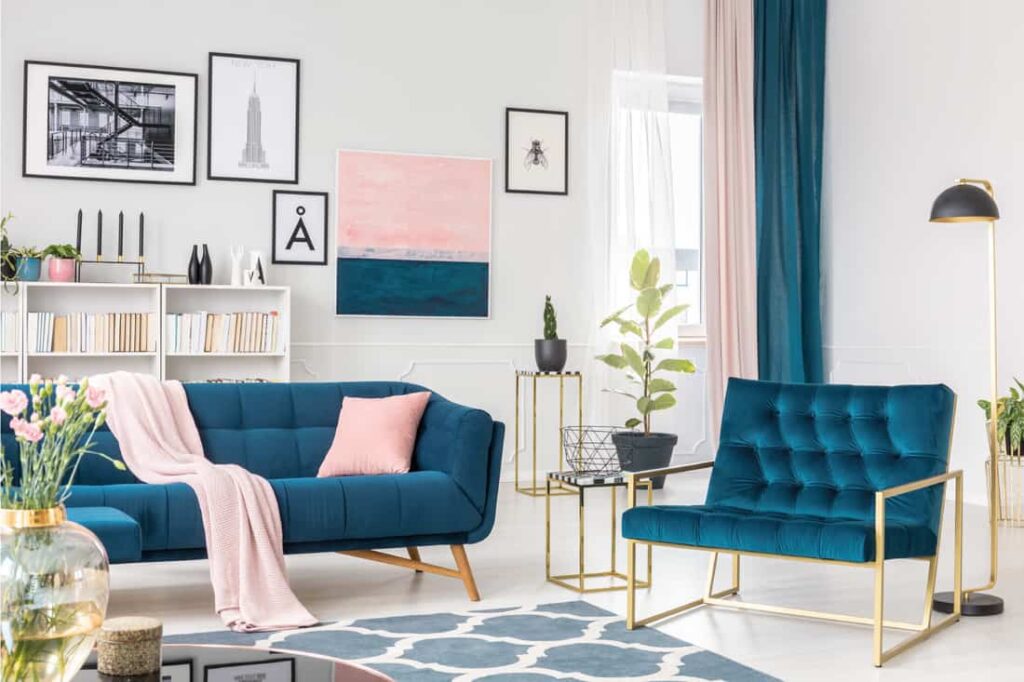 The most intimate and serene combination you can go with. Want a rich look with less investment? then this combination is for you. You can induce shades of grey in this combination via furniture, cushions, and curtains and you will be amazed to see how lavish and extraordinary a living room you can have. You can also make it more lavish by adding heavy rugs and statement-making furniture. Mirrors too can be incorporated with such combinations. Feel free to add frames and photographs to enhance the effect of this combination.
For a properly furnished home that looks rich and sophisticated only proper painting with the right combinations will not be enough. Decorate your home with the right decor items that will enhance your efforts in painting.
Hope the blog has been informative enough for you to guide you in planning the right combination of colours for your living room. Feel free to drop in your suggestion in the comment section below.
Shop among the best Interior Design and Home Furnishing products here. Follow Us on Instagram, Pinterest for more ideas.