Furnishing your dream house is on everyone's wish list, and painting is the first step towards the completion of it. The right colour combination has a huge role to play in our homes. Particularly in the bedroom which is our personal space. Hence it is very important to go for the right and safe colour combinations. Your choice of colour combination for the bedroom reflects your personality. However, it is quite difficult to choose the right two-colour combination for bedroom walls.
The internet is filled with ample colour schemes and combinations of different shades. Which is sure to create confusion and misunderstanding. You will see how one colour has so many shades which are very difficult for a normal consumer to understand. So, after an in-depth search and understanding of various blogs. We have come up with our suggested two colour combinations for bedrooms. With these combinations, you can easily recreate your combinations too.
Note that the list of colour combinations given below is in no particular preference. You may choose as per your room and personal desire.
1. Indigo and White
The two very obvious and comfortable colour combinations you can go with. Both are very warm tones giving a very smooth and sharp tone to your bedroom. They will give you a very relaxed environment to rest. And that's what we all want in our bedroom. Considering that indigo is a shade from the blue you have a lot of space for recreations. These two combinations are all set to give you a perfectly modern and cozy bedroom. The two colours are certainly a great choice if you are planning for interior designs.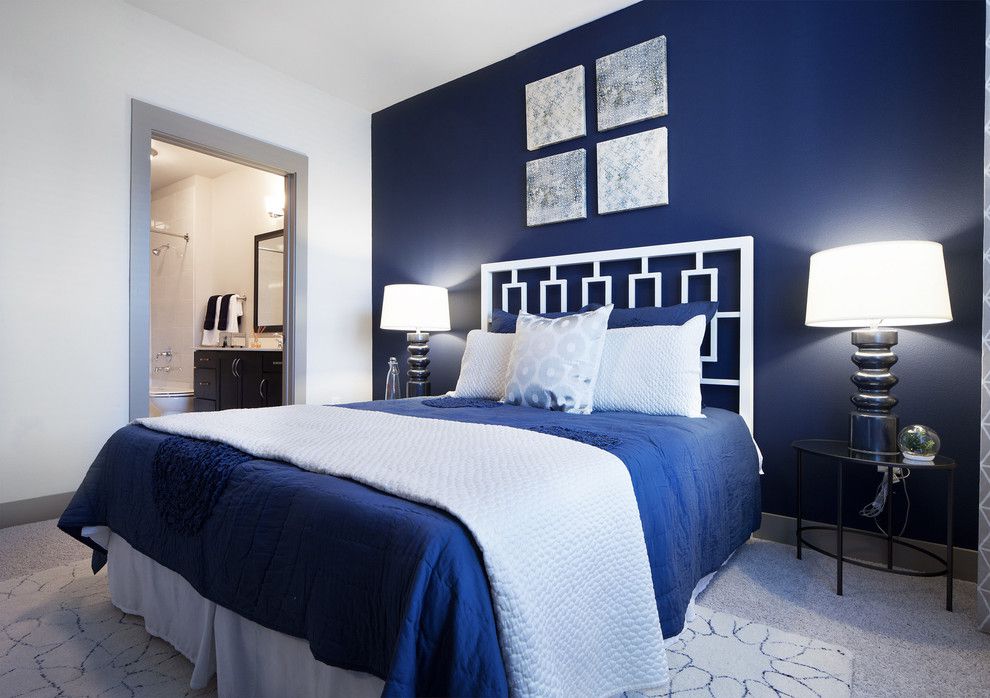 The two-colour combinations can be seen in all the top blogs in their top charts. Making it a safe choice.
2. Lime Green and Pink | Two Colour Combination For Bedroom Walls
The most rejuvenating colour combination you can opt for. They have energies that are sure to bring good and light vibes. Perfect checklist for bedrooms. Don't we all look for these in the bedroom?. However, it is very important to understand the right hues of these colours for your space. You may take advice from colour brands or if you have a designer on board. The ambiance these two combinations can create will be perfect for your cozy mornings. Leaving bed will be easier than ever.
3. Peach and White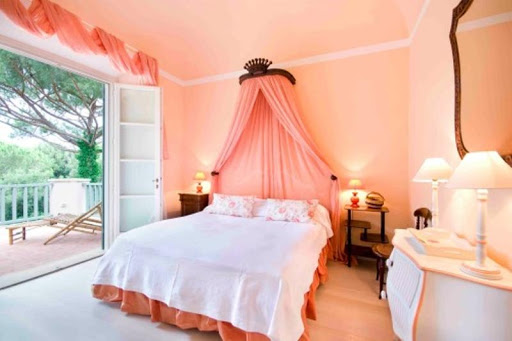 The very comfortable shade is peach. And when combined with white the comfort zone of the bedroom reaches a notch above. With peach white balances the combination uplifting your mood every time you enter. They give a very calming environment which will allow you to keep returning to your bedroom. Both the shades are warmer, hence perfect for bedrooms. These colours set an ambiance that is great for better sleep.
4. Lavender and Off-white | Two Colour Combination For Bedroom Walls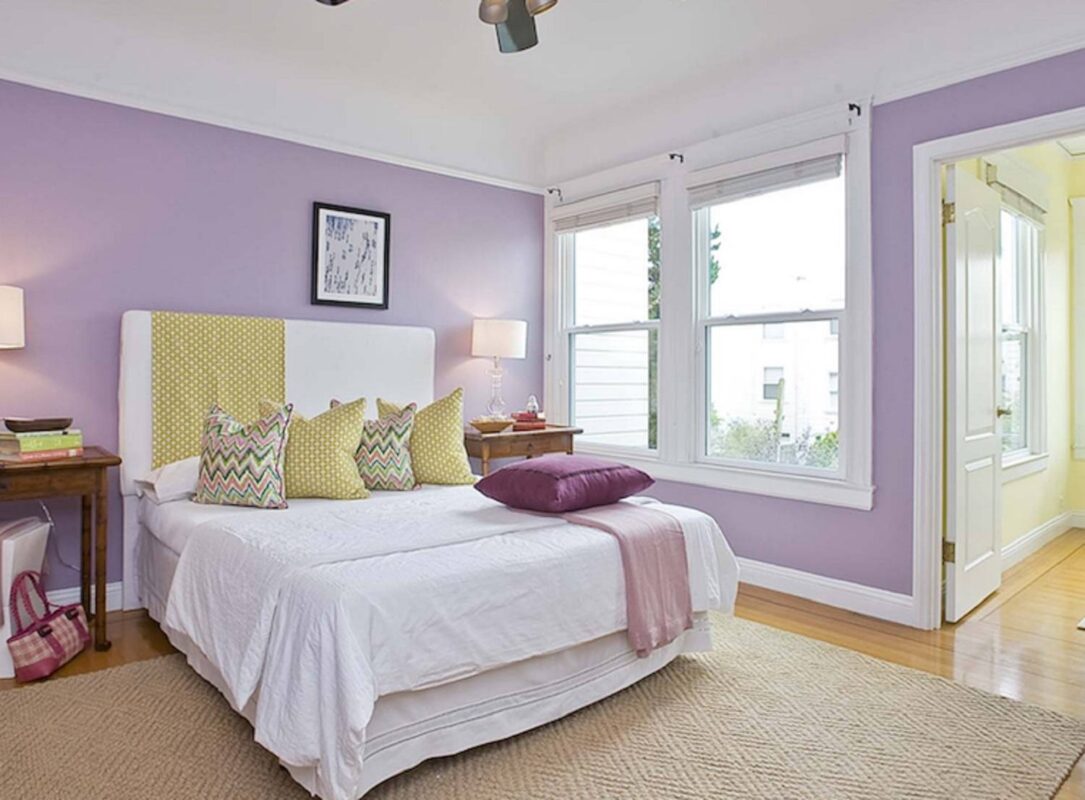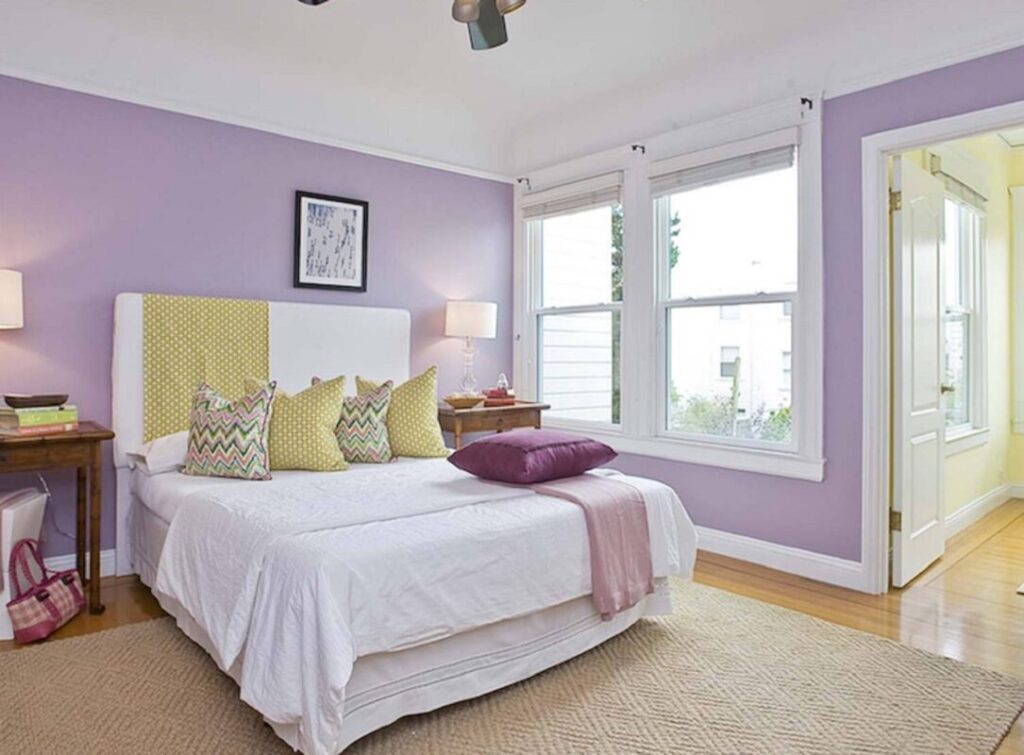 The colour combination apt for bedrooms. If you are really confused regarding the selection of colour combinations. Then this one is the safest option you can go with. Lavender is the most soothing and refreshing colour. They have a scent in them, creating a resting tone in your bedrooms. A very easy and go-to colour combination that allows you to recreate your own personal preferences. They have the potential to give you an individualized look, that will definitely act as an eye-catcher. Though this combination is more popular in living rooms, you can surely try them in bedrooms as well.
5. Brown and Cream
Undoubtedly, one of the most beautiful pair of combinations you can give to your bedrooms. The most modern and sophisticated choice of colour is brown and cream. If you are looking for a home that looks lavish and has a perfect setup for interiors then this is the perfect choice of combinations. With brown, the furniture will shine brighter and the cream colour is all set to welcome wall decors. If you are planning for giving a makeover to your room, this is the easiest and the safest choice you can go after.
6. Blue and Yellow | Two Colour Combination For Bedroom Walls
Want a totally sunny bright look in your bedroom?. What better colour combination than yellow and blue. Blue and yellow have always been among the favorites for a bedroom. However, a combination with yellow is an absolute classic choice. They have the potential to bring good energies that will further brighten up your space. If you have a false ceiling you should make it white. This colour combination is great for small rooms. This colour combination is also a great choice for kid's rooms.
Also read: Interior Paint Colour Trends 2021 | Colour of the Year
7. Shades of Grey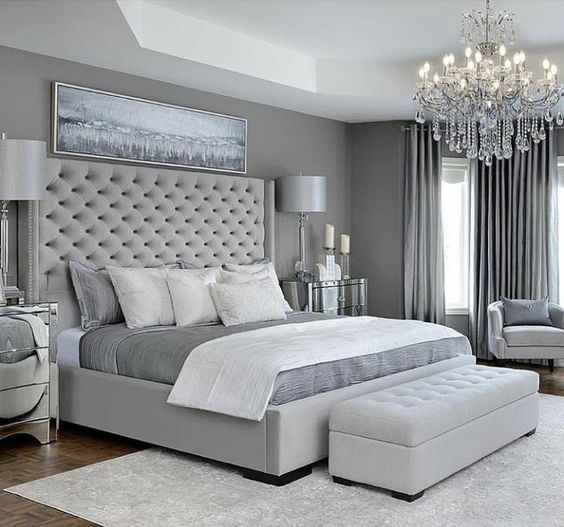 Neutral colours are in the trend and are among the modern choice of colours. You can easily make a combination using grey with your favorite ones. Also, you can create a combination with grey alone using its lighter and darker hues. They give you a monochromatic look. No wonder it is among the most favorite colour for the interiors. They easily enhance and make your interiors more appealing. You have a pre-base setup for opting for wall decor items in your bedroom. Grey has all the calming features in it, hence giving you a perfect reason to go for this one. Not only bedrooms but grey can go well even with living rooms.
8. Red and Beige | Two Colour Combination For Bedroom Walls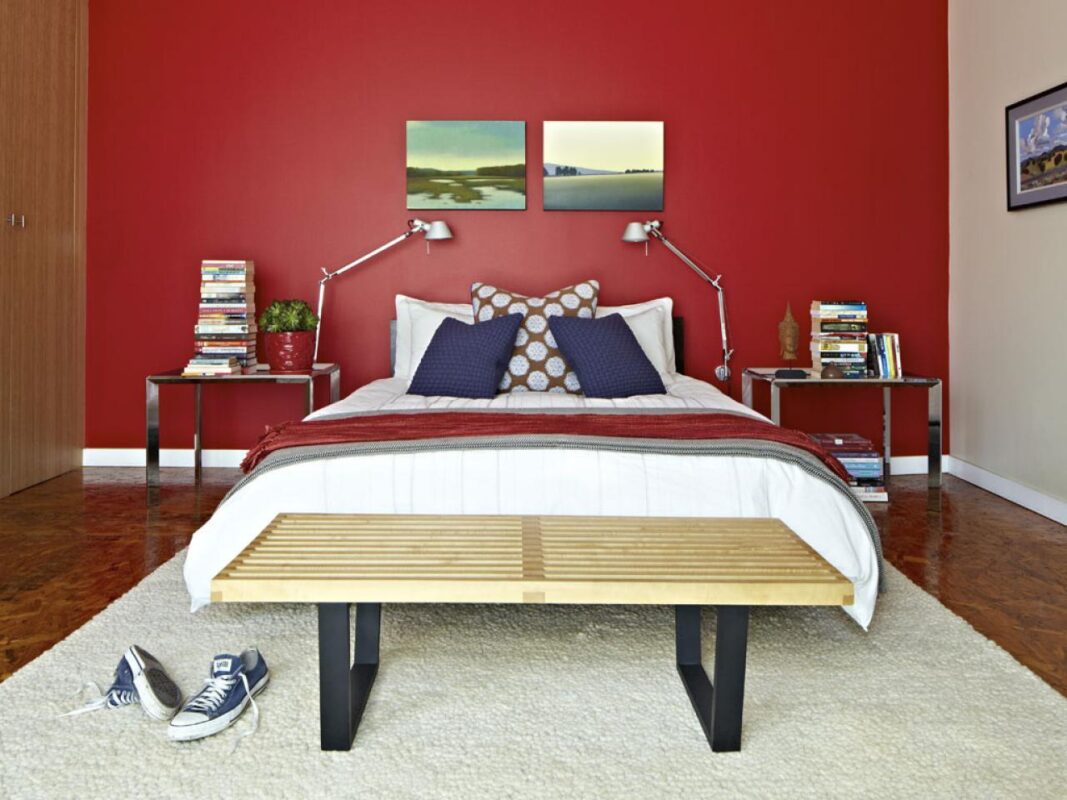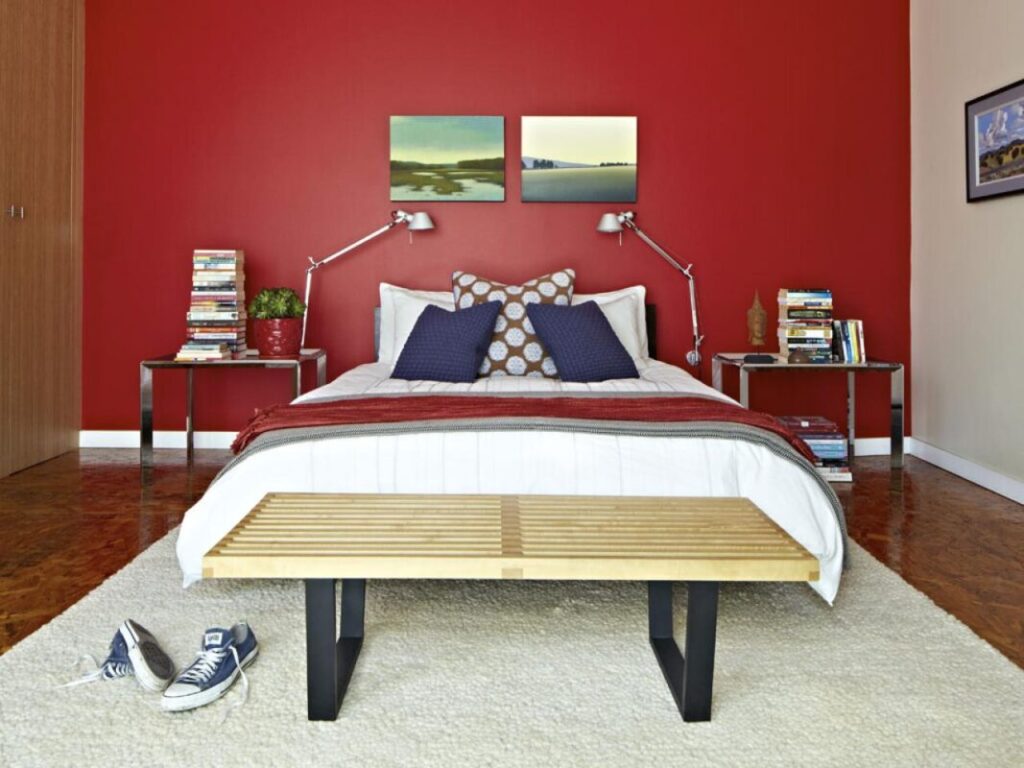 Want an alluring effect in your bedroom?. Poppy red combined with beige is the most alluring combination you can give to your bedrooms. Red is the new modern colour in trend however, red has to be combined with lighter or neutral shades. Isn't beige a smarter choice to pair with red?. We certainly could not resist adding this combination to our segregated chart. This combination will give a fiery touch to your space giving you exciting energy. They are soothing to your eyes and will surely give you a restful ambiance.
9. Orange and Blue
A deadly colour combination, however, is really a risky one. One has to be very careful while creating a combination of orange and brown. Undoubtedly, this combination is a common one but is again seen to be charting the favorites among interiors. Different shades of orange and blue are all set to give you a true royal ambiance. Colours like blue and orange give you complete space for artistic arts like murals and decals. Both the colours are in the modern choice of colours in the name of jewel tones. You can also go for burnt orange and a lighter shade of blue. They help you in getting the most fascinating look. You will love to decorate your room with these combinations.
With orange, you can create a lot of combinations like orange and brown and orange with a tan.
10. Peach and Black | Two Colour Combination for Bedroom Walls
The most interesting colour combination that you can go with. Indeed the most expensive-looking bedroom you can create with these combinations. The most versatile colour is peach, you can easily create your own combinations using peach. However, it is advisable to pair peach with dark hues. We have chosen the daring black, as the overall look created by black is marvelous. You won't be able to take your eyes off the walls of your bedroom. It is advisable to go for geometric prints on one wall with black colour and make peach your base colour. Black carries a sophistication and style that is unbeatable. Your bedroom will be the most lovely space of your home, however, don't forget to plan proper lighting set up.
For a properly furnished home that looks rich and sophisticated only proper painting with the right combinations will not be enough. Decorate your home with the right decor items that will enhance your efforts in painting.
Hope the blog has been informative enough for you to guide you in planning the right colour combinations for your bedroom. Feel free to drop in your suggestion in the comment section below. The team of Your Furnisher looks forward to it.
Shop among the best Interior Design and Home Furnishing products here. Follow Us on Instagram, Pinterest for more ideas.