A terrace is a place where not many people give much of the attention that it deserves. However, the right transformation of the terrace has the potential to make you forget those expensive event hall bookings. You can easily entertain your guests. And not only guests you may also plan intimate candlelight dinners on your own terrace. With your creativity, you can create a mini garden, entertainment section, lounge set up, and bring many such inspired furnishing items. To have these relaxing zones on your terrace, you must read our top 7 creative terrace ideas. These ideas will help you in creating your own designs within your budget. You will be free from the hassle of expensive decorators and designers. Yes, you read it right. You can easily take inspiration by yourself and create your own dedicated terrace space.
1. Create A Garden | Terrace Ideas
The best thing you can do with your terrace on the lowest budget is to set up a mini garden on your terrace. They are best in bringing nature's vibe and calmness that we all look for in the gardens. So why not have the same atmosphere on the terrace. The simplest way is to bring the potted plants as you wish. And line them up as you like it. This is the cheapest way to create a mini garden at the home terrace.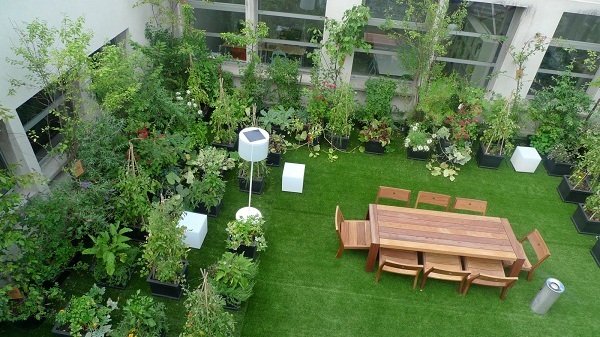 However, you can go a little overboard if budget is not your constraint, then you must think of creating a landscape garden. Commonly known as Zen gardens. They will take your mini garden to the next level. They will bring the most lively effect you can think of by bringing stones, gravels, rocks, plants, and shrubs attached to rocks and gravels will bring an impact that will surely amaze you. Another budget-friendly way is to bring in faux grass. You will be mesmerized to see how amazing that will look.
For further ideas on rooftop gardening, read Tips to Start for Rooftop Gardening | Growing Garden
2. Dedicate A Wall To Set Up Plant Wall Decor
The second most budget-friendly option that you can go with is to create a plant wall decor on your terrace. A few efforts and you will have a separate green zone dedicated to plants. You would love to sit opposite that wall. I bet you won't be able to take your eyes off once the wall setup is done. When creating a plant wall decor it is very important to choose the right plants. As there are plants specifically dedicated to creating decors. Plants like creepers and climbers. They are considered to be the most preferred ones. However, you may choose what you like. If you wish to create a cozier and more relaxing ambiance, you must arrange a lounge set up opposite the wall. Anyone would love to sit there and relax. You can have your evening tea or you may go and read the newspaper in the morning.
For further guidance read A Complete Guide To Create Plant Wall Decor At Home
3. Be Creative With Fences | Terrace Ideas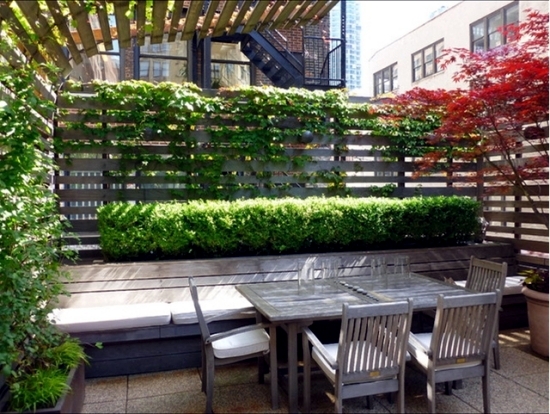 You can easily bring a bigger transformation to your terrace by simply being creative with the fences. This will greatly help you in having an improved privacy setup. You may fence the boundaries of your terrace by bringing tall plants or by simply dedicating the boundaries to grow plants. If the budget does not bother you, then you must fence the boundaries with woods to get the most of nature. These wooden fences will help you in having a more sophisticated and rich-looking terrace. You can easily arrange a sitting set up around the fences to have a complete look. If fencing with plants then you must create a sitting set up on the center of the terrace. If you are not looking forward to a proper sitting arrangement then you may also simply leave a few sitting tools here and there. This will maintain the overall look of the terrace.
4. Bring In A Dedicated Lounge Set Up
Yes, you read it right. The right lounge setup is enough for you to have a good-looking terrace. Invest in weather-resistant furniture as that will be an effective choice for the terrace. You can arrange this setup in the center or your favorite corner. You can hop in on the terrace anytime you feel like it. Especially during the monsoon seasons, take your tea kettle and have a seat on your restful lounge. You will be mesmerized by how this little effort of setting up a lounge on your terrace will impact your health and peace of mind. You will definitely look forward to sitting there in your spare time. Why only spare time? you can easily go there and attend important meetings and call. If you are someone who is working from home, trust me you will love to sit and work on your lounge in the evenings. A very affordable idea among all the creative terrace ideas that you can plan and think of.
5. Focus On The Lighting | Terrace Ideas
Well if you really don't wish to put much effort into your terrace then you must focus on the lighting of your terrace. That's it. Yes, right. When you illuminate your terrace with the right lighting system you hardly will have to put in any further effort. The market is filled with accent and statement-making light systems. You may bring in the string lights in star or moon shapes and create a mini galaxy of your own. One may also bring in nature-inspired light fixtures. Like a rock that has an LED effect or artificial plants that have light fixtures attached to them. You may fix lights onto your fences and boundaries that too will work great. If you wish to be eco-friendy then you must opt for solar planters and light fixtures in the shape you like.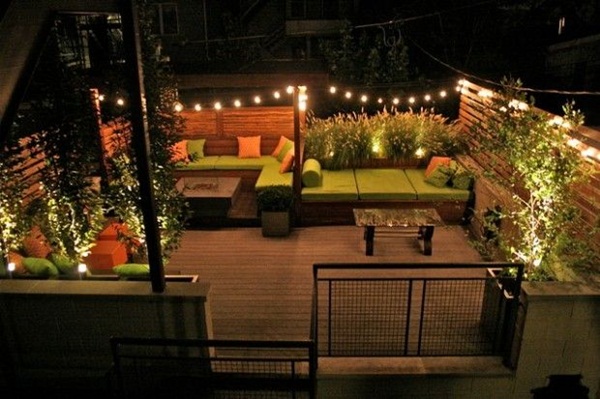 These lights are not only friendly with the environment but also with their owners. As the owners don't have to rush onto the terrace when the evening sets in. They will light up automatically without any extra effort. The best part is that they don't require the switchboards as they don't run on electricity.
6. Bring A Hammock or Swing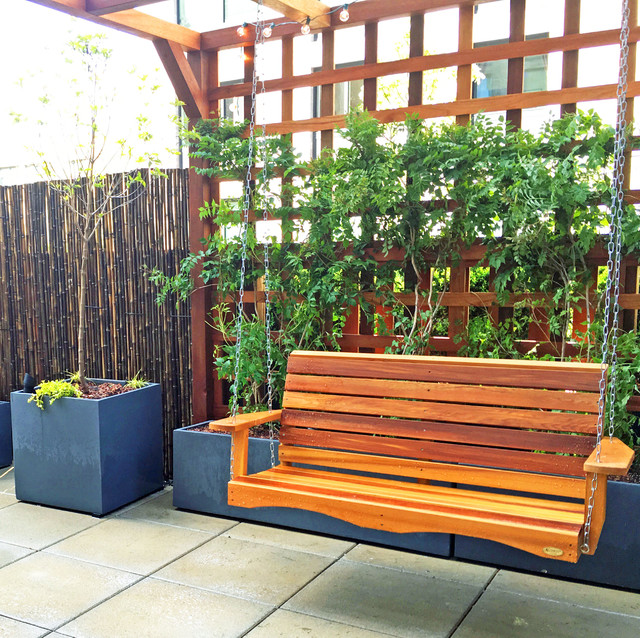 Well, any and every terrace will become impactful if it has a swing or a hammock. You must think about adding a hammock in whatever style you pick for designing your terrace. It leaves a better impact than any other element you may bring. Both the swings and hammock are very relaxing and calming to the brain and body. If you have kids at home or you are a reader, then you should not rethink adding a hammock or swing. Both of them work great and bring a very playful ambiance to the terrace. Whether you bring plants or light up your terrace or not, having a swing or hammock will leave its mark. You will love your terrace-like never before!
7. Design A Birdhouse| Terrace Ideas
Who does not love to hear the chirping birds? what better place than the terrace to plan a birdhouse. The limitless sky and the openness of the terrace will complement the idea of the birdhouse. You may pet birds or leave them for invitations by placing food and water. You will undoubtedly love to see birds approaching your birdhouse. If you are looking for affordable ones then you may buy from local markets the ready-made birdhouse. Or you may simply design a birdhouse from scratch on your terrace. You may dedicate a full corner to the birds and arrange a sitting set up nearby. So that you may sit and adore them while they visit your terrace.
We hope that you must have found the inspiration and idea in planning a creative look for your terrace. For a properly furnished home that looks rich and sophisticated decorate your home with the right decor items that will enhance your efforts in decoration.
Hope the blog has been informative enough for you to understand how much creativity and innovation your terrace can bring. Feel free to drop in your suggestions in the comment section below.
Shop among the best Interior Design and Home Furnishing products here. Follow Us on Instagram, Pinterest for more ideas.