Don't we all get restless and worried when we have to make the stay of our guests comfortable? No more having a mini heart attack when a guest or a friend or a family member has to stay back on short notice. With the right ideas and tips, you will forever be free from those embarrassments. The guest room decor ideas in this blog will ensure that your guests have a memorable stay while you stay relaxed.
Have you ever noticed how a hotel room is decorated?. They are always uncluttered. Everything is in its right place. It is designed to create an ambiance that is sure to make the stay a relaxed one. Though it does not really will give you a homely vibe. However, it does make sure you don't miss your cozy home. Similarly, a guest room too should be planned. You don't have to go overboard and decorate it. However, the furnishing of the guest room should always be planned to have a personal touch to it. To be more clear, you should be giving proper attention to its planning. This certainly gives the guest a vibe that the room is well thought and planned.
A right guest room ensures that the stay is restful, relaxed, and privacy is respected. Plus it's a great way to showcase your decoration and art to your friends and family. You will definitely have a moment of pride when they will complement your style. With that note, let's give you an informative guide on how to decorate your guest room.
1.) Right Selection Of Colors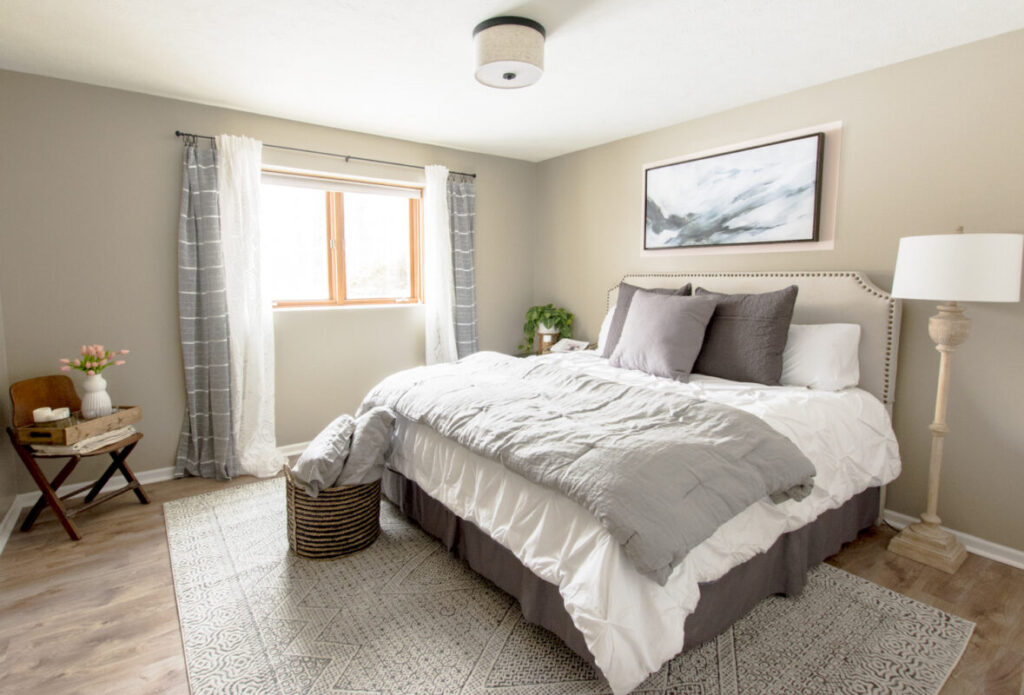 The very prime thing that needs a lot of thought and attention is that you must choose the right colors. Following the trend, you must go for two color schemes. The best thing that you can do to create a cozy and relaxed ambiance for your guests is by opting for pale colors combined with bright neutrals. However, you can definitely go adventurous and choose bright colors. For an intense look, you can even go for dark colors. However, always combine it with lighter shades. Colors like beige, brown, pale white, blush pink, warm green, navy blue, light purple, and light black. All of these colors are a great pick. Whether you want a light look or a dark and bright look you can choose accordingly.
2.) Statement Making Furnitures | Guest Room Decor
Furniture is another key feature that plays a great role in guest rooms. You don't have to fill the room with furniture, but you can definitely add a few statement-making ones. A mini sofa set with a tea table would be a great option, as that is very helpful from a lot of perspectives. One can have meals on it or can easily sit and work or read books. If that seems too much for you then you can go really simple and add a big resting chair or simply a few modern chairs. This will not only help in resting but also will add a class and royalty. You may also consider adding a small desk and a chair the very traditional way of adding furniture.
If you want a really effortless yet modern look, you can add an indoor swing. This alone has the power to carry the entire room.
3.) Add Wallpapers!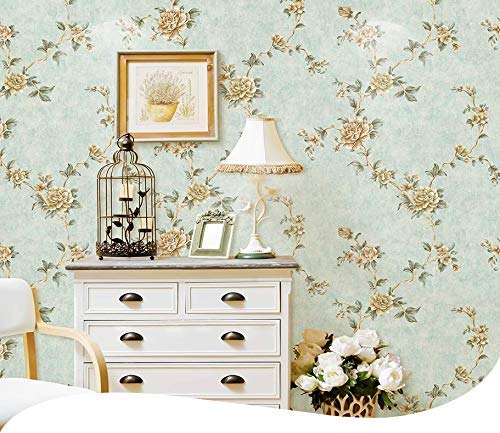 Yes, adding wallpapers will take your guest room a notch above. You can easily create a room that has a theme in it. Floral prints or botanical prints can be a great pick. You will be amazed to see how instantly wallpaper can transform the entire look of the room. You can decide on wallpapers according to the color of your room. And with wallpapers, you can decide on the curtains as well. Wallpapers will help you greatly in deciding all other necessary items like the quilts, throws, cushions, and other such items. With wallpapers, you can plan tall lamps, it will easily blend with the wall.
You may take a further cue on wallpapers with How to Choose Wallpaper for a Living Room?
4.) Cozy Curtains | Guest Room Decor
Curtains can add life to the guest room. It is advisable to go for flooded curtains or layered curtains. They both serve greatly in creating a cozy ambiance. You can even go for folding curtains they too look great. You can combine curtains with your wallpapers or colors. Quilts and throws when combined with curtains look absolutely cozy. However, remember to choose the material of the curtain to be thick. Thick curtains go really well, this will serve greatly in protecting the privacy of your guest. For further guidance on curtains read Different Types of Curtains | Styles and Material Used
5.) Add Fine Pieces Of Decor
Another very important thing to add royalty and luxury into the guest room is by bringing fine pieces of decor. You may add a single large piece of painting or multiple frames having natural or aesthetic images. These pieces can bring a lot of sophistication and unspoken pieces of art. You may also add wooden shelves and fill them with elegant pieces of decor. Other exquisite options would be adding metal pieces of decor. They are very durable and adds a matchless charm. You may also go for murals they will definitely make your guests adore your room. And also make them look at it thoughtfully. For a cheaper option, you may want to go for stickers they too serve the same purpose.
6.) Try Out Mirrors | Guest Room Decor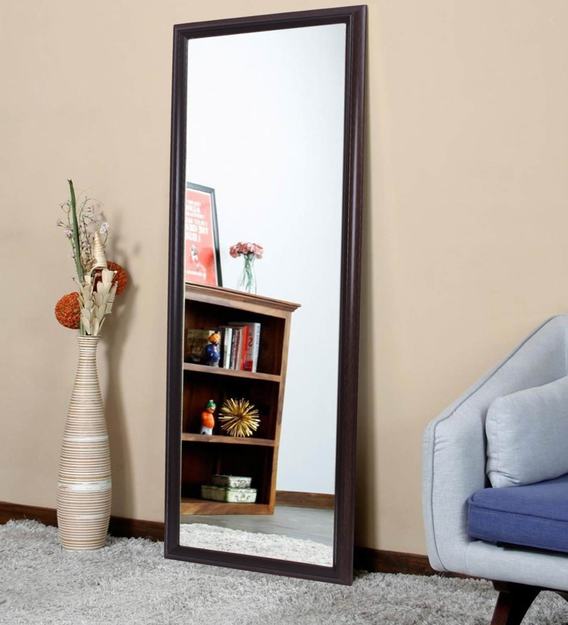 Adding a full-length mirror will be a really great choice. The guests will really appreciate such full-length mirrors as they can easily evaluate themselves and their outfits. Other than the helping factor, mirrors have many other advantages. It will make the small room appear large, they are also great in hiding other imperfections. These types of mirrors are quite common in hotels. So it will be a safe option. Mirrors will give you a look that is both luxurious and modest. You will also cover a great portion of the wall, hence saving you from investing in expensive wall decor items.
7.) Provide The Room With Necessaties
Remember to add the necessities to make the stay hassle-free. Keep all the things that they might need during the stay. Items like towels, robes, slippers, items of toiletries, and water bottles beside the bed table. Adding a television will be appreciated when the guests can't sleep or when they look for entertainment. undoubtedly, it is always a fresh idea to add some greenery, by adding a few indoor plants. The best thing that you can add would be a shelf of books. They will surely love it.
Hope the blog has been informative enough for you to guide you in planning your guest room. Feel free to drop in your suggestion in the comment section below.
Shop among the best Interior Design and Home Furnishing products here. Follow Us on Instagram, Pinterest for more ideas.