Wallpapers are an excellent way to create focal points, attract our attention and give the space that special touch it needs. In this blog, we will be discussing the key points in how to choose the ideal wallpaper for your living room. We will learn some ideas of where to place them and how to choose the best pattern for your space or in a project you are working on.
We will discuss the common questions that come to our minds while selecting a wallpaper. This will make help you make a clear vision of what type of wallpaper best suits the design of your living room.
How to start the selection process?
Evaluate your space, there is an infinite variety of wallpaper. It can be confusing to choose the right one for your room, something essential is that you like the design of the wallpaper because it will be the focal point of the room and you will see its design every day. If it doesn't have a motive or colors you love, you might get tired of it easily. However, apart from choosing a wallpaper that you like, you should consider the conditions of the room mainly its height, size, and natural light in the room. As in all interior design you need to evaluate your room first. If the room you plan to decorate is small, you should opt for designs with light tones that are not too saturated with images or complex patterns.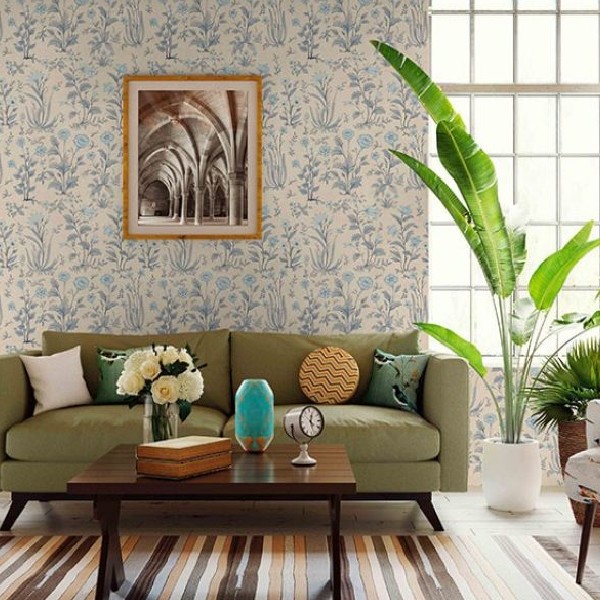 For tiny spaces, it is not advisable to place the wallpaper on all the walls. For the best result place, your wallpaper with the greatest visual attention is focused. Something important to consider is to scale and proportion between the wallpaper and space. In small spaces, the pattern must be small to create an illusion that the wall is receding. There is no specific rule it's a matter of perception, just use your criteria like how the pattern will relate to your space?
On the other hand in larger spaces, you can use wallpaper with a more daring design with patterns on a larger scale. You can even use it on several other walls as well. Remember that the eye needs some solid color surfaces to rest. Wallpaper is useful to emphasize a wall before choosing that wall make sure it is an important one for the room. Pick a visible wall that draws your attention from different points or served as a backdrop to important areas or furniture such as the TV unit, the back wall of your dining room, or behind the headboard.
Which Colors to Choose | Wallpaper for Living Room
Once you understand your space and have an idea of what you need according to the qualities of your room. We will move to another important part, choosing the colors and motif of your wallpaper. Light tones will give the space of feeling of spaciousness. While helping to keep the room illuminated with less artificial or natural light. In Interior design, you always have to think of everything. Think of the concept and stick to it for instance.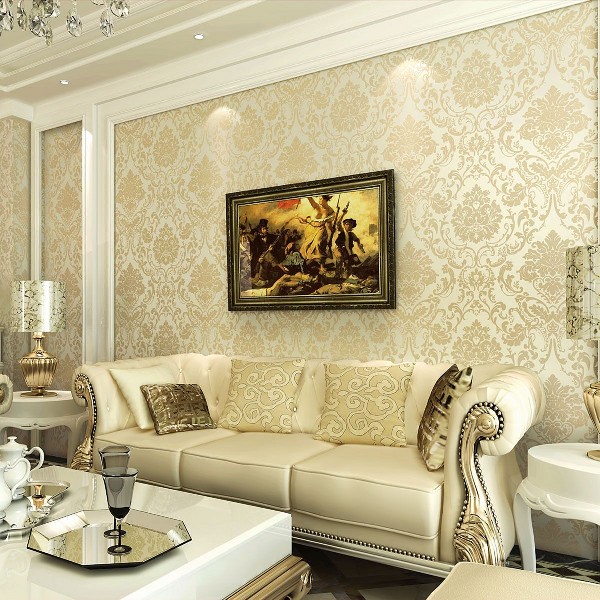 If we design a room with a minimalist style another deco motif is probably not the best option unless it respects the color palette, if you are looking to mix styles we could consider it. Still, if neither the style nor the colors go with the aesthetic of your room as much as you like the wallpaper. It would be best to see another option that adheres to your decoration plan. You should select wallpaper with colors that complement your decor and the existing color palette in your home. It does not necessarily have to be identical color. You can use a shade within the same color family analogous or complementary colors.
The important thing is to make sure that the colors of the wallpaper coexist with the existing decoration and are combined correctly. Using the color wheel and color theory is very effective. So, combine your colors in the right way.
Tips to Combine Wallpaper with Other Elements of the Living Room
Color of the wallpaper should match your decor – The colors you select for wallpaper should match your window, floor, and furniture treatments.
Use the accent color from your color pallet as the main color in your wallpaper – This helps you create drama and contrast and to be consistent with your decorative plan.
Use the main color of the wallpaper on a wall and in other decor items – This helps you create a smooth and easy transition.
How to Pick the right Pattern and Motif?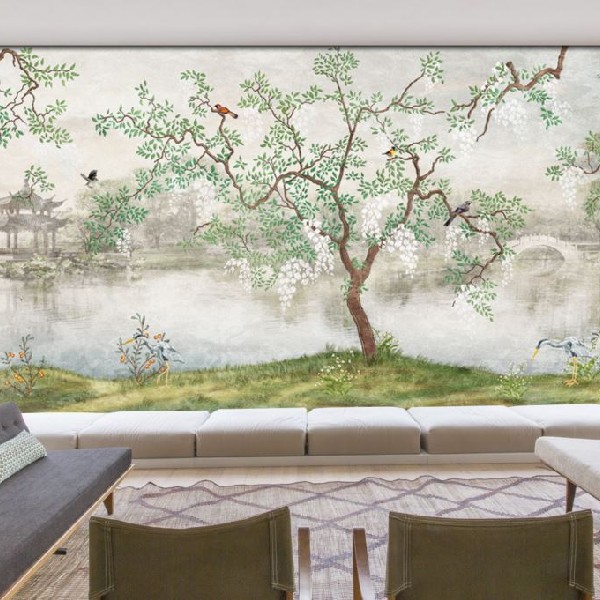 There are too many options for wallpaper motifs. Apart from the color palette, it is important to think about the pattern and motif of the wallpaper to choose one that complements your type of furniture and other textures. Patterns define and emphasize styles. So, use them to make your style and personality stand out even more. For example, if your style is Art deco or Glam a geometric pattern will highlight its aesthetics, and if your interior has a tropical vibe with wood and natural fibers a floral or leaf motifs can work well. So, think about the styles that identify your space and select a wallpaper that highlights its aesthetics.
Which Material is good | Choose Wallpaper for Living Room
There are several options for wallpaper materials such as printed and vinyl. One material isn't better than another, one just may be better for your space and lifestyle. For example, Vinyl wallpapers are resistant to humidity, you can even wash them. Which makes it suitable for use in bathrooms or kid's rooms or if you have a pet. This material allows you to keep it clean. If you opt for Printed wallpaper it's not recommended to use it in kitchens, bathrooms, or if you have kids or pets because the ink is water-based so you can't wash it. However, since printed wallpaper is cheaper than vinyl it may be good to use it in areas where it's not exposed to moisture or dirt such as a closet or master bedroom.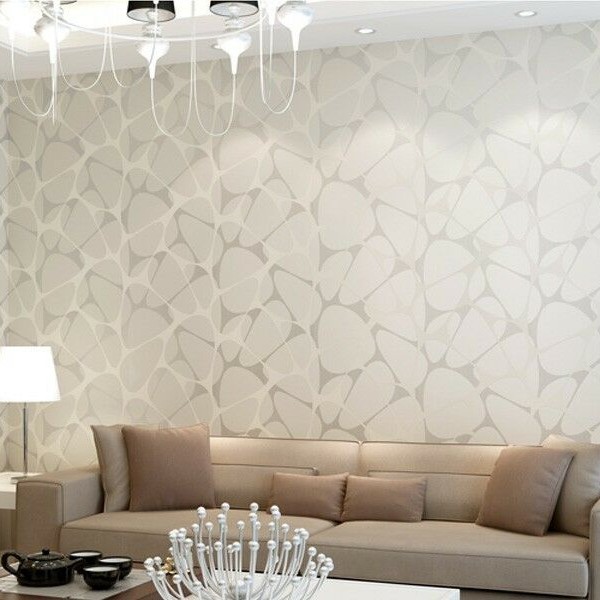 You must be careful and read the instructions for the wallpaper you are going to select. Find out if you can clean it with common detergents or if it requires other special cleaning agents. In this way, you can choose the best one for your space within your budget. Also find out about ins installation, the type of glue it needs, and the maintenance that each one requires. Today there are infinite options in the market, just know the material available and choose the one that best suits your budget and need.
Once you determine the color, the motif or pattern, and the material that best suits your space, you are ready to buy your wallpaper. Hope you find this blog informative and will help you to add that wallpaper that you dream of for your living room or any other space in your home.
Shop among the best Interior Design and Home Furnishing products here. Follow Us on Instagram, Pinterest for more ideas.