Curtains will never get underrated. It is something that will always enhance your interiors and add value to them. However, not many of us know how to buy and plan curtains. Do curtains confuse you? and visiting curtain shops confuse you even more?. Then you have certainly clicked onto the right blog. We have curated the content dedicated to consumers like you and me who searches for easy-to-understand content. After an in-depth net surfing and multiple comparisons of top articles. We have come up with our understanding of different types of curtains, styles, designs, and attachments.
Before going shopping, you need to understand certain things about curtains. The first thing first is their types and the materials. A material that is thick or transparent or semi-transparent is the basic kind of material that goes for curtains. Secondly, how do you want to hang them, or what kind of attachment you want to see? Finally, the color and print of your choice. That's it. Yes, this is the prime way to understand and plan curtains.
Let's get a deeper and better understanding of them :
Different Types of Curtains
1. Pair Panel or Single Panel Curtains:
The curtain rods that have a single curtain attached is called a single panel curtain. While the rods that have a pair of curtains attached are known as pair panel curtains. These curtains often give you a symmetrical or asymmetrical look. They are very common in homes, as they are mostly casual and contemporary look providers. If you have a small window you can go for a single panel and like a vise.
They are a very elegant choice to make. You can go for whatever material you like with these types of curtains. They are cheap and can be easily found in local markets and online stores. Though they are the most traditional curtains the comfort and durability they have are matchless.
2.Floor or Puddle Curtains:
A few inches up and down in the length of the curtain and you either have a floor curtain or a puddle curtain. Floor curtain is a curtain that does not actually touch your floor but is just a few inches above the floor or it may just touch your floor. While any curtain whose last few inches rests on the floor is a puddle curtain. With these types of curtains, you have a lot of space for experiments, you can plan the length of your curtains accordingly. You might like something drappy or just a long curtain. If you have something like this in your mind?. Without wasting any time you can begin your search for floor or puddle curtains.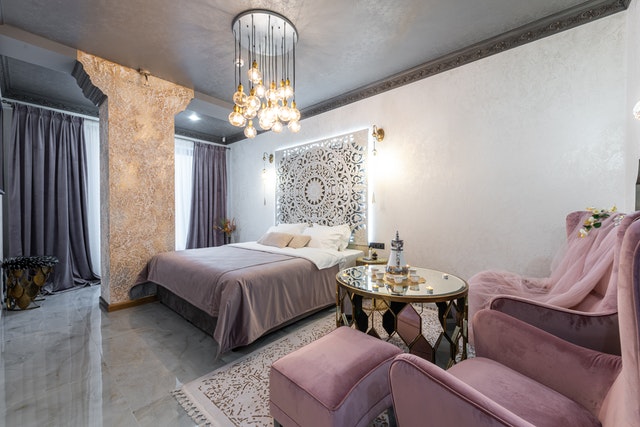 They provide you with a very modern and royal look. They don't overpopulate your windows, rather make them look fashionable and classy. If you have long windows or a balcony or you wish to separate certain areas of your home then these types of curtains are perfect for you. You can definitely look out for them. There is no hard and fixed rule for material but if you are looking for drapes go for lightweight materials.
3. Customized Window Curtain | Different types of curtains
A window curtain that is generally customized as per your convenience. You can either go for a full length of your window. Or you can break the curtain into few parts. For example, if you wish to keep the upper portion of your window covered you can just add a valance or a small curtain that just covers the upper portion. Likewise, if you wish to keep the upper portion uncovered you can customize a curtain that begins midway through your window.
If you are looking for a curtain that is highly decorative and attractive?. Then you can simply customize a curtain that has a pair of curtains and a valance as a piece of ornament. For such sets, you can go for heavy materials like velvet, burlap, and cotton. While for valance, you can go for lace or silk materials. However, you can choose materials as you like them.
4. Apron Curtain:
These are for small windows. Be it in your bathrooms or bedroom or kitchen. The concept that is applied for these types of curtains is that the rod is placed a few inches above the window. While the length of the curtain goes below the sill of the window. You can also go for sill curtains, that is the curtain touching the sill of the window. However, sill curtains work better if the window remains open. The calculation behind this concept is very simple. It is structured to make the window appear longer than usual.
Different Types of Decorative Curtains
Are you planning for heavy and gaidy curtains? then you need to know about these decorative curtains.
1. Valance
A valance is nothing but a decorative piece that is added on top of the curtain. The main intention for valance is to make the curtain look decorative. You can plan your own designs be it in any shape. However, it is important to choose the right material. You can go for lace materials, there is plenty of option there. And they are very decorative in the first place itself, you won't have to design any further. They give a very classic look, you can either customize it or you can get it ready-made.
You can also use valance in small windows where a full fledged curtain is not required. It will act as an ornament.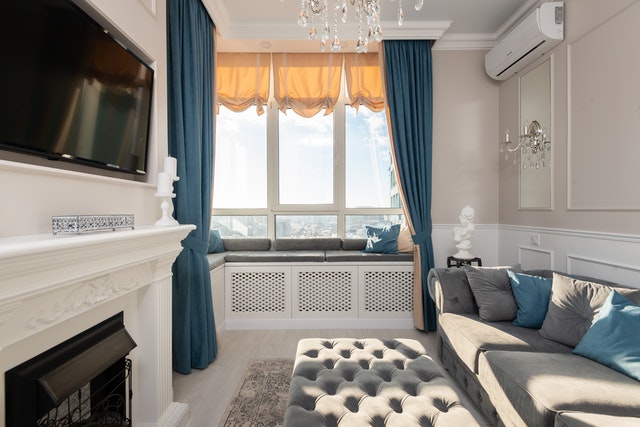 2. Window Scarf | Different types of curtains
As the name suggests this piece is like a scarf to your window or on its attachment. They are a true piece of decor that works perfectly fine on small or long windows. You can make your heavy curtains attractive with these scarves. Or for small windows, you can simply add these scarf and you will be amazed to see how attractive that small window can look. It is advisable to go for silk materials as they are great for scarf looks. Also, they have the desired shine.
3. Liners
Another great choice to enhance the beauty of your curtains. They are multipurpose with an ad-on feature. With liners, you can create a layered curtain, or if you love laced curtains they can help you with privacy and sun rays. They will help you maintain those fancy-designed curtains that lack thickness in their material. They are truly additional and functional. You can remove them when you wish as they come with hook buttons and loop tapes.
4. Small or Mini Curtains
We all have those unattractive small ventilation gaps in our homes. This small curtain set is apt for those spaces:
Window Tires: A perfect piece of curtains for kitchen and bathrooms. They are perfect in allowing rays of light yet protecting your privacy and hiding imperfections. It is usually designed in a way that covers the mid-lower portion of the window. And keeps the upper portion uncovered. The panels used in these curtains are too arranged similarly. As already stated they are great at covering unattractive ventilation gaps or machines.
Different types of Curtains based on Opacity:
Based on opacity or thickness of the material there are three categories of different curtain:
1. Sheer curtain:
The material that is very thin or rather transparent is when used in making a curtain, they make a sheer curtain. They help in allowing most of the daylight to enter into the living room or bedroom even when you close the curtain. Their main purpose is to enhance your interiors. Other than that there is practically no other functionality of these curtains. So you can use these curtains in your living room, or on long windows, and balcony doors. If you choose these curtains for your bedroom make sure to add liners.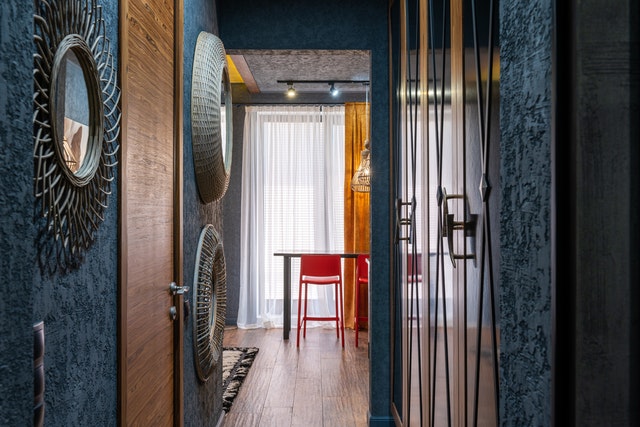 You can either go for hook buttons or go for attachments that have two-panel rods. One for the sheer curtain and the other for the liner.
2. Blackout curtain | Different Types of Curtains
A complete opposite of sheer curtains is the blackout curtain. They allow the least amount of daylight to enter your rooms. The material used in this type of curtain is really dark and heavy. They are highly functional and at the same time perfect pieces of decor. You can take them as liners for sheer curtains. Or you can also make a full-fledged curtain. If you are someone who is looking for curtains that protects your privacy completely and also maintain your decor?. Then this curtain is definitely made for you.
They can be used in bedrooms, living rooms, or they can also be used perfectly in separating spaces in a home. If you have your living room and dining room attached and you wish to have privacy in your kitchen. Then undoubtedly this is for you.
3. Semi-Opaque:
When a striking balance is created between the sheer curtain and the blackout curtain it is known as semi-opaque curtains. They are neither too thin to be transparent nor are they too thick to block views. They can be everything you would want a curtain to be. Protecting from daylight and at the same time allowing some daylight into the room. They will protect your privacy. However, if you want to go really fancy and designable you can layer semi-opaque curtains. They look best when layered. They are very popular for homes.
If you are shopping for your bedroom and living room?. You can definitely go for layered semi-opaque curtains. They add value to your interiors.
Common Materials Used for Curtains:
Considering the type of curtain and their opacity you have decided. However, there are many other materials that you can choose from. The most common ones that you can easily find in local markets and online have been given below:
1. Cotton | Different Types of Curtains
The most popular and the cheapest choice of material is cotton. They are neither transparent nor do they have blocking properties. Hence making them the preferred choice for living rooms and dining rooms. You are most likely to see cotton curtains in households. However, they are very common in commercial spaces too. The best part about them is they are very easy to maintain and clean. You can layer them although they can give you a complete window look without layering.
2. Linen
If you are looking for casual and contemporary vibes in your home then linen is the material you should go for. You can call them semi-opaque. They allow light into your room and at the same gives you privacy. Since they are heavy it can be a task to clean them. They are a great choice for household purposes. However, linen should be avoided in commercial places where dust is common. The material of Lenin is such that the dust sticks to it.
3. Silk
If you are looking to create a luxurious look, then what better than silk. They are very versatile and can be used in any sort of attachment. The perfect material to create a layered curtain set. Different silk has different thicknesses, so they allow you to have a choice. However, remember that cleaning silk requires professional help making them high maintenance.
4. Synthetic | Different types of curtains
The most cost-effective material you can find is synthetic. They are a highly popular choice among curtains as they are quite easy to clean besides being cost-effective. They have the potential to give you the desired look, irrespective of their fibers. Want more in less amount? this one is definitely for you.
5. Velvet
If you are looking for blackout curtains, velvet is the perfect material. They are great in providing privacy and at the same time gives you a rich look. They also have the potential to reduce noise. If you live in an area where noise is a concern you may try velvet curtains. However, they are not cost-effective. Good quality velvet is expensive and they are high maintenance as they need professional help for cleaning. So, if you are looking for something affordable velvet is not something you should look out for.
6. Burlap | Different Types of Curtains
The very casual and plain fabric. If you are not looking for any sort of statement-making curtain, burlap is for you. They can be perfect for a window that does not get much attention. They are very easy to clean and are cost-effective. The material is thick and heavy, making them an apt choice for blackout curtains.
7. Lace
By the name, you must have guessed that this is a sheer curtain. Yes, you guessed it right, lace is the top choice for sheer curtains. They are lightweight and highly transparent. Allowing a great deal of natural light to enter. Though they give the least amount of privacy, they are made for layered curtain sets. They can be used wherever you like be it in the kitchen, bathroom, living room, dining room, and bedroom. However, if you are concerned about privacy you must go for layering or liners. They are the most versatile material allowing you to enhance your interiors.
Different Ways to Hang Curtains | Types of Curtains
1. Grommet and Eyelet
The grommet and eyelet are nothing but metal rings fitted on top of the curtain. They give a very contemporary and classic look. The metal rings in these types of curtains are fitted onto the curtain. Giving you a very uniform fall. The metal rings help you fold the curtains equally.
It is affordable, cheap, and is very common in our homes. However, you have to decide on this attachment style at the time of purchasing your curtain as the grommet has to be reinforced. They go well with semi-opaque materials.
If you wish to hide your attachment style and convert it into design? then hidden tab style is for you. You can create a channel on top of the curtain through which you will insert your curtain on the rod. You can make your hidden tab like a valance. This can act as an ornament and enhance your interiors.
3. Tab Top | Different Types of Curtains
Loops are made from the curtain and an attachment is made out of it. All you will have to do is install the curtain rods at home. Then with the help of those loops attach your curtain. This is the easiest attachment style and the most affordable one. You can go creative with the loops and design them creatively. The designed loops will enhance your overall interiors. You can also stick fake buttons as an ad-on.
4. Rod Pocket
In this type of attachment, the curtain has a long pocket at the top of the curtain. And those folded stitches on the curtain help you hang the curtain on the rod. You can go creative with these pockets, by decorating them. It is very affordable and creates a uniform fall of the curtain.
5. Curtain Rings with Clips | Different types of curtains
The cheapest and the most affordable attachment is the curtain rings and clips. You can easily find these clips in the local markets or online stores. You can get both metal and plastic rings. The curtains have loops stitched onto them, which allow the space for rings.
6. Curtain Tracks
Other than the hidden tab the other attachment style that is hidden is the curtain tracks. You can use these tracks for heavy curtains. They give a very sophisticated and rich look.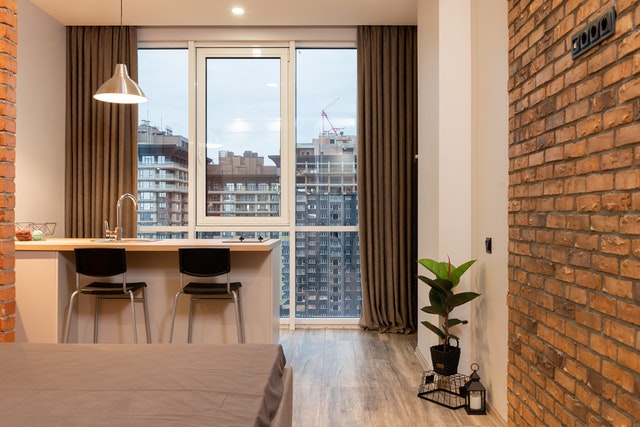 Your attachment style is hidden and at the same time, you can have a lot of space for being creative with your interiors. They are easy to use as you can easily move the curtain from one end to the other.
Trending Modern Curtains and Colors of 2021
The first one is the sheer curtains. They are very affordable and attractive. Though they are not good at protecting against sun rays and privacy they definitely enhance your interiors. And these days pretty much everyone wants to enhance their interiors. What better way than curtains?
The second curtains in trend are the blackout curtains. The innumerable useful benefits and their durability is something that always makes them into the charts. Perfect coverage against sun rays and bad view. Also helps best in protecting privacy.
The third one is the linen curtains. The sophistication and class this type of curtain brings no other curtain can. They look very friendly and captivating. The best part about them is their flowy nature and lightweight. No wonder they are on the top.
Note that: The above list is drafted in no particular preference. You may choose as per your likes and dislikes.
If we talk about colors the top trending colors are earthy, natural, and muted colors. If you have some knowledge of the trends you must be aware of how earthy and natural colors are in trend these days.
Also read : Interior Paint Color Trends 2021 | Color of the Year
Trending Modern Designs and ideas for Curtains 2021
Going by the color trends the prints and the designs are too earthy and natural. However, it is important to understand what prints and designs will go with your interiors. Any floral or botanical print will be a great choice, as they will never go out of fashion. You can even get yourself a plain-colored curtain of your choice. Undoubtedly beige or brown would look great. You can also go for geometrical shapes and prints.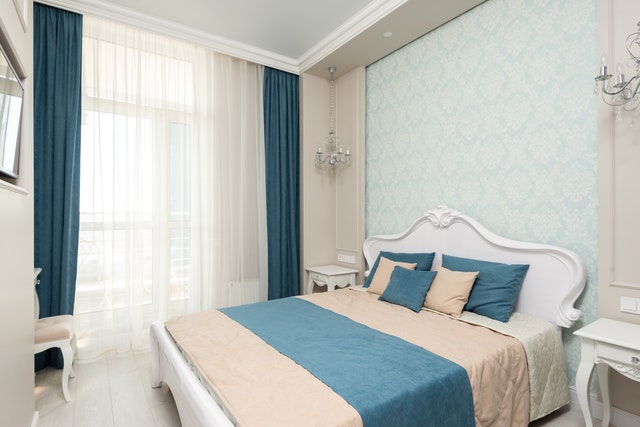 The best one is to opt for layered curtains. You can layer sheer with blackouts or blackouts over blinds. This is the most common way of layering and is still prevailing. You can even layer with color combinations, for example, pair yellow and white. You can go for yellow blackout and white sheer or lace. Or you can go for sea blue and white as well. Other new types of curtains you can opt for are window blinds and shades. They are easy to maintain and durable.
Hope the blog has been informative enough for you to guide you to plan a perfect pair of curtain for your home. Feel free to drop in your suggestion in the comment section below. The team of Your Furnisher looks forward to it.
Shop among the best Interior Design and Home Furnishing products here. Follow Us on Instagram, Pinterest for more ideas.