Want to give your home the splash of purple? when combined with the right color shade purple can never go wrong. Learn what colors go with purple and see how purple infuses a sense of modernity and sophistication in your home. Moreover, purple is that one shade that will never disappoint you. It's an evergreen shade that will work well for you in the upcoming years. Making it a safe option. It is one of the most unique and attractive colors that you can choose for your bedrooms and living room. Having said that purple can find its space in any corner of your home. They will easily blend giving you a spacious atmosphere.
A lot has been talked about purple alone, let's discover its combinations and style your home. The next eight combinations given below have been drafted in the vision to bring more color and brightness that is sure to catch many eyes. Take inspiration from these sets of pairs and allow the room for further decorations that will make your spaces go a notch above.
1. Purple And Dark Green | Colors That Go With Purple
A combination that will stay updated and modern for more than a decade. Hence making it a combination that is sure to give you an all-time modern home. The dark matte green will allow room for accent walls. Not only accent walls the right shade of green will also give you a perfect backdrop for further decorations. One may bring the green sofa sets or purple sofa sets, creating a complementary look. The right set of furniture in the right shade will create the most modern look that you can ever think of. However, it is important to take into consideration of experts and decorators regarding the right shade of purple. For purple is that shade that requires special attention. In case you wish to create an accent wall with purple, bring in a wall painting that has a statement. You will be amazed to see how classy your space can transform into.
2. Purple And Mustard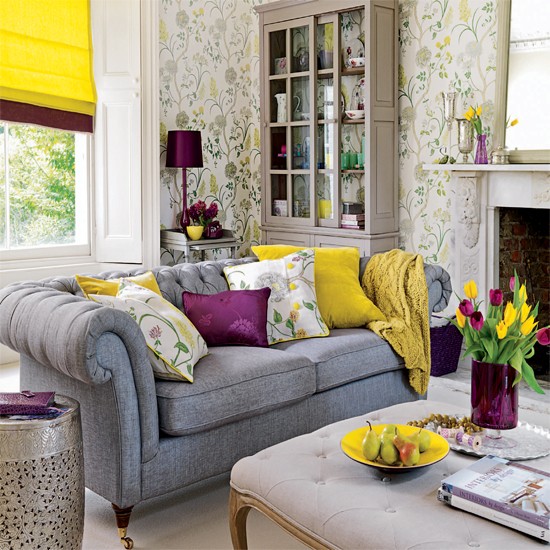 Am I the only one who is getting a vibe of class with the name itself? I am sure I am not alone in this. Mustard yes, how beautiful this combination can get when implemented in the right space with the right shades. It is a win-win combination, as both the colors are complementary to each other. A perfect balance in the shade of purple will allow the mustard to strike a perfect balance in your room. Both the shades will bring warmth and royalty that will give you a very expensive and luxurious ambiance. This combination will allow you to create different creative decorations. You may bring in frames, paintings, and many other wall decor items. The shades will easily allow them to blend with your walls. If you have a modern or open-style home then you must consider this combination for your living room. Both the shades are perfect for creating backdrops and accent walls. Mustard also allows you to bring natural indoor plants into your space.
3. Purple And Grey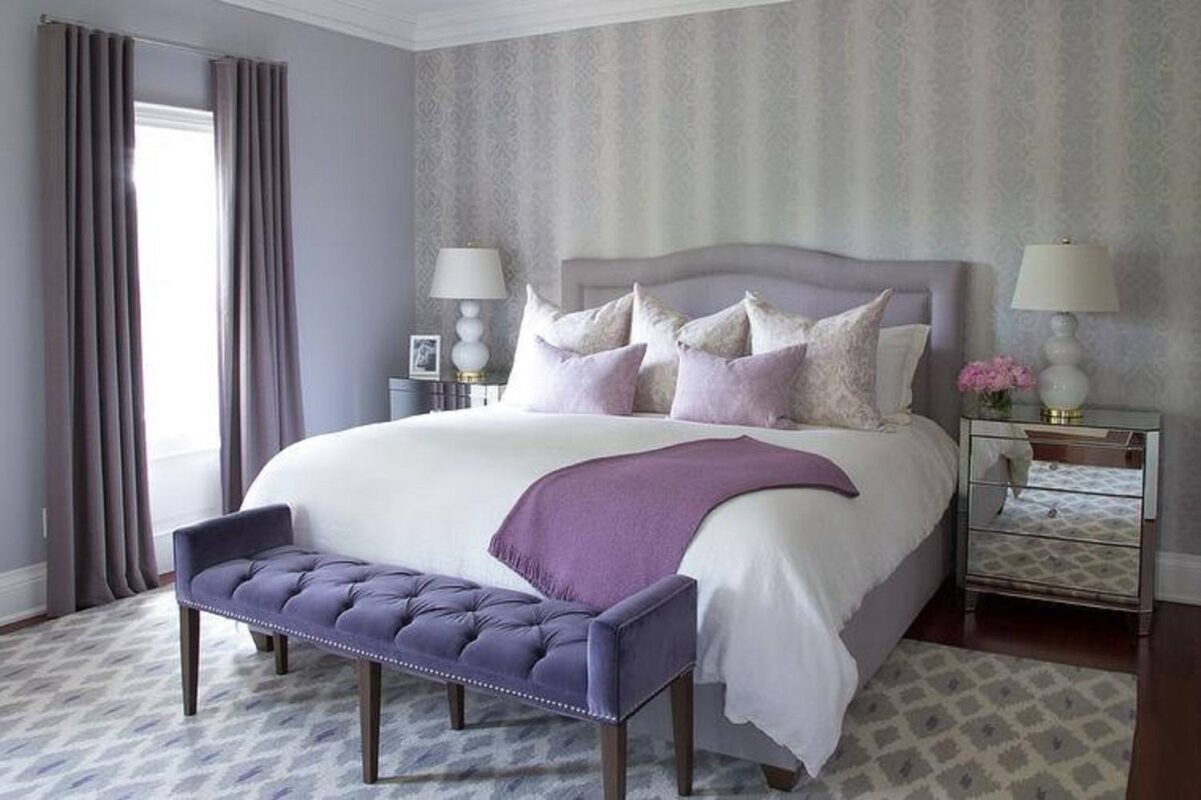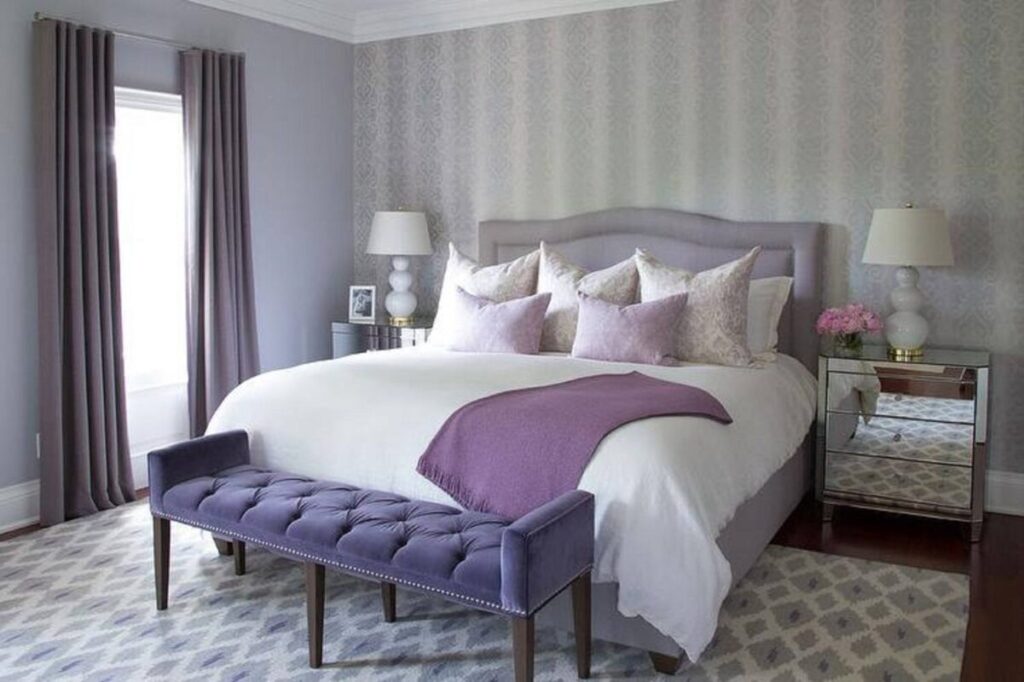 If you have read our blog regarding the colors that are in trend you know how much neutral shades are popular. If you haven't then read here Interior Paint Color Trends 2021 | Color of the Year
I assume you must have checked out our blog and now you know the significance of neutral shades. Here we stick to designers' favorites and the internet sensation neutral grey. When combined with grey it will give a very cool ambiance that is sure to bring class and royalty. The combination is best suited for bedrooms and living rooms as they create a very relaxed environment. If the dullness of grey bothers then you, then let me assure you that purple will eliminate that boredom. Instead, it will bring a playful and pretty outlook that is sure to make you happy. Perfect combinations for highly advanced interiors for modern homes. You can also take these shades into an electric-style home.
4. Purple And White | Colors That Go With Purple
A very obvious combination that you can go with. You don't really have to hire experts and decorators to advise you on these shades you can easily create your own set of space. One may paint the ceilings white or maybe the edges white and keep the ceiling to be purple. However, here it is important to consider the right shade of purple when you paint the ceiling. Bright white or chalky white can be considered as well. Other than the painting combinations you can create an accent wall with both shades. We all know how popular is white when it comes to creating backdrops. However, you can't rank purple low either. Both can be considered when creating accent walls and backdrops. With white, you can also opt for decals and murals. Remember to bring in colors that will complement purple.
5. Purple And Pink
Both purple and pink is a shade that is loved by many. So why not combine the best two colors. This combination is perfect for all the spaces. Be it a kitchen, bedroom, living room, and dining room. However, it is really significant to understand and opt for the right combining shades. Else you may create a blunder. Purple allows you to bring statement-making furniture that may be completely in contrast to its shade. You may also bring elements of yellow and orange. They will naturally blend with purple giving you statement-making rooms. Purple allows you to bring natural flowers into the room because of its playful and colorful nature. You can always bring flowers into your space.
6. Purple And Gold | Colors That Go With Purple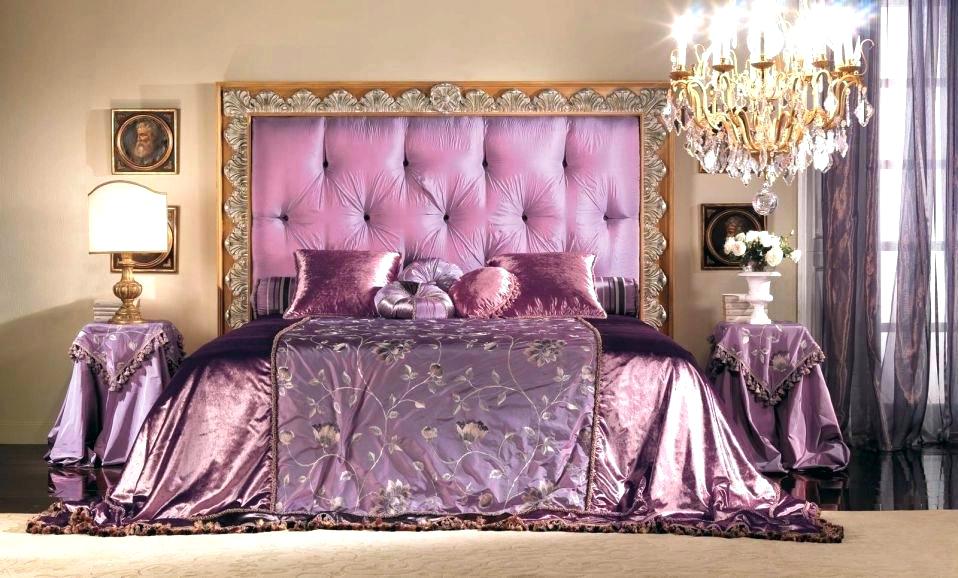 If you want a luxurious and expensive-looking room then this combination is for you. With few basic efforts, you can create this look. Bring furniture in gold, or if you don't want complete gold furniture then you must plant the stands or legs of the furniture to be gold. You can also bring rugs in gold color or opt for carpets that have work of gold on it. Other elements like items of decor that you might keep on your side table, make sure you plan it to be in gold color. Velvet gold is a very expensive choice you can make, that is sure to give you a perfect home of luxury and class. If not sofa then you may also bring gold velvet curtains. Both will work equally well. When creating accent walls bring frames that have gold edges. This combination is perfect for living rooms.
7. Purple And Red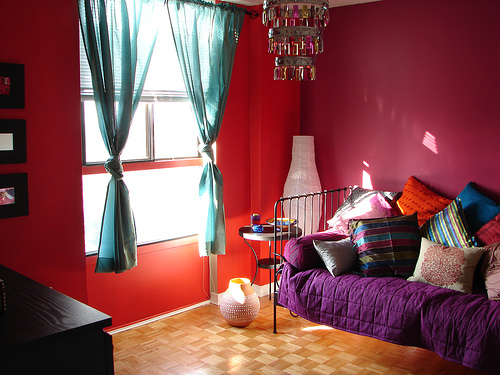 Undoubtedly, the highest energetic combination that you can create is red. When I say the color red you don't exactly have to paint your walls red. Bringing elements of red through curtains, quilts, throws, cushions, and chairs will perfectly work. You can paint the edges of your ceilings red, and bring frames that have red in them. When bringing red in your room, you can also bring paintings that are dominated by red. It will work like magic for your space. You can make your wardrobes and cabinets in red when opting for this shade for bedrooms. If you are planning this in your living room then you must make your sofa set and tables in red. Or you can also bring statement-making red chairs. Such chairs when made to stand anywhere in your room will be impactful.
8. Purple And Navy Blue | Colors That Go With Purple
Combining blue with purple is really choosy. However, when combined with navy blue will leave a greater impact. You must check this combination out for your living rooms in general. Navy has the potential to allow purple to shine more in its presence. You must bring navy blue sofas and create a backdrop wall with purple. You will certainly be amazed to see the outcome. However, you can also create accent walls with navy blue, then you must bring a purple sofa set. The right shade of purple and navy blue will allow room for indoor plants. Navy blue encourages such greenery. Want to know the best indoor plants? We have a blog dedicated to such indoor plants. Check out Best Indoor Plants that clean and Purify Air | Improve Air Quality
NOTE THAT: THE ABOVE GIVEN LIST IS NOT BASED ON ANY PARTICULAR PREFERENCE, YOU MAY CHOOSE AS PER YOUR LIKES AND DISLIKES.
We hope that you must have found the inspiration you were looking for in purple. For a properly furnished home that looks rich and sophisticated only proper painting with the right combinations will not be enough. Decorate your home with the right decor items that will enhance your efforts in painting.
Hope the blog has been informative enough for you to guide you in planning the right combination of colors with purple. Feel free to drop in your suggestion in the comment section below.
Shop among the best Interior Design and Home Furnishing products here. Follow Us on Instagram, Pinterest for more ideas.