Ever wondered that you can never really have the right cozy home? Well to be honest to have a cozy home you don't have to put in efforts that are over the board and out of the box. A few small changes here and there will easily make the impact that you have been looking for. With these changes, your home will instantly bring the warmth, comfort, and coziness you have been missing.
Here are the 7 easiest ways by which you can bring coziness to your place within a span of few minutes
1. Bring In The Right Necessities | Cozy Home
When I say necessities certain elements are very important for a cozy home. The elements include:
Right Blankets
Comfortable Couches
Quilts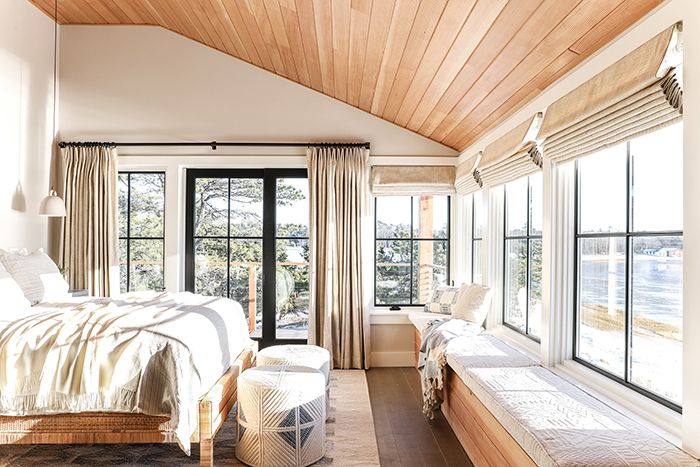 These three things are enough to give you a vibe of coziness in your home. The right quality of throws, quilts, and blankets has the potential to quickly bring warmth to your bedroom and living room. Make sure you make use of your bed while displaying your blankets and quilts in your bedroom. For living rooms, you must invest in the right couches that are made for all sorts of weather. If not couches then bring in the right couch covers of good cozy material that has the vibe of winters. You can make your living room more decorative by displaying your blankets. Get yourself a resting stand or ladder made of wooden. And then display your blankets on it. This will serve the purpose of the hour, that is coziness.
2. Make Space For Fireplace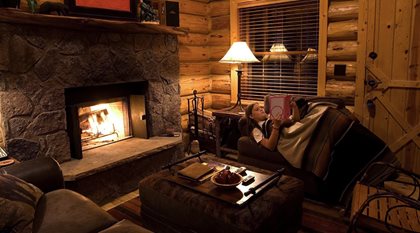 We all have seen a fireplace in a room in movies. So why not take inspiration from there for our homes. If you can arrange for a fire space in your home it will be great. Not only can this bring the right cozy ambiance to your home but also works great for home decorative purposes. Arrange a sitting arrangement nearby the fireplace to enjoy the warmth of fir in winters. Can anything ever beat the coziness that fire brings? Absolutely not. Anyone visiting your home will love this setup and won't be able to stop themselves from complementing your efforts. You can also make your fireplace the focal point of your home by making it decorative. Add a painting or mirror or any frame you love just above the fireplace. You will be amazed to see how exotic and vintage it can look.
If you can't arrange for a fireplace in your home. Then you may invest in electric heaters. Place the electric heaters under the table so that it remains hidden. Guests visiting your home will be left in wonders.
3. Right Lighting System | Cozy Home
The potential lights have is really underrated. You must check out how amazing the right light fixtures can transform your rooms. They have the potential to make your dull rooms bright and attractive. So why should we doubt their potential when it comes to creating a cozy ambiance. The right kind of lighting system helps you in creating the perfect cozy home. Dimmed and soft-toned lights are the ones that will help you create cozy atmospheres. These lights will rightly highlight the features of your home. You can also bring light inspired by the color of your home or couches and even blankets. This investment in light will always help you every time you plan gatherings with your family and friends.
4. Don't Forget To Bring Rugs
Having the right size of rugs can help you in covering the floors. Covering the floors with the right quality rugs will help you have a more warm room than ever before. You can easily sit on the rug when you wish to avoid couches. Rugs are the perfect piece of investment if you don't want to bring couches into your home. You can make rugs the focal point of your home by bringing all the cozier items. Bring in a lot of comfortable cushions, quilts, pillows and throw them all in a displaying manner onto the rug. This will help you have a cozy space or corner in your room. You won't have to do anything else. One may also choose rugs based on their prints and create a thematic look as well with the cushions and pillows. Anyone would love to sit there in cozy winter evenings.
5. Surround Your Space With Indoor Plants | Cozy Home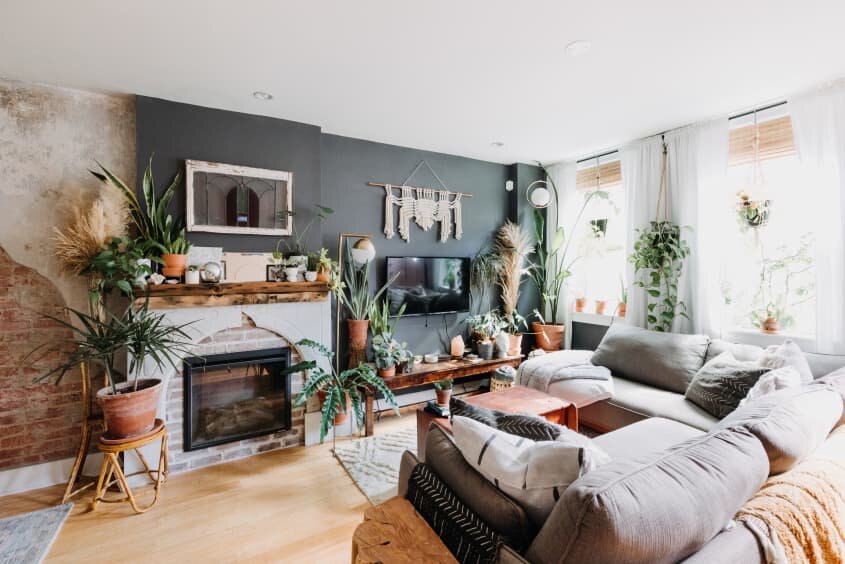 You should not rethink about adding plants. They are evergreen and will always help you in creating a cozier ambiance. On some winter mornings and some rainy days. Every day they will do their job rightfully. However, it is important how you incorporate plants into your living rooms or bedrooms. You may place them beside your couches or on the side table of your bedrooms. If you have a study table or the table where you sit and work from home you must think of bringing hanging plants around them. Or you can also dedicate a wall of your home to plants and create a plant wall decor. Read A Complete Guide To Create Plant Wall Decor At Home
6. Focus On Wall Decors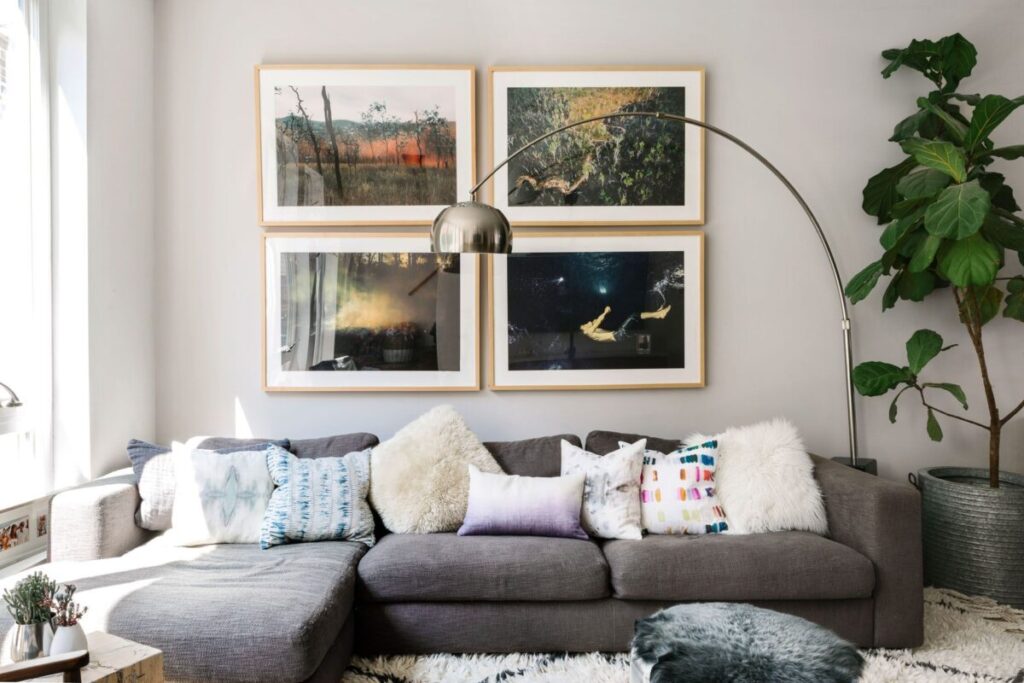 Right decors can help you bring coziness whenever you feel like it. Always remember to never leave walls empty. You must either invest in wallpapers or the right decor items. You can try out art and paints that are cozier in their appearance. Fill your walls with family photographs and portraits you will be amazed to see how much coziness can they bring into your room. Another incredible option is to bring mirrors they are great in creating the right ambiance all the time. Adding wall decors reflects your thoughtful personality. For a better cozy ambiance try to bring in original pieces of artwork. It can be anything from painting to traditional handmade crafts. You will fall in love with your space.
Read Top 7 Easy Wall Hanging Ideas in 2021
7. Flowers And Fragrance | Cozy Home
Natural flowers can do wonders to your space. You must at least try once and bring flowers into your living room and bedroom. You will be awestruck to see how they fill your room with coziness by their fragrance. The power fragrance holds in creating a cozy ambiance is matchless. They are best in creating the most relaxing and soothing spaces. Don't ever underestimate them. You can bring scented candles, scented oils, fresh flowers. room fresheners of your favorite taste anything will work great and make your cozy room happier than ever. Spray them onto your cushions, pillows, curtains, couches, and quilts. Every time you visit your bedroom or living room they will successfully fill your hearts with intimate scents that you will fall in love with.
We hope that you must have found the inspiration in creating a cozy home this winter. For a properly furnished home that looks rich and sophisticated decorate your home with the right decor items that will enhance your efforts in decoration.
Hope the blog has been informative enough for you to understand how can you create a cozy room with a few easy efforts. Feel free to drop in your suggestions and what idea did you choose for your home in the comment section below. The team looks forward to it.
Shop among the best Interior Design and Home Furnishing products here. Follow Us on Instagram, Pinterest for more ideas.