Refresh your homes with our easy wall-hanging ideas that are friendly to your budget. Wall Arts are the most sophisticated pieces of decor that you can invest in furnishing your home. You get a very luxurious and creative look. However, it is important to know that they can be easily incorporated into your home irrespective of whether you hired an interior designer or not, or whether you have a fresh coat of paint or not. They certainly have the potential to put your home a notch above.
Wall arts are very flexible and at the same time, they carry expressions of your personal taste. You can give your guests a peep into your personality with your choice of decor. Also, they add an instant dash of color to your home that will also improve the texture of your walls. Give your walls and homes a finishing touch that you have been longing for.
Since we are in the business of furnishing your home with wall decor, we are always into this constant search and net surfing to curate the best of creativity. Here in this blog, we have tried to present that creativity in the form of words that is not only from the decorative perspective but is also informative enough to guide you to go for the right choice.
Here we go with our top 10 ideas, however, the ideas which we have drafted are not in order of preference. You can choose as per your space and likes.
Frames or Photographs | Easy Wall Hanging Ideas
The most obvious and traditional way by which people decorate their walls is by using photographs or frames. However, there are many new modern touches and twist in this piece of wall decor. If you are someone who has a preference for photographs you can go creative with them. Like choosing the frame that's most fitting to your photographs. There are many new and rich-looking frames in the market to choose from. However, metal frames are the top choice to get a minimalist look. Other frames like floating, deep-set, photograph hangers and canvas print frames can be a great pick too.
Give the modern twist to your homes by setting up these frames in layers or you may shuffle it too. You can collaborate few large frames with small ones. Be it your family photographs or your child's memories or you want a gallery of your portraits you are good to go with these choices of frames. Just in case you are not a frame person you can still create the same look by going with unframed photographs. However, you have to be careful with the sizes of your photographs.
You can create a very affordable DIY photograph gallery using string lights and pints to attach them to the string. Apart from this, you can also add quote frames. They are great at motivating.
Paintings
Paintings have been forever in the trend and they still make to the charts. If you think that no matter what you do, your walls always seem incomplete? then you should definitely try paintings once. All you have to be is thoughtful and choose the right wall painting. With paintings, you can add your personality to your space. The most common types of paintings to chose from are portraits, abstract, storytelling, doodles, and modern paintings.
Paintings are the perfect depictions of artists. If you are an artist or you want art into your homes then paintings are the doors to your world of art. Give your walls a communicator that will connect with your guests and engage them. Undoubtedly, they are the most modern piece of decor that will forever be in trend. It's a one-time investment. However, if the budget is your key you might want to avoid this.
Metal Wall Decor | Easy Wall Hanging Ideas
No other wall decor is emerging as fast as metal wall decor. They have successfully captured the markets of wall decor and home furnishing. Undoubtedly the most versatile piece of wall decor, that is sure to give your home a very expensive look within your budget. They are very durable with a life expectancy that will leave you amazed. There are various designs and categories that you can choose from. Categories like floral, spiritual, wildlife, and people are all set to mesmerize your walls and homes.
Murals | Easy Wall Hanging Ideas
Murals are an art form where a piece of art is either painted onto the wall or applied to. They have the power to instantly transform and give your home a grand look. This may look like wallpaper to you but murals are greater than wallpapers. You can customize them and cover only a portion of your wall and you still will have a reform that will be worth looking at. They are the most modern touch you can give to your homes and walls. Murals are quite common on the streets. However, you can definitely take inspiration and go for it.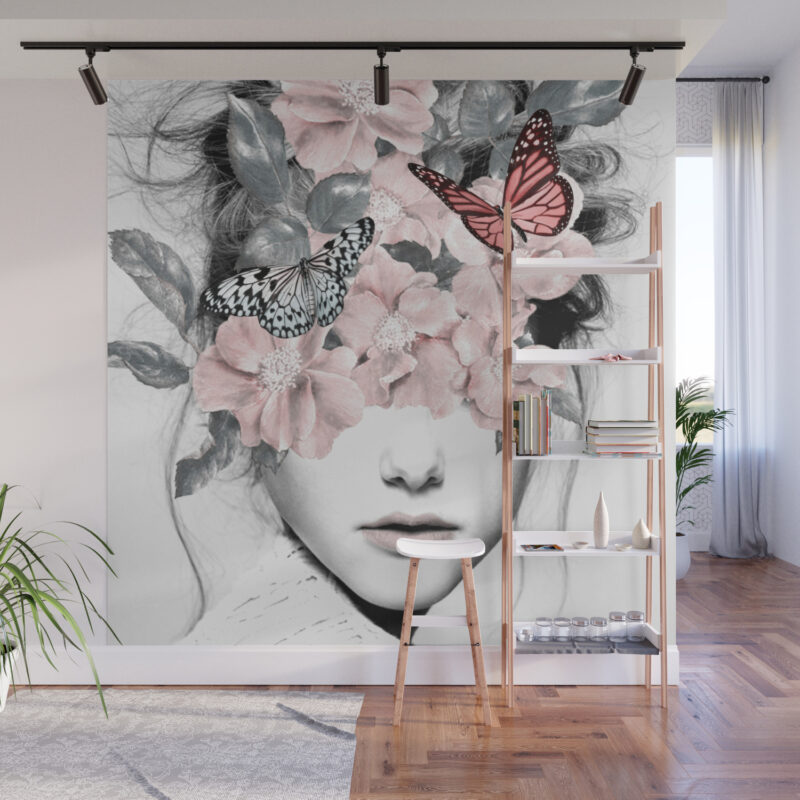 If you find murals expensive you can opt for custom wallpaper murals in the market. They too are equally great. You can also go for wallpapers, they are very cheap and affordable. You can easily find wallpapers online. But remember to do the measurements carefully.
Decals
Decals are nothing but stickers. Undoubtedly, one of the easy wall-hanging ideas you can go with. They are the cheapest and the most affordable wall art forms. You can easily find them online and in stores. They have great varieties and designs which perfectly suit creativity and modernity. However, one has to be very careful with decals. As you need a very thoughtful reading of your home before applying decals. With creative minds and experiments, you can go with decals in traditional and modern homes. However, they are best suitable for modern homes as selecting places for them becomes easy. You can go with decals in the living room, bedroom, and kitchen.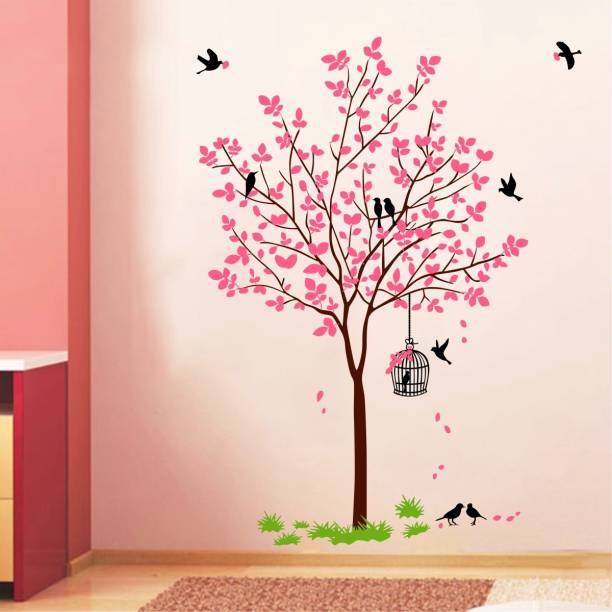 They are very durable with designs on almost all niches. Be it a cartoon, spiritual, words, and quotes. You can easily replace them with new ones or you can simply take them down if you don't like them. You can create a lot of scenes and spaces with them. They can act as a substitute for murals with the right innovations. You can create a night sky, ocean, trees, garden the creativity with them is endless. If you have kids at home they will love to have them in their rooms.
Wall Clocks | Easy Wall Hanging Ideas
Last but definitely not least you have a great scope with wall clocks. The right selection of clocks can alone be enough for an entire wall. They make a statement of their own, no wonder many still believe and love to have such creative walls. We all invest in clocks so why not make them a means of decor. Though it might be a bit difficult to find a good variety in designs. We still have a lot to experiment with. You can even go for a combined piece that has a clock and at the same time acts as wall decor. You can find clocks inspired by automobiles, nature, cartoons, and many other modern twists.
Take a look at our Metallic wall clocks: https://yfdecor.com/shop/metal-wall-clock-art-online/
Hope the blog has been informative enough for you to guide you to plan a perfect piece of wall art. Feel free to drop in your suggestion in the comment section below.
Shop among the best Interior Design and Home Furnishing products here. Follow Us on Instagram, Pinterest for more ideas.