Your beautiful plants deserve beautiful and modern plant stands. We have curated the top 5 modern yet exquisite-looking plant stands that will leave a statement of their own in your home. Internet is filled with different types of stands, hence we have curated content that has simplified the types of stands for better understanding. You may choose accordingly. The right designs, shape, and size will help to make both your plants and interiors look attractive.
Both the interior designers and decorators prefer indoor plants as they help in decorating purposes and have good effects on mental and physical health. Whether you have a modern, traditional, or vintage style home these stands will find a place in your style of home. Plants alone have the potential to make your home decorative and attractive. But when you have the right plant stands they become extraordinarily attractive. Let's read and explore different kinds of modern plant stands that are creative and innovative.
For the right kind of plants, you may read Best Indoor Plants that clean and Purify Air | Improve Air Quality
1. Plant Stands With Removable Pots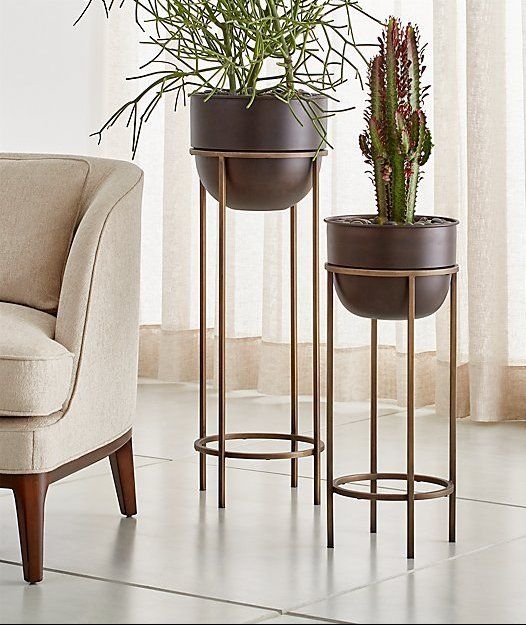 In these types of stands, you will get a rigid stand with the container to be removable. You can remove the pot as and when needed from the stand and then put it back. This serves to be helpful when you have to change the place of the plant or when you wish to replant some fresh seeds. Different stands complement different environments. You may buy them in one-pieces or invest in several pieces and arrange a set-up accordingly. The plant you decide to keep in the pot directly reflects the ambiance. Hence it is very important to choose the right plant for the right stands. If you plan to place them in a grouped way or want to keep them separately do consider the background. Plain white or grey works really well. However, any bright-colored wall works great as well. You may find these stands in both metal and wooden material.
2. Plant Stands With Pots Attached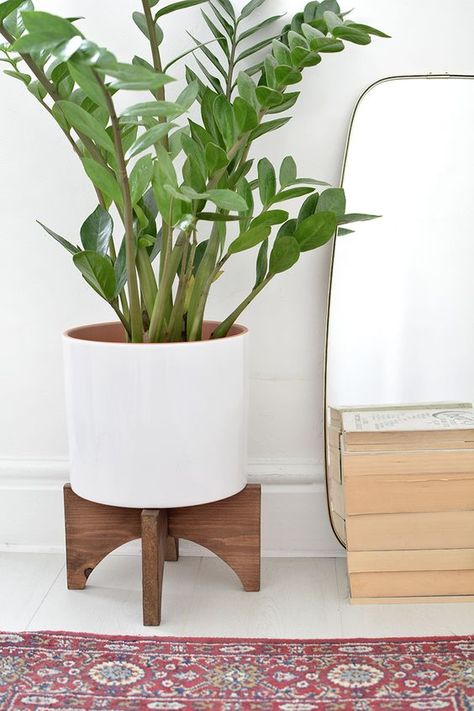 They are the actual pot stands that give you the most modern features. The pots here are attached to the stands and are not removable. They are designed in view to create an attractive and decorative look for the houses. They are both elegant and modern to keep your favorite plants. Assign a place to these stands and enjoy the visual of your plants. You can also keep these stands in your living room beside your sofa, though these may not help keep anything else other than plants. It will definitely look beautiful. These stands can also be taken into your bedrooms by replacing your table stands. Both ways it will complement the overall interiors of your home. Other than plants, it is important to understand that these stands do not only make your plants look great. But even without plants, these stands add a decor element to your home, office, or any other space.
3. Ladders And Standing Racks Or Shelves
If you wish to dedicate a particular space to your plants, then you must get a ladder or resting stands for plants. This way you can dedicate a wall to your plants and create a plant wall decor. If you have a lot of plants at home then this is a must-buy. The size of these stands vary and you can buy in a size that suits your space. The best part about these stands is that they are not only meant for plants. You can keep other items like your favorite books, frames, and other items of decor. You can arrange plants as per your likes and dislikes. One may also decorate the stand with climbers, it will look great. You can get creative with the pots and paint them or use other DIY methods to make them look more beautiful. However, these plant stands are in themselves a piece of decor element that you can add to your home.
Also, read A Complete Guide To Create Plant Wall Decor At Home
4. Decorative Plant Stands
Other than these basic plant stands several other decorative plant stands are very handy and helpful. You can easily place them beside your sofa and on the side tables in your bedroom. They act as an ornament in your modern homes. However, these decorative stands can find a place in every style of home. Whether you have a small home or a big home you can easily purchase these stands. They are very creative and looking. You can also gift these stands to plant lovers they will definitely love them. If you have kids at home then you can also place these stands in their room. You won't disappoint them. Instead, they will love to keep such creative designed stands in their room. These stands can also be customized. The designs can range anything from nature-inspired to playful designs. They are perfect for both decorating your home and keeping the plants in your home in general.
5. Mini Desktop Plant Stand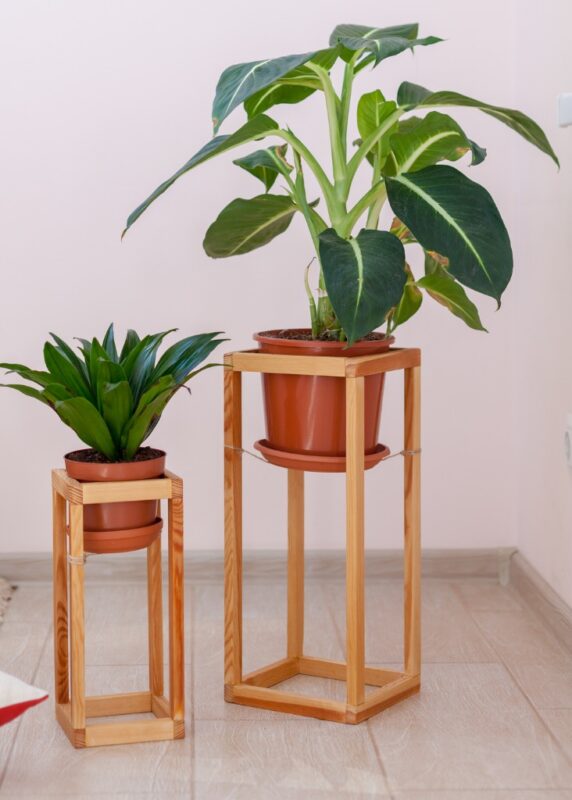 These stands come in very handy if you wish to keep plants on your study table or working desk. Remove the boredom from those desks where you spend most of your time and bring in these mini plant stands there and keep plants. They come in both metal and wooden materials. Hence, you may choose as per your convenience. They also come in handy if you have wooden shelves at home as they act as a piece of ornament that can be displayed with or without plants. They are very low maintenance and can be kept in the corner of your tables. Adding them into your study room or on the working tables can add refreshment and create a relaxing ambiance for your mental health. You may simply add your favorite flower plant as they will look very beautiful. You can also place them near your entertainment section in your living room or on the side table of your bedroom.
We hope that you must have found the inspiration in deciding the type of plant stand you want for your home. For a properly furnished home that looks rich and sophisticated decorate your home with the right decor items that will enhance your efforts in decoration.
Hope the blog has been informative enough for you to understand the different types of modern plant stands that enhance your home interiors. Feel free to drop in your suggestions and what stand did you choose for your home in the comment section below. The team looks forward to it.
Shop among the best Interior Design and Home Furnishing products here. Follow Us on Instagram, Pinterest for more ideas.