Don't we all look forward to cleaning our homes on Diwali? some even renovate their homes around Diwali. However, decorating the home is on everyone's checklist. Take a cue from our top 10 easy Diwali decoration ideas and make your Diwali this year the best one. Diwali never fails to bring images of light and positivity. Indeed the best of festivals that not only fill your heart but also your home with positivity and hopes. The world brightens up, while our eyes shine with the glorified lights of diyas and candles.
The level of excitement for celebrating Diwali is raised every year. So let's bring in the most creative and innovative ideas this year to your home that is sure to brighten up your mood. Give your home the "wow" factor that you have been looking for. In this blog post, you will know how we can give twists to traditional ways and bring about modern factors. The ideas listed below are not complicated neither is tacky. We have curated the simplest yet most exquisite-looking decoration ideas that are quick to implement. And the best part is you don't have to be an expert decorator for incorporating these into your homes. Though the final look created will definitely look like it's done under some experts guidance.
1. String Lights | Diwali Decoration Ideas
There is nothing new in string lights. Still is the best way to decorate your home, personally our favorite item. Well, to be practical string lights are everyone's favorite. So why not? The experiments you can conduct with string lights are limitless and you will never get tired of these ideas. They look extremely beautiful even when placed unthoughtfully, imagine when you place them thoughtfully.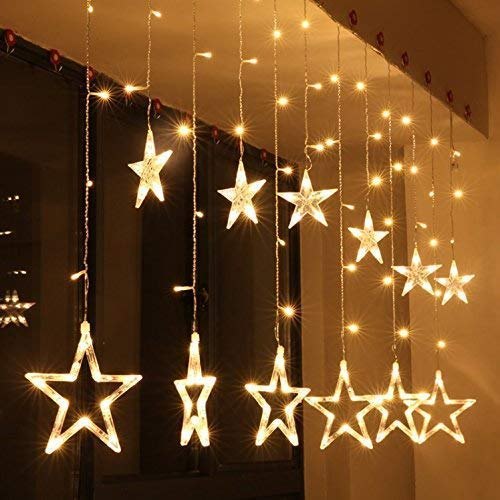 The best way to be creative with them is by making them drop like curtains with the curtain or without the curtain. You can always set them up on the linings or edges of your windows or curtain holders. Undoubtedly the most traditional way so you can give it a modern twist by combining it with artificial or natural flowers. You can twist the garlands and then set the string lights in a similar manner. With string lights, you can simply make a ball out of them and leave it on the table or puja desk, and you will be amazed to see the final results. You name an object and you can collaborate it with string lights, be it a simple vase on your tea table or the doors of your home.
Few ways by which you can incorporate string lights into your home:
You can make a chandelier using the string lights. The cheapest and the most expensive looking item of decor that you can add. You can always hang it on your ceilings, above your dining table or you can also arrange it like a table piece.
We all have spare bottles at home that are no more of use to us. Take out those bottles and cut them into different shapes and sizes. Also decorate the vase with lace and ribbons, you may even paint it. Once you are done decorating the vase fill the vase with string lights. We bet, you won't be able to take your eyes off.
In case you have a mini garden in your balcony or you have indoor plants standing or hanging in your living room. Then you must experiment those areas with the string lights.
We have a quick do-it-yourself idea that you can try:
Over head Light-Flower set up:
For doing this DIY you need to have an over headspace. May it be via curtain rods or the best will be to have wooden racks or shelves or the resting space above the door.
Items required:
String lights
Artificial or Natural flowers (best is to take your hands on artificial flowers, as they are sturdy)
Two Sided tapes
One sided transparent tapes
Procedure:
Firstly you have to arrange your flowers in vertical stands. And then stick your two-sided tapes in the assigned space, remember an over-head space. Stick your flowers line-vise, take the help of transparent tapes to make them stand. And then just below your flowers leave the string lights you can also throw the lights over the flowers. And that's about it. You will have the most creative and stunning decor that will light up the entire space. It will surely be an eye-catcher and the focal point of your home this Diwali.
2. Candles and Diyas
I bet you can't call candles and diyas to be monotonous. They are the hearts of Diwali, and the shine and positivity they bring are matchless. No artificial and technical lights can fill their gap. Undoubtedly, the most traditional and sophisticated way to celebrate Diwali. To be honest Diya's and candles alone can give a very modern look. But you can create a lot of modern designs and decor with a few changes here and there using candles and diya's. The most modern and creative way is to make a rangoli not with colors but with diyas. The impact and light this rangoli can bring into your home nothing else can. You can also make rangoli with the help of petals or flowers, and then you can add diyas to create a focal point.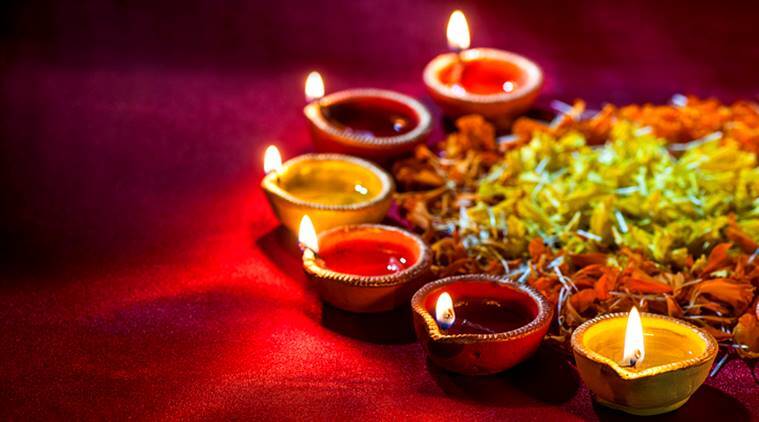 To maintain cleanliness you can use tea light candles. Or if you are someone who wants it in a completely traditional way you can definitely go for the handmade diyas. We have a lot of fragranced candles available online and in local markets, you can go for them. You can also get yourself a diya or candle stand, making it easy for you to assign a place for them. Make sure to surround the area with flowers and their petals. Going by the simplest way you can simply place them wherever you like, maybe around the corner of your doors or around the windows and balconies.
3. Jar or Bottle Lights | Diwali Decoration Ideas
The safest and most time-saving option you can go with is these jar or bottle lights. All you have to do is spent a few bucks in getting yourself these pretty jars or bottles. However, you can always go for a DIY jar and bottle. You can insert string lights, artificial diyas, and candles into these bottles and jars. You can also fill these bottles and jars with flowers and then on top place a diya or candle or you can also cover it with string lights. The final look created will be magical and you won't be able to take your eyes off.
If working with hanging bottles, you must try to find the right places to hang them invertedly. Not only with bottles but also with jars you have to find the right place for. Sometimes a wrong place can make the best of items look unattractive and tacky. Hence, it is important to place them thoughtfully and correctly.
4. Spiritually Inspired Wall Decor
Wall decors can find a place in every room and every furnishing topic. Investing in wall decors that are spiritually inspired can be a great investment this Diwali that will not only help you in festivals but will also help you be decorative and spiritual all the time. Metal wall decor items with LED effects can be a great pick that will light your entire space of puja room or for that matter any space that you try to decorate. They have the potential to give you a very modest and calm ambiance that will help in keeping you spiritually inspired. Even the guests visiting you on festivals or normal days will definitely take notice of this piece and compliment your thought of adding these pieces into your home. What better occasion than Diwali to invest in such spectacular decor items?
5. Make Use Of Garlands | Diwali Decoration Ideas
Garlands are a very traditional item that is used in decoration. Yet always pop up among the modern ways with which you can decorate your home. The effect garland can bring in the decoration is very luxurious and royal. Though this may be a bit hard on your budget. But come on Diwali comes once a year and you must try to make the most of it. With garlands, you can set a theme and then decorate accordingly. The simple vertical droppings of the garlands go a long way in decorating your home to the best of your capabilities. You can always hang them on fans, doors, and windows. You can also make a tie back for curtains, One can even make circular bands or a strand that perfectly suits the shape of your door handles and tie onto them.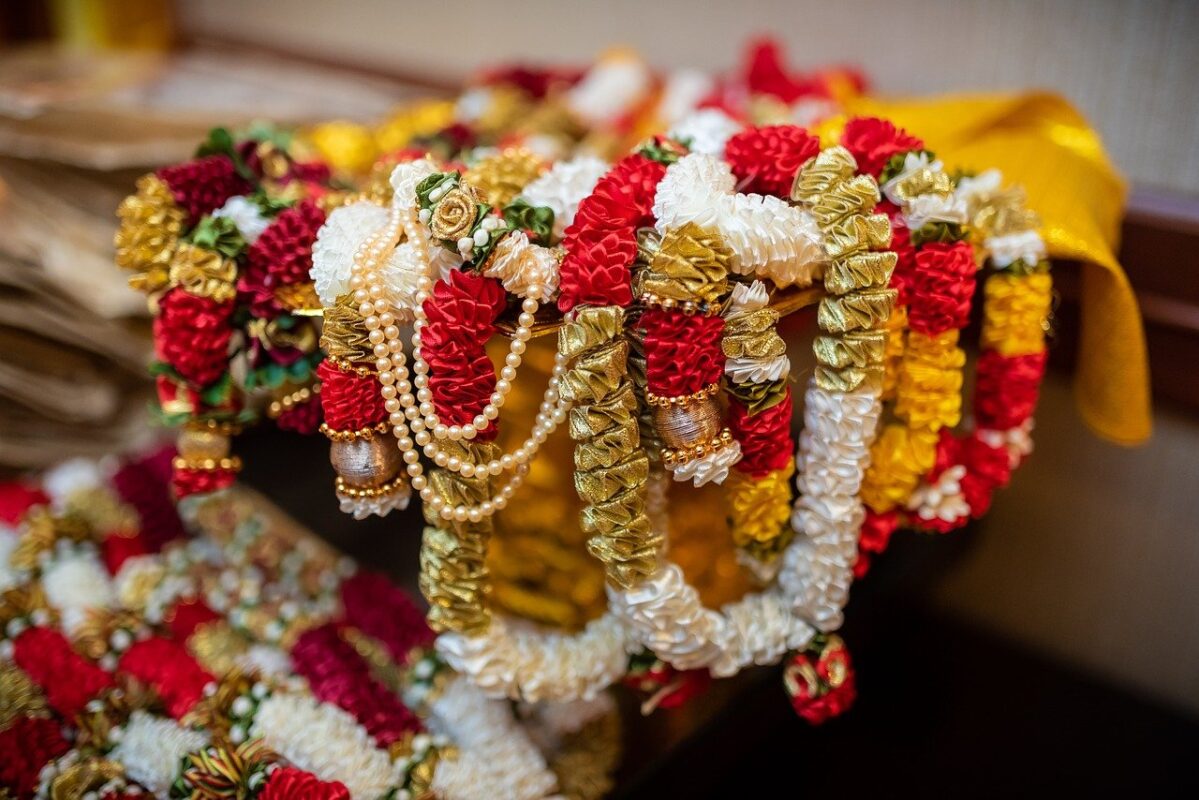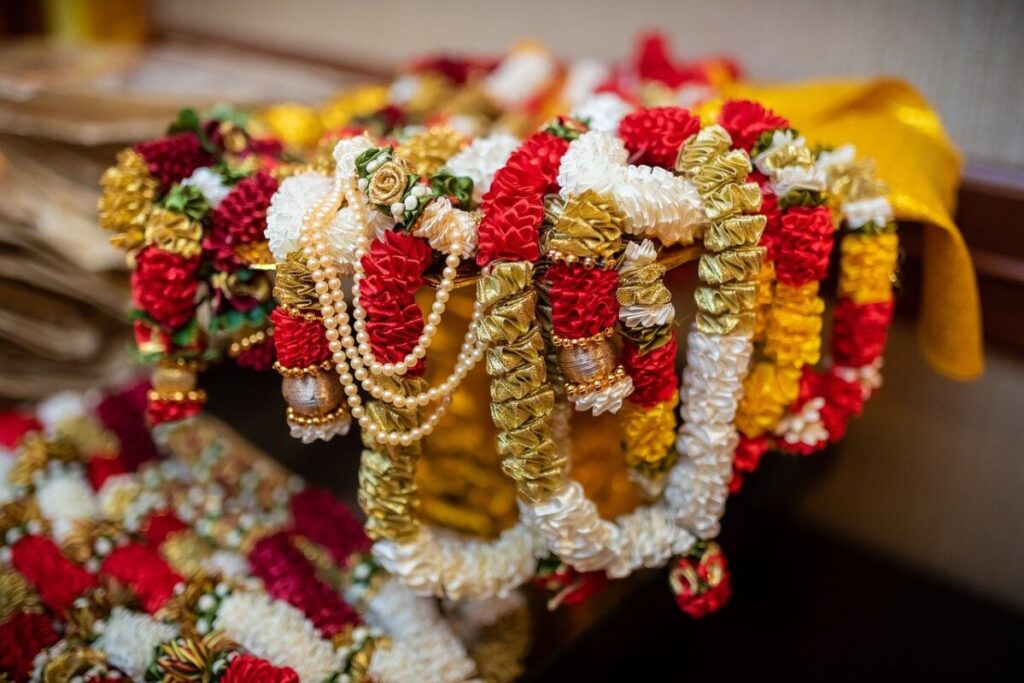 Few ways by which you can incorporate garlands in your home:
Not a single festival goes by without this flower hence bring in the most sacred marigold flower. Fill your house with this flower and decorate it. You hardly will have to put in extra efforts, the flower in itself is is very decorative. You can drape them and make it fall. All of it will easily blend with your walls and look beautiful effortlessly.
You may create a focal point with any flower you love. Make a centre piece using the flowers on headboards and place it on the center. If not making a centre piece you can even place a flower piece on any corner, it will create a same focal point. The piece will act as a screen in your home.
One may create a wall hanging using flowers. Or you may also decorate the existing wall hanging with flowers.
You can add paper ribbons to your garlands and then make it fall. It will give you a complete luxurious look.
In case you love to bring balloons into your home then you can definitely add garlands from below and make it look more decorative.
You can also make a chandelier using flowers or you can decorate an existing chandelier with flowers.
These little smart and creative decorative ideas work like magic. As already suggested above you can also incorporate string lights anywhere you like. For example, you can easily collaborate the garlands and string light to make a bigger impact.
6. Decor Items Made Of Paper
Using paper you can create innumerable decor items and make them more impactful with lights and paints. You can make DIY flowers, diyas and paint them. All of these can be easily hanged. These small craft works will bring brightness and color to your room. This particular type of Diwali decoration idea will definitely involve your children and they too will love to be a part of it. While decorating you can also spend quality time with your children. You will be amazed to see their creativity and passion for papercrafts.
Paper diyas are the best work of paper as it perfectly suits the environment of the festival. You can make lamps and artificial flowers using colorful paper. You can surround your diya's with quilling papers and make them look more creative. If you are really creative with paintings and drawings you can paint a rangoli on paper and then stick it onto the floor. Such mini rangolis will not only look cute but will certainly reflect the artist in you. Do give it a try.
7. Use Dupattas | Diwali Decoration Ideas
Take out your old fancy embroidered dupattas that have been no use to you and decorate your house. You can use them as a curtain scarf or a door scarf. You can also make canopy drapes out of them and then set them up in suitable places. Why only fancy dupattas if you have plain colorful dupattas they too can act very beautiful. One can make really pretty drapes out of them. Drapes give a truly festive vibe so you must utilize it in the best possible ways.
8. Make Paper Lanterns
Yes, you read it right. Why running after expensive artificial lamps and lanterns when you can be creative with the best of Diwali decoration ideas using paper. Involve your kids and make in and about 20 lanterns using papers. Make it colorful and bright by either painting or using laces. You can also use papers that have printed designs on them. Once done making the lanterns. Hang them horizontally on the rope or string and tie them onto your balconies and windows. You can also add a cardboard base below the lantern to make it sturdy and then place an artificial diya into the lantern. The final look will leave you amazed.
9. Bring Floating Candles | Diwali Decoration Ideas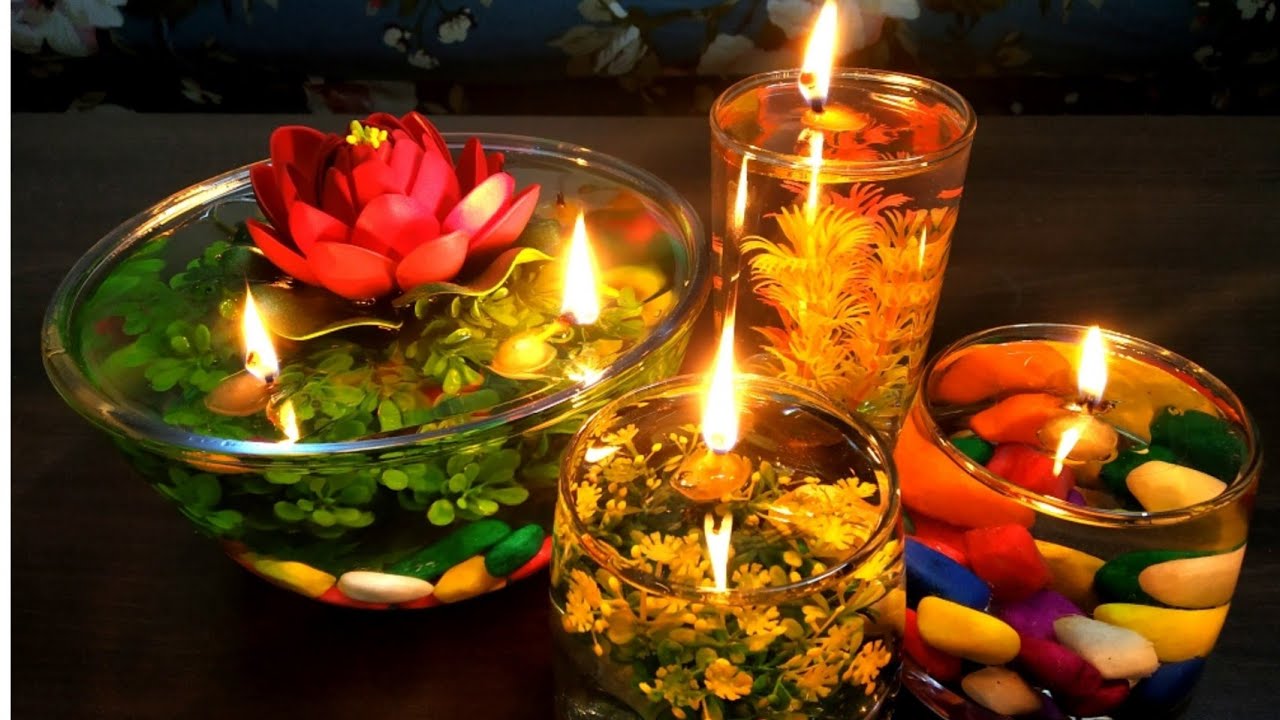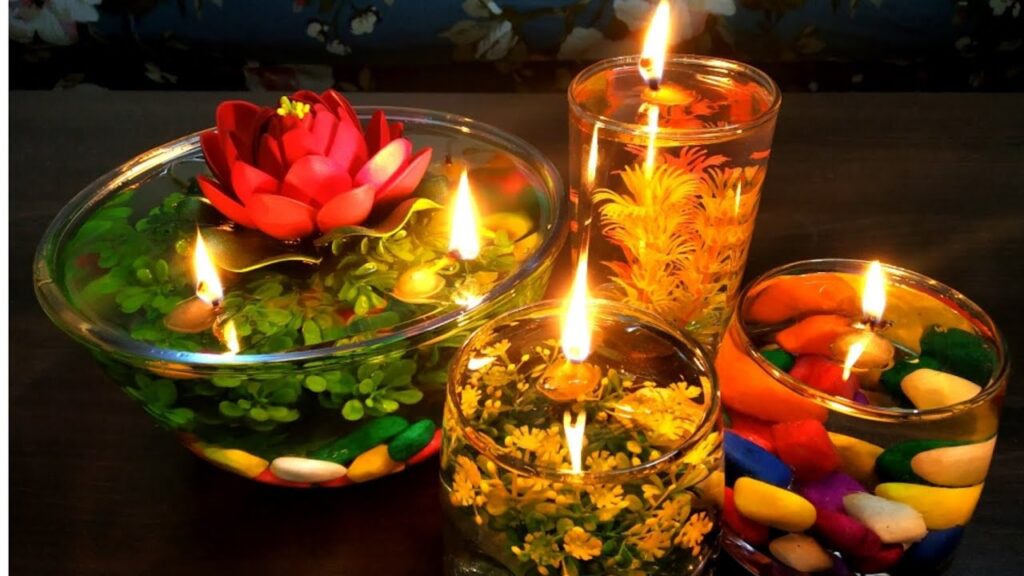 You can easily create an expensive and lavish look using floating candles on Diwali. They are extremely less time-consuming and the same time it is very effective. You can take vessels made of metal and glass both work equally well. Fill the vessel with water, add a few drops of your favorite essence to bring fragrance. Spread petals and glitter in the vessel and then put the floating diyas. That's it, you have a refreshing piece of decor. You can simply place it on the tea table or shelves.
10. Experiment With LED Wind Chimes
In case you don't have the energy to go into the depths of decorating, you can definitely try out wind chimes that have LED effects in them. They are very versatile and works really well in bringing light and decoration into your home. You don't really have to worry about the right places, they can be easily placed around the windows and balconies. You can also take them to your bedroom. One may find these beautiful pieces anywhere in the local markets or online. Undoubtedly the most affordable and beautiful looking piece of decor that you can find among all the Diwali decoration ideas. You can definitely bring it in with the minimum effort.
Hope the blog has been informative enough for you to help you in decorating your home on the auspicious occasion of Diwali. Feel free to drop in your suggestions also how was the overall experience of your Diwali decoration this year in the comment section below.
Shop among the best Interior Design and Home Furnishing products here. Follow Us on Instagram, Pinterest for more ideas.