Are you wondering, How much does interior design cost per square foot in India? Today we will discuss how to arrive at a suitable budget for your home interior. Before knowing how to arrive at an interior budget, we should know why is it important to decide on an approximate budget before starting our project. For better understanding, let us consider an example of buying a car. Doing interior is almost like buying a car. The core aspect of a car is to transport us from one place to another. But cars are available in different budgets and different shapes and sizes. Based on your preference and budget you decide on a lot of factors before investing in cars:
whether you want a car that has more mileage?
or your prime factor is comfort?
or you want a car that has more number of seats?
a car that is very fashionable and rich?
Similarly, the underlying aspect of interiors is to make the available floor space more efficient and functional. Like in cars, the interior can also be done based on your preferences, for example, whether you lean towards the functionality or would you like to add more comfort or you are looking for a display and your focus is on a fashionable and luxurious car.
So, as per your requirements, your home interiors can too be customized based on your budget. However, it is very important to give your comfortable budget range along with the requirements to your interior designer. So that they can give you better and more approachable designs and solutions that will fit in your budget range. Also, this will prevent you from unnecessary anxiety, and help you get a better solution quickly. Now, let's see how to design an interior design without compromising on budget.
Basics
When it comes to doing interior design for a home we generally see clients have three types of requirements:
Functionality
Design
decoration
Let's design the budget range for those three types. The very first thing that we need to understand is that any kind of work that is done inside a home or office can be a part of interior designing or decorating. For a better understanding of the difference between the two, the designer and decorator read our blog Difference Between Interior Designer And Decorator
Factors That Influence The Budget
The very prime factor is YOU. Yes the kind of interiors you plan and you want to have simply detemines the budget.
The cost of materials used : The brand you choose for your materials will define your budget. Also the market with which you shop your other accessories from. You may even leave these consideration in the hands of your designer.
The items functionality you would want to have, like AC, Television, furniture, etc.
The lights and fixtures that will be used : This one is very obvious, either you go for brands that are expensive but has quality, or you may calculate and plan smartly by saving some amounts here and there. This too completely depends on you.
The size of the house, that is the space you want to cover : It is significant to know that the size is directly proportional to amount chargeable. Very simple logic, the larger the area more will be the quantity of materials recquired and hence high amount.
Deal type: contractual or turnkey
Labour cost : It is important to know that the labour charge comes under the designer's headache and they inform you accordingly including the labour charges.
The designer you choose: As a matter of fact if you go for highly skilled and experienced interior designers, they will charge you accordingly. However, there are a lot of aspiring and low charging designers and decorators.
These are the very important factors that mostly will define your budget for the interior design per square foot in India.
On What Grounds Do Interior Designers Charge?
SCOPE OF WORK:
The scope of work is directly defined by the services they are providing you. Some designers will help you with all the nitty-gritty of your home. Ranging from structuring, designing, and decorating. On the other hand, some designers have their work limited and specified to only structuring and designing. The rest will be in the hands of the decorators. In case you want a stress-free experience then try to get a designer that provides the service of decorating. However, in some cases, separate services are charged separately so it is important to keep note of these basics.
Design Complexity and Customisation:
The complexity of design and the level of customisation you want affects the cost per square foot much more than any other factor. Complex designs, unique features and custom made elements requires skilled labour, exclusive raw material and time, which results in the overall cost increase.
Additional Services:
Services such as project management, site supervision and procurement will impact the cost per square foot. No doubts these services help in smooth and hustle free project execution but come with associated fee.
PER SQUARE FEET | Interior Design Cost Per Square Foot
With this method, the price is determined on the square foot of the entire space. The charge generally ranges from 10 rupees to 100 rupees per foot for designing. The price range will start rising if you want other factors to be considered as the product installation, flooring, ceiling, all these factors can make the price rise to 3000 rupees. They may offer woodwork and avoid soft furnishings.
PERCENTAGE OF FULL COST:
here the designers based on the overall cost estimated charges a percentage on it. This percentage is his fees, which can increase as per the level of design offered.
A LUMPSUMP AMOUNT | Interior Design Cost Per Square Foot
Here the designers give a full description of how much amount will be directly charged by them for a full project. This amount is based on a lot of factors, some don't prefer breaking up the charges for clarity. They keep it fixed. However, this is largely a combination of both percentage, fees, and square feet.
It is important to note that in this blog we are considering woods and plywoods as the base material for creating the function spaces because they are most commonly used for the interiors.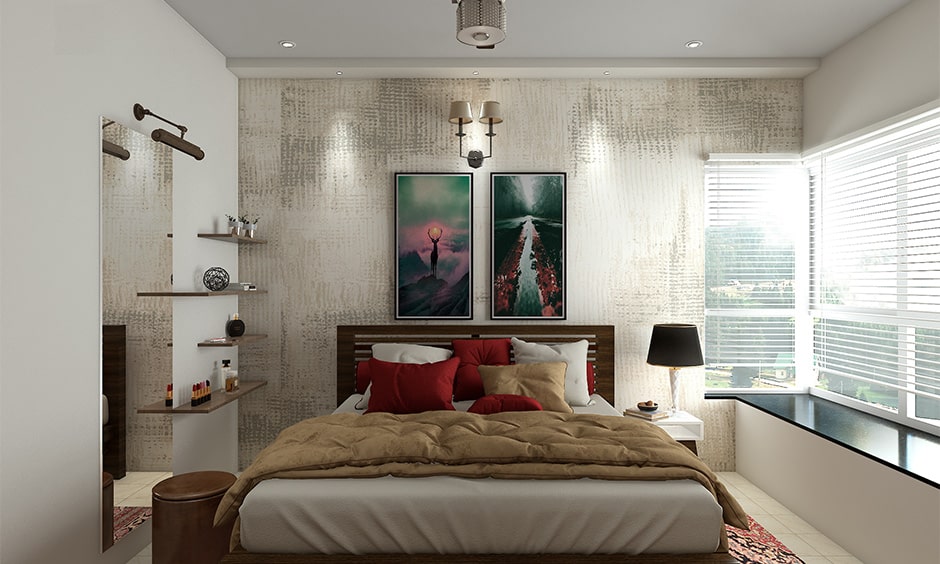 1.Entry Level Interior Design Cost Per Square Foot in India
The type that highly suits a low budget range can be specified as Entry Level Interiors or Standard Interior requirement. If you are planning to do interiors for a house in which you want all the basic functionalities to be covered. You hardly look for too much design and decoration. Your prime care is to simply have a fully functional home. Furthermore, if you want to use most of your existing furniture. Or you are planning to design a house that can be used for rental purposes, then the following budget range might work for you.
Let's consider an example of a 2bhk, 1000sqft house. Keeping 1000sqft as the house build-up area. One may be confused why build area, why not carpet area? We can also use carpet area for budgeting interiors but the given cost per sqft range will increase. For entry-level interiors, you can keep the cost range between Rs.250 to Rs.500 per sqft of the house. So, the overall budget can vary between Rs.2.5 lakhs to Rs.5 lakhs. This variation in cost is natural because the interior cost is also influenced by many factors like quality of material, size & quantity of objects that need to be done, design & type of work involved.
For this entry range what all you might get is, modular kitchen wardrobes and lofts for the bedrooms, tv units, crockery units, wallpaper in one or two walls, maybe a false ceiling in one area of the house like the living room. Mostly the woodwork storages with a touch of designer work here and there.
2.Medium Level Interiors
The second type of budget range can be specified as Medium Level Interiors. If you are planning to do the interior of your house in which you want all the functionalities to be covered, you want to replace some of your old furniture with new ones and add a good amount of design style to your house. Then this range might work out for you.
For this let's consider an example of a 3bkh house, with a 1500sqft build-up area. With this level of expectations, you can keep the cost per sqft between Rs500 to Rs1000. So, the budget range can be between Rs.7.5 lakhs to Rs.15lakhs for a 1500sqft house. For this medium-range, you can expect to get all the woodwork, designed false ceiling in key areas, wallpapers and claddings, some electricals, door and window curtains, some new furniture, AC in few areas, and overall a good interior design style that mostly covers the entire house.
3.High-Level Interior Design Cost Per Square Foot in India
If you are planning to do interior for your house in which you want all the latest technology, new furniture and add a great depth of design style to your house. Then this costing might work out for you.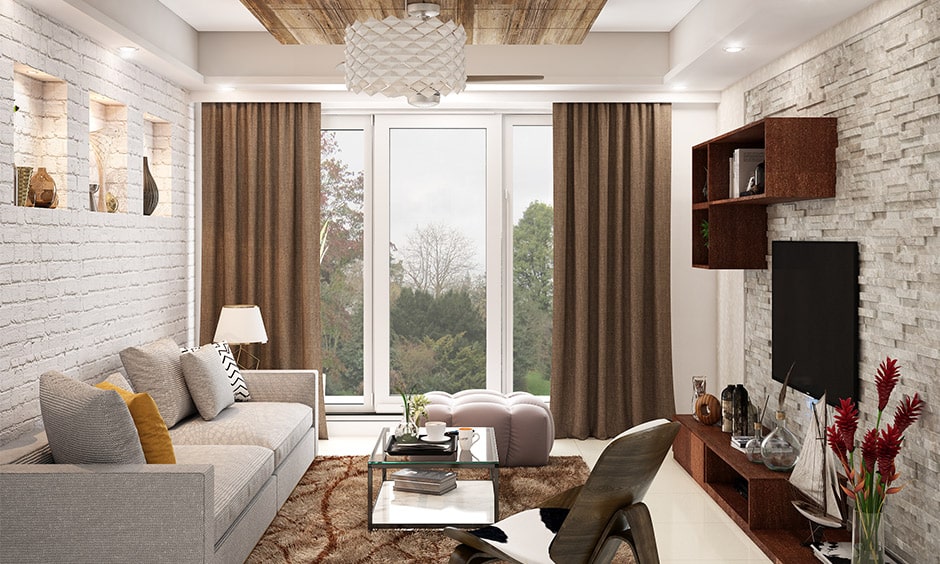 For this let us take an example of a 3bhk house, with a 2000 build-up area. With this level of expectations, you can keep the cost per sqft starting from Rs1400 to Rs2000. So, the budget range can be between Rs.28 lakhs to Rs.40 lakhs for a 2000sqft house. For this high-level interior, you can expect to get, best quality woodwork, designer walls and fall false ceilings in all the areas, wall decoration, designer curtains and blinds, complete electrical service, home automation, all new furniture, complete air conditioning, and the highest level of interior styling.
Please note all the budgets discussed above is a rough estimate and can vary significantly based on various factors. In metro and urban cities the cost per square foot may be higher due to higher material cost and higher labour cost. On the other in small towns or rural area the cost will be comparatively low. To get a more accuracy of the cost per square foot, it is recommended to hire a professional Interior Designer who can access your requirements and provide a detailed scope of work. Selecting the right interior designer will also ensure whether you have got the right value for money spent. So, choose your interior designer wisely.
Frequently Asked Questions:
IS IT WORTH IT TO HIRE INTERIOR DESIGNER?
Yes, it definitely is worth it to hire an interior designer. Especially, if you really want a home that is highly functional and at the same time is decorative. If you are someone who can really strike a good conversation with the interior designers regarding your requirements, then it's always a wise decision. Having said that just like any other industry you might face fraudulent practitioners here as well who may charge unfair amounts. So you need to be careful.
2. HOW MUCH DO INTERIOR DESIGNERS CHARGE PER ROOM?
As stated in the blog the charges of the designers depend on different grounds for different designers. Some may charge you on a percentage method, some on the scope of work, some may take up a lump sum amount, and last but not least the most common one per square feet of the space to be designed.
3. HOW MUCH DO INTERIOR DESIGNERS CHARGE PER SQUARE FOOT?
This generally varies from designer to designer. The experienced and skilled designer may charge more compared to freshers. Some have brand names as their interior designing company so they may charge accordingly. However, a general amount ranges from 1o to 100 rupees for only designing. The amount increases as the scope of work increases.
4. HOW MUCH DOES IT COST FOR 3BHK INTERIORS?
This completely depends on what kind of interiors you want. If you wish to have an entry-level interior design the cost will be comparatively low, say in and about 5 to 6 lakhs. In case you want a medium level designing or high-level design your cost might range from 15 to 50 lakhs.
We hope that the blog has been productive enough to give you the right knowledge regarding the topic. This may also help you in choosing the right interior designer. Feel free to drop your suggestions and views in the comment section below. We would love to read it.
Shop among the best Interior Design and Home Furnishing products here. Follow Us on Instagram, Pinterest for more ideas.