The living room is the heart of your home where you spend most of your time. Guests, relatives, and friends all gather together in the living room. It is the first visible place in your home hence it is a very crucial part worthy of furnishing. But the thought of how to furnish a living room is getting on your nerves? Don't worry we have curated the best of ideas for you. The ideas are easy to understand and are also friendly to your budget.
Living in an area which is designed with your personal preference can be the best. And the living room is the only first area that can state your personal preferences. It's the coolest way to give your guests a peep into your personality. Make it your cozy and inviting corner. Having such a living area in your home can be really friendly and relaxing. Home is all about your personal comfort. However, it is very important to balance comfort and furnishing. When comfort and furnishing are balanced you make your home a heavenly space.
Here are our top 10 creative and modern ideas on how to furnish your living room. Certainly, this will refresh your entire interior. Make your living room your favorite spot with our poppy ideas.
1. Choosing Right Furniture | How to Furnish Living Room
Furniture is the life of a living room. With the right selection of furniture, you get to decide on a modern, traditional, or classic look for your living room. However, decide sofa's considering your space and look that you wish to display. You can opt for mid-century style sofas, modern style sofas, velvet sofas, or even customizable sofas if you have a small home. Certainly, investing in your living room furniture will be a very clever choice.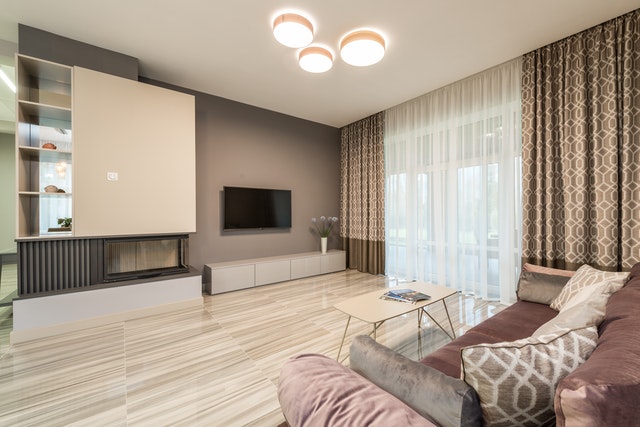 Go bold and bright with your furniture if you want to make it lively. Does boring brown furniture bother you? then you can choose colorful pieces to add more color to your house. Try different shapes and sizes of sofas. Sneaky and classic furniture is always in trend. So you can go for this type of safe choice. However, don't forget to add a piece of furniture that has a statement. Maybe you can add a king-size chair, or the traditional resting and rocking chair. You can also add antique pieces of furniture like an aesthetic tea table or simply a vase.
Swing sofa with a stand is quite common and trendy these days. You can definitely think of adding such a piece. Undoubtedly they add luxury and class to your living room. If you have a small space and adding extra seats can be a trouble, you can go for innovative foldable chairs.
2. Opt for Geometrical Interiors
Don't be nervous about this experiment. Geometric patterns and shapes are the most modern idea you can go with. You don't have to fill your rooms with geometric designs, But adding a significant touch of these patterns can be enough. You can go for a geometric wallpaper or painting as well. Go for shapes like square, triangle, circle, and hexagon. You can even contrast your furniture with your geometric designs.
If painting scares you, you can add Wall Paintings and frames of geometric pattern. Try to inject some sort of geometric pattern if you are going for contrasted looks or bold colors. You can add the unframed geometric-inspired wall art. However, don't forget to calculate your overall look before injecting these patterns. They help you add modernity and textured looks. Therefore they can surely be an eye-catcher of your home.
3. Say Yes For Contrasted looks | How to Furnish Living Room
Contrasts are the new normal for this decade. You should try contrasting. May it be contrasting with furniture and walls or try Contrasted paintings itself. They are really trendy and give you a very classic and royal look. Whenever contrasting, always contrast with neutral greys, black or white. Contrasting allows you to have shades of colors that are bright and cheerful. With small budgets, you can go simply by getting sofas to contrast with cushion covers.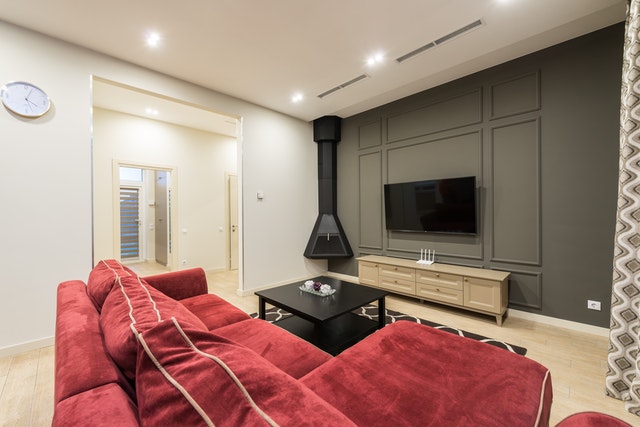 When going with contrasting looks, sought for statement lights. They look marvelous in such areas. Leave the light-colored wall for decor and frames. Making your living area the most expensive on a small budget. Colors can instantly give another life and charm to the area. The color scheme you choose eventually decides your final look. So, always be creative and clever. Color combinations like light green-white, blue-white, and the newest classic yellow combinations are forever trendy. Undoubtedly white is still the safest neutral color you can select.
4. Metal Wall Decor
The best thing to add for rich-looking interiors on a small budget is the metal wall decor. You get to choose from ample designs and creative wall decor for your living room. Wall decors can be added at the last minute also. Such great potential of design they carry. They can make your living area have a very luxurious and sophisticated look. Enhance your furniture, interiors, and especially sofas. Place them behind the sofas and you will be amazed to see the look.
If you are someone who wants to make your living room your personal reflection. Then showcasing your love for nature, wildlife, music, people, and floral designs will not be difficult anymore. You have a one-stop destination to look for such pieces of wall decor. Check out yfdecor.com
You can certainly decorate your living room with spiritually inspired and automobile inspired decors. Wall Decors are the prime thing that can serve your craze for certain categories. So feel free to inject them into your living room.
5. Add Statement Lights | How to Furnish Living Room
Gone are the days when you would invest in expensive chandeliers. It's time for the simple and clean statement lights. Statement lights are very common these days as they are very practical and useful. They are multipurpose. And we all are certainly looking for multipurpose items. Things that can serve our furnishing needs and our practical uses. What better than statement lights?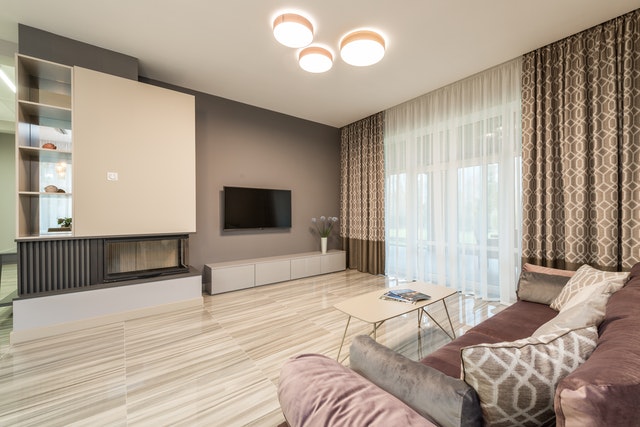 In these modern times be with time, and go for oversize statement lights. They are classy and are mid-century look providers. Combine them with your mid-century sofas. Or you can go traditional with a modern twist, that is lanterns. Yes, there are ample modern lanterns available in the market. People who like some sort of classic and retro touches. These kinds of lights are very demanding. You can also for combined wall decor with the lightning feature attached.
6. Bring Greenery with Indoor Plants
Are you someone who loves nature? Well then adding indoor plants into your living room can be a very smart and useful choice. Indoor plants that purify air quality can be the best choice when choosing plants. Read our blog Best Indoor Plants that clean and Purify Air | Improve Air Quality to select the right plants and furnish your living room.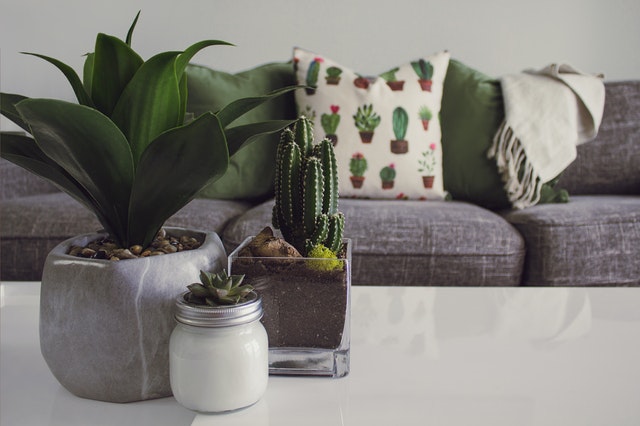 You can add a plant beside your sofa or on a shelf. To be more creative you can add a separate bench on one side of your living room. Then fill the bench with your favorite plants. However, choose stunning pots to match your interiors. If you have a small space then you can go for hanging plants. Plants have the power to serve as an ornament and asset to your living room.
7. Add Mirrors | How to Furnish Living Room
Mirrors are best in bringing light and brightness into your living room. Other than bringing a focal point they also hide imperfections. They are great at acting as an asset. Add luxury and class into your living room with mirrors. You can go with really luxurious looks with mirrored frames. However, standing mirrors are in trend.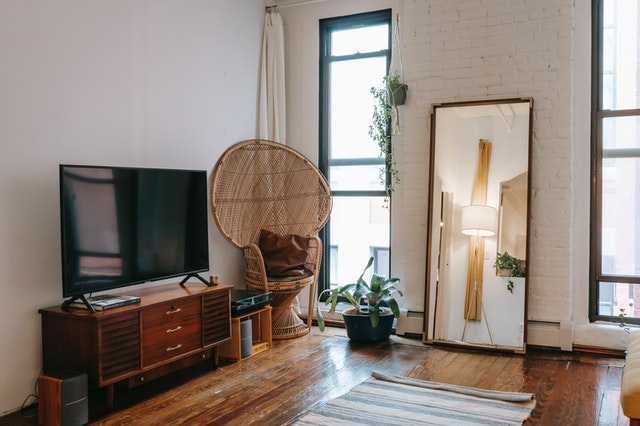 You can also go with simple round frames, they too are classy and elite pieces. Multiple pieces of the chic mirrors too can be a great idea. Choose areas that can easily reflect onto the mirror. Antique frames add royalty and elegance. You can also add a mirror in the entryway.
8. Stick Wallpapers
With wallpapers, you are always in a space to change your entire living room. It indeed is the simplest and easy way to furnish your living room. They are cheap and beautiful. The best part about them is they are always in the trend. A place for wallpapers can forever be incorporated anytime. If you have plain shelves in your living room, you can simply stick wallpapers onto them.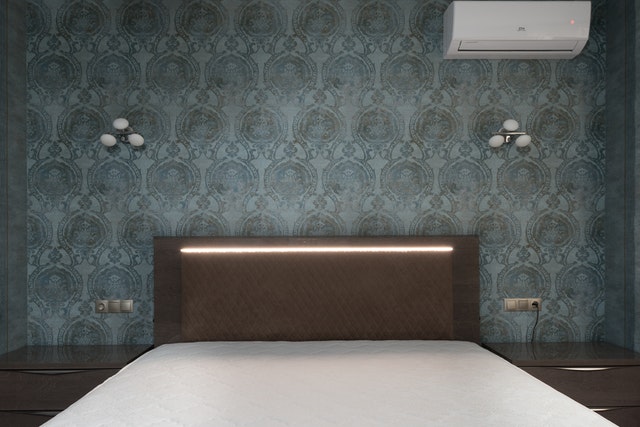 Always consider the size of your room before selecting any pattern or design. Small patterns for big rooms and large patterns for small rooms. However large patterns work equally well with any size of the room. With wallpapers designing your own patterns can be easy. Try and experiment with patterns and shapes. Mix them as you like. However, keep in mind not to make the area too busy and occupied. Always try and read your room and your interiors properly.
9. Invest in Good Rugs | How to Furnish Living Room
Your rug has a great role to play in your living area. Hence it is important to carefully choose your rug. Rugs are a really classy and royal option. They are the most sophisticated item you can think of adding. As the living room has to be a reflection of your preference. What better than a rug displaying it?. They carry a strong statement. Hence you can go natural or bold patterned design on your rug.
Colorful rugs can be really lively in living rooms. You can complement your rug with your furniture. Whether you go for striped rugs or printed rugs make sure to carefully choose your color combination. As they should balance well with the color of your living room. You can also go for geometric patterned rugs in contrasted living rooms. Animal or nature lovers can opt for such inspired rugs.
10. Keep it Light and Airy
It is highly advisable to keep your living area light and airy. Keep your paints and wallpapers light they are the prime ways to keep the area light. Go for light and breezy curtains. Too many artificial lights can warm up the area. Hence it is advisable to keep them as minimum as possible. Make sure you have at least one window in your living room. Without windows, it can be claustrophobic.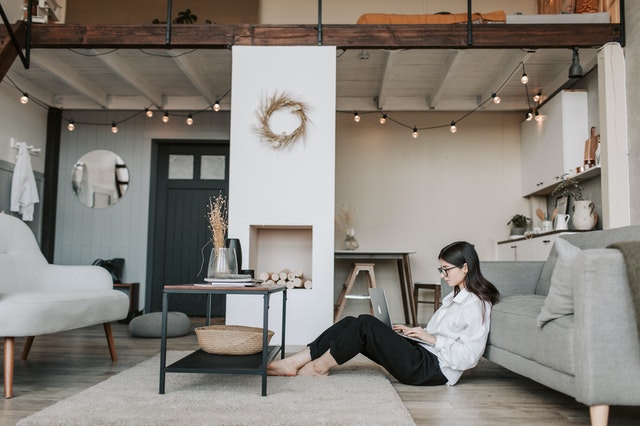 Avoid filling every corner of your room. Too much busy looking areas make the living room heavy. For this reason, try to keep fewer things. Avoid complicated and busy patterns on the wall. A simple and clean design is the key to get a light and airy living room.
We hope that we have been successful in providing you with apt ideas for furnishing your living room. And that this blog has been helpful to you. Try to design your living room with these modern ideas. Feel free to drop in your views on these ideas in the comment section. We love to hear your views, as they encourage us to write more of such informative blogs.
Shop among the best Interior Design and Home Furnishing products here. Follow Us on Instagram, Pinterest for more ideas.