Don't be scared if you have abruptly gone for a daring color like pink. And on that note, if you are stuck with what really are the colors that go with pink? then we are here to provide you with the perfect combinations. These combinations will not only vanish all your fears but will also make you thankful for going with pink. If the internet was to be believed pink is a shade that accommodates any hue. Certainly, depending upon your interior designing and decoration. However, the world has combinations that are perfect for pink. Whether you have a contemporary, modern, or traditional space or if you simply wish to create an accent wall. The combinations below will take care of your needs for sure.
1. Pink And Green
Just like black and white are complementary to each other, green and pink are complementary colors as well. If you check out the color wheel you will see the complete opposite to pink is green. When you try to look at them side by side, you will see how well they complement each other. Also if you check out destination wedding images you will see how well the decorators combine pink with green. How about making your home a hub for weddings? just kidding. However, you certainly can go really safe with this combination. The combination is indeed incorporated under the guidance of experts. If not with two-toned walls you can also bring this complimentary shade into your home through your furnishing items. You can also bring greenery with the help of natural plants. Undoubtedly, the most sophisticated choice.
2. Pink And Grey | Colors That Go With Pink
We can never get enough of grey! you say a color and you can rightly combine it with grey. No wonder grey makes it to the charts every year. Grey is certainly here to stay for the upcoming decade. Pink and grey make an absolutely stunning combination. You won't be able to take your eyes off. Pink brings softness to the table while grey brings coolness and darkness. They will perfectly strike a balance that will create a spectacular ambiance. If your space has a heavy industrial look then pink and grey will definitely bring calmness to it. You will be amazed to see how your furnishing items reflect against the concrete wall. You can create a perfect look by bringing the furnishing items in the shade of pink and grey. However, make sure you keep it contrasting.
3. Pink And Yellow
Undoubtedly, the most sensible color combination. Haven't we all at some point worn clothes with a combination of yellow and pink? Then why not with our homes? you can definitely combine pink with yellow. This combination is a very bright combo that is sure to shine. It is that one bold and fierce combination that will speak for your personality. You can easily create an accent wall with any of the colors, be it pink or yellow. With this combination, you can rightly create an electric-style space. For further guidance on interior styles, read 10 Types Of Interior Design Styles For Your Dream Home
If you wish to make your spaces cheerful and fun with muted and warmer shades, then there is no better combination than yellow and pink. You can also add statement-making yellow sofas or chairs. They will definitely add a touch of modernity and royalty.
4. Pink And Black | Colors That Go With Pink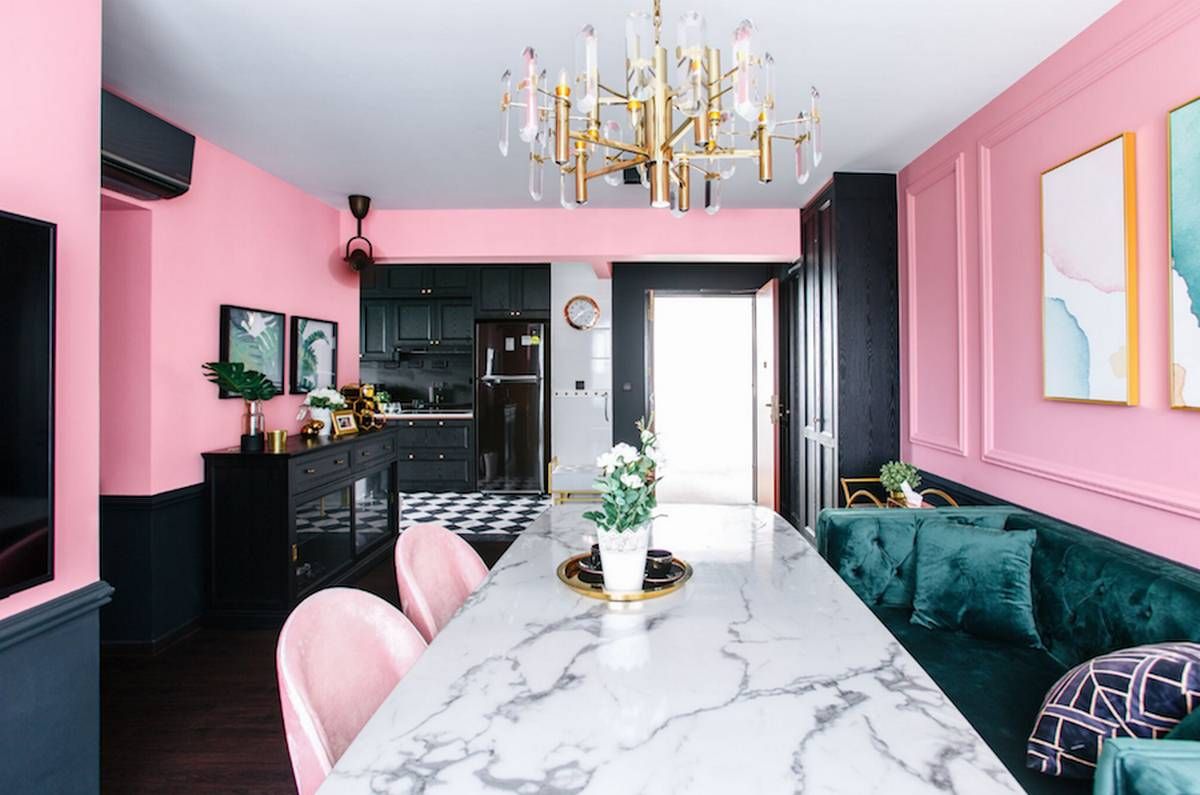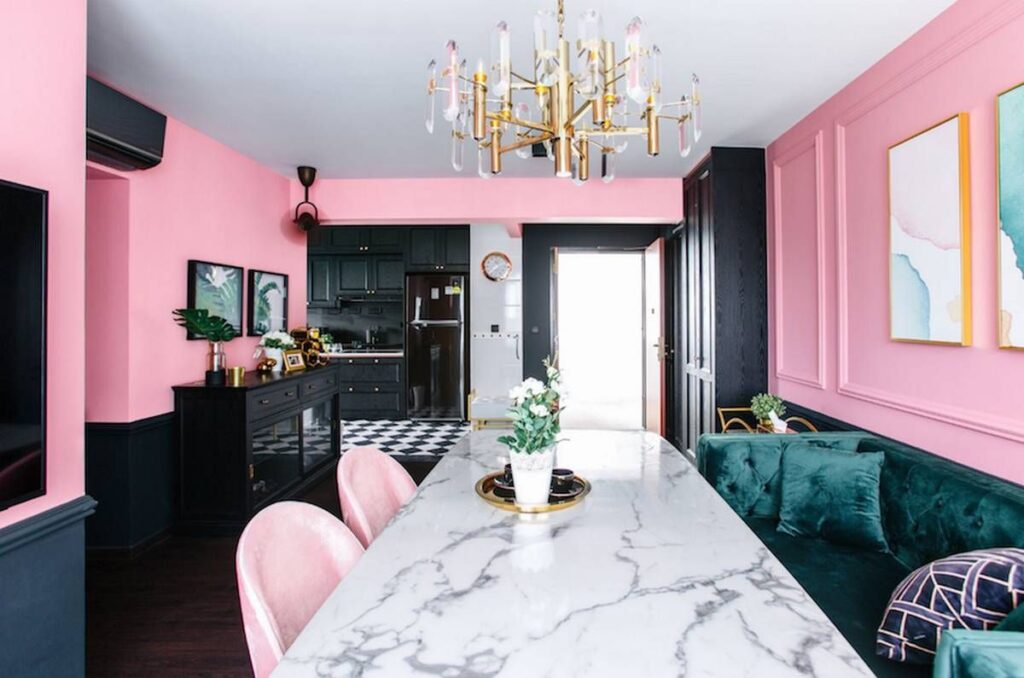 That instant combination that will click to your eyes. You will definitely love this pair. If you are someone who does not prefer the softness pink brings then you must try this combination. The final look created with black eliminates the softness pink has. This will bring depth and sophistication. This combination is a perfect combo that will perfectly balance the two opposite shades. If you want to keep black as the main color then pink will help you in reducing the darkness and adds softness. Another great option you can go with is adding black furniture with pink-toned walls.
5. Pink and Gold
The most pretty and elegant color combination that you can go with. You can easily bring shades of gold through your furniture and curtains. You can also bring in gold cushions, pillows, and throws. Other than furniture and other accessories you can also add gold chandeliers or paint the edges of your ceilings with gold. The look created out of these combinations will not fail your expectation. In case you have a modern or mid-century home this is a perfect pair. This combination is highly inspired by the mid-century era one can easily create a vintage look.
6. Pink and Blue | Colors That Go With Pink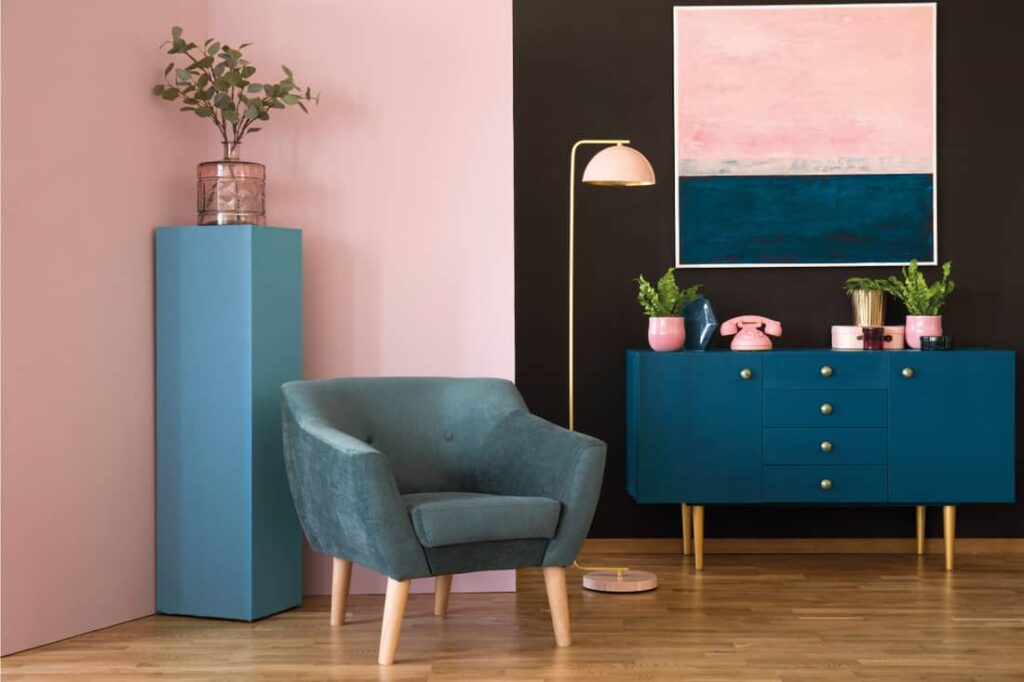 Complementary to each other both the shades go really well with each other when combined. If you notice then blue is often restricted to boys and girls with pink. So, it's a must-try combo. It will be great fun to create and experiment with these colors. If you are planning to design your children's room then no other combo can match the satisfaction of your kids. So, putting them together will bring harmony and calmness. The best part about this combination is that it has a broad spectrum for playing with other shades. You can easily bring in more shades and experiment. You can also bring blue furniture that will complement the pink walls.
7. Pink and Dark Brown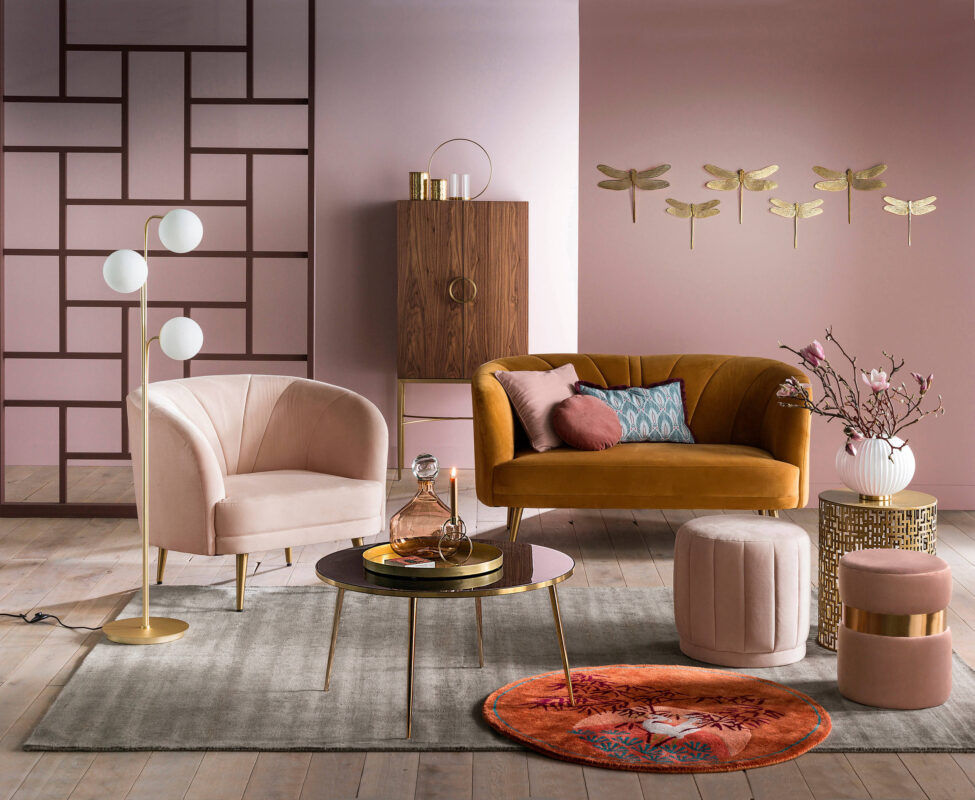 If you are aware of the trending colors you will know how earthy and natural tones are in trend. So bringing brown with pink is a safe option. Other than the trend factor it brings great decorative features to your home. This combination will definitely allow you to try a great range of colors with your furnishing accessories. The combination is sure to bring the right cozy and homely feeling. Undoubtedly the most preferred color combo for rustic homes. Though it gives a feminine vibe it has a bold and strong look. This won't go too loud nor too soft on your overall interiors.
8. Pink And Orange | Colors That Go With Pink
Orange and pink? Yes! This combination is analogic. Orange-red comes to the left or right of pink on the color wheel hence this combination is formed. They too bring the earthy and natural vibe to the room. The warm shade of orange brings warmth and coziness into your room. This color combination is perfect for your bedroom as it creates a comforting vibe. You can also bring in warmer shades of pillows and bedsheets. With orange, you can easily create an accent wall. However, it is important to understand that you don't choose to bring a hue of orange. Go for a warmer shade.
9. Pink and Red
Red and pink is an analogic combination. The coolest pair that you can create with pink is with red. It will reflect luxury and class that is matchless. You will be amazed to see the instant transformation this combination will bring to your interiors. With red go for a darker red, as a darker shade will leave a mark. You can make your wardrobes and furniture royal red and paint the walls with earthy pink. Don't forget to bring some natural greenery into your space. It will further enhance the tones. Red will help you in creating a stunning backdrop for metal wall decors. Metal decors will easily blend with red backdrops.
10. Pink and White | Colors That Go With Pink
Indeed the most obvious combination that you can create with pink. The combination is sure to create a subtle and simple ambiance. You can easily go with this combination in your living room and create a fresh and crisp feeling. The best part about this combination is that it is the safest combination you can go with. You can go with this combination with your own instinct without taking any guidance from experts. White is a shade that can be easily combined with any shade bringing versatility to your room. With pink, you must go for bright and pure white. You may also bring white furniture or pink furniture to create a thematic look. You can also create an accent wall with white. Fill the walls with frames or paintings, as white gives a perfect backdrop for such decorating.
NOTE THAT: THE ABOVE GIVEN LIST IS NOT BASED ON ANY PARTICULAR PREFERENCE, YOU MAY CHOOSE AS PER YOUR LIKES AND DISLIKES.
For a properly furnished home that looks rich and sophisticated only proper painting with the right combinations will not be enough. Decorate your home with the right decor items that will enhance your efforts in painting.
Hope the blog has been informative enough for you to guide you in planning the right combination of colors with pink. Feel free to drop in your suggestion in the comment section below.
Shop among the best Interior Design and Home Furnishing products here. Follow Us on Instagram, Pinterest for more ideas.