In this blog, we are going to look at 12 ways to make your home look expensive, no matter what your design and style are. The great thing about today's tips is that they are kind of universal so no matter what your design style. They are going to increase the overall quality and feel of your home. But first, you have to figure out what expensive things look like, all you need to do is look for high-end furniture retailers, which you like. It may be restoration hardware or like some brand you really love.
Try to visit their showrooms, check out their social media and look at their websites and figure out how they style things, and even look at their catalogs. You gonna get a lot of inspiration from those spaces. Another great source of great inspiration is luxury hotels. So, let's discuss these tips one by one.
1. Use a Neutral Base
A lot of luxury and high-end spaces will use neutral furniture as their base pieces and then they will incorporate patterns, color, and texture via the accessories so that's something you can definitely do too. It will also potentially save your money in the long run because if you buy trendy furniture that you love now, you might not love that two years down the road. When you decide to go with a completely different color scheme. So, definitely, neutral base pieces are a must.
2. On point Window Treatment
Perfecting your window treatments is a very important part of having a high-end luxurious feeling space. If you have curtains definitely go full length with them, no short curtains. Make sure you hand the rod high. If you can't go along with your curtains, don't go short opt for a beautiful woven blind instead. Also if you have got flimsy metal blinds with kinks and bends in them definitely look into replacing those.
3. Molding | Make your Home look Expensive
There is absolutely no denying that adding moldings and trim to your space is instantly gonna make it feel more custom and luxurious. One thing that people forget to mention is that you got to look at what kind of trim and molding you're putting up. If you have very traditional or older homes you don't want to be putting in modern molding and the opposite is true as well. Molding is a personal choice like everything in interior design is always a matter of personal preference. But there are definitely some guidelines as to what you should and shouldn't do and in moldings, you got to make sure you are matching styles correctly.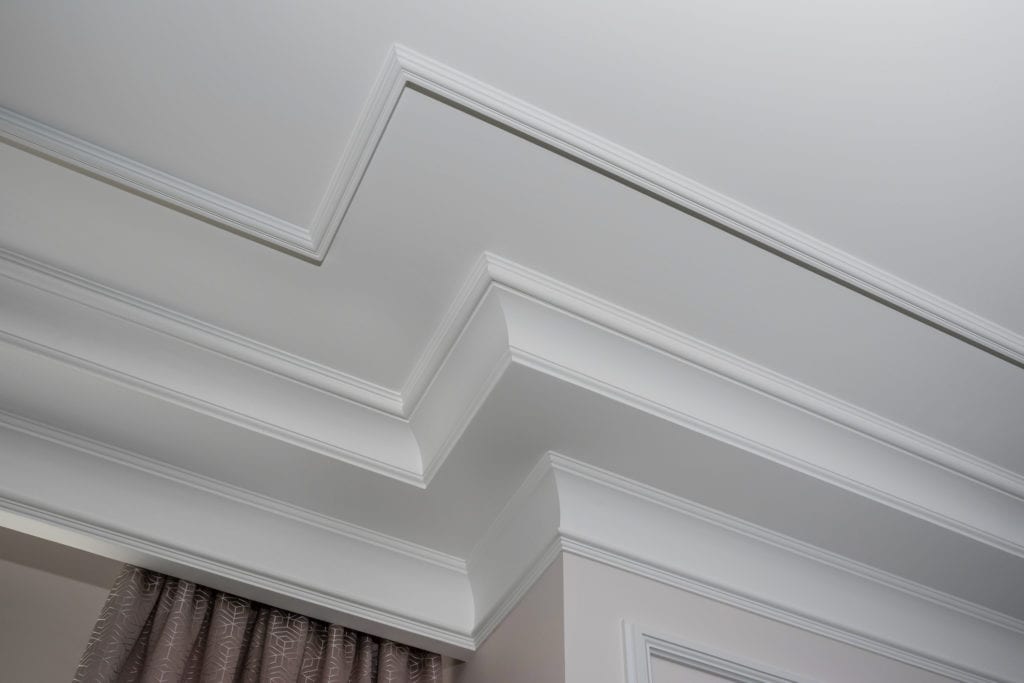 4. Wall Treatment
Similar to adding molding, adding wall treatment can definitely be a way to make your space feel more expensive and luxurious. So, not only with wallpaper, surely wallpaper can be a way to make space feel more expensive but also with things like shiplap, wood slat walls or beadboard.
5. Large Mirror
Using mirrors is a fantastic way to increase the illusion of space in your home and increase also the brightness and the light in your home. Maybe you are intimidated by hanging artwork or picking artwork, you can use a mirror instead. Ideally, you would be hanging your mirror across from a window or near to the window so that it's reflecting and bouncing back as much light as possible back into your space.
6. Large Scale Art | Make your Home look Expensive
Large art pieces command attention. They become a focal point and they look more like what would be hanging in an actual gallery. If your home has a gallery vibe, it automatically makes it look and feel more expensive. So, for luxury always opt for big art pieces rather than small ones. Even if you are hanging a gallery wall so a grouping of photos you want to go big and not small.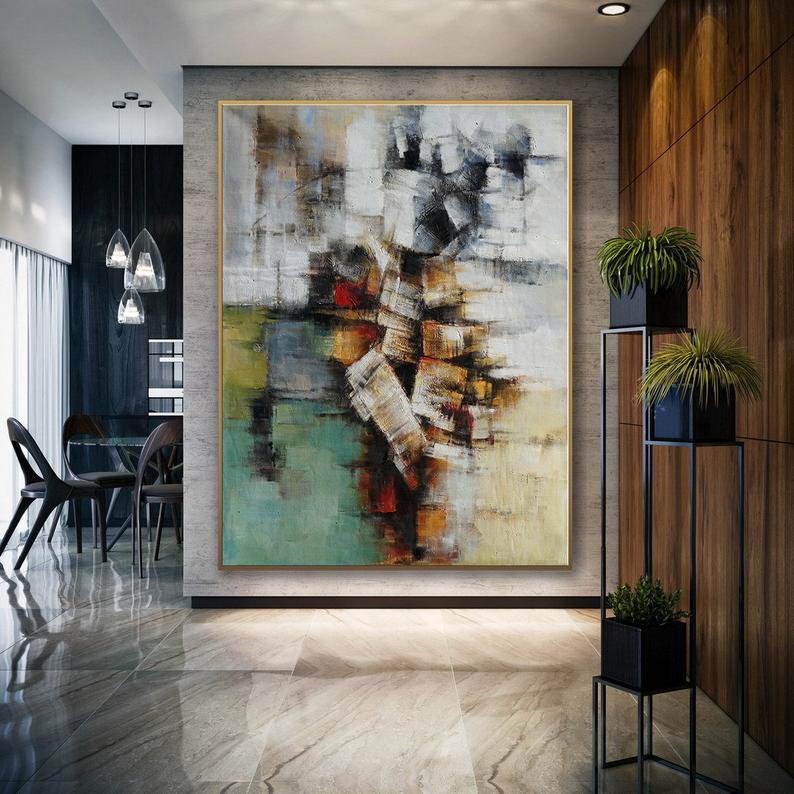 7. Vintage Rugs
The addition of a vintage rug will upgrade your space wherever you put it. Vintage rugs will elevate your space in a way that not of other items can. So, if you can find a vintage rug that you love. They gonna worth every penny spent. If you can't find a vintage rug that you like you can also use a vintage-style rug as well. Just like with artwork and mirrors, as mentioned before scale is important. Rugs generally you want to go bigger, don't go for small. Make sure you are getting the size of your rug right. If you get the size of the rug wrong, it's really going to throw off the look and feel of a room. So, you just better off not using one, if the size is going to be off.
8. Update Hardware and Fixtures
The rooms that will probably benefit the most from this update would be the kitchen and bathrooms because swapping out your cabinet handles and pulls and your faucets and things like that. It's gonna make a really big difference. Upgrading your hardware in your home can also mean swapping out things like doorknobs, light switch plates, plug covers, cabinet poles, curtain rods, and furniture knobs.
9. Plants & Greenery | Make your Home look Expensive
Plants are on every list no matter what kind of home decor thing you are looking at. We are going to discuss them because it's true that adding greenery and plants can definitely make your space feel little bit more luxurious. But you have to make sure again that you are getting the scale right. If the plant and the pot are not scaled proportionally it's not going to have the effect that you want in your room. You can also look at buying bouquets of flowers instead. The thing about bouquets is that you don't want them to be huge focal point in your room. You want them to look like recede into the background. A great way to do this is to buy a bouquet and spit it into several smaller bouquets and place them around your home and this will make it feel a lot more natural.
10. Keep Things Clean
In order to have a high end luxury feeling space, you have to keep things clean. It's just like there is no point in spending lakhs of rupees on expensive furniture and home renovations, if your house is dirty. We all had the experience of walking a hotel room that we have paid money for and then we find a hair in the bathroom or some dust, we get annoyed. So, if we get annoyed in a hotel room then why would it be any difference in your home just because it's your own hair it doesn't mean that it's any more pleasant to look at. You can find ways to make cleaning more easier on yourself if you spit them out with your family members. You can invest in few electronics to make your life easier like vacuum cleaner, carpet cleaner. Those things really help to kind of stay on the top of things.
11. Maintain
It's also really important to actually maintain what you have. Generally anything that's well maintained will automatically feel more premium. Which is why new stuff always feels nice. It's also why you feel better about yourself when you go into your hair done. It's the same thing with your home, it needs care and when it gets it, it makes everyone feel better. So, you want to make sure that you are keeping your rugs and your carpet clean. If you can replace cracked tiles, clean your grout, patch holes in the walls, repaint if necessary and maintain what you have. The great thing is that once you start catching up on these tasks and they start to get done. You are gonna benefit from living in home that looks more fresh and put together and consequently feels more expensive.
12. Lighting | Make your Home look Expensive
If there is one thing that you must look at and take care of is when you are trying to make your space look more high-end and expensive, it's your lighting situation. So, the goal with lighting in your home is to create focal points, a pool of light, and areas of interest. Here are some of the tips to consider when you are assembling your lighting adding an oversized pendant is pretty much always a good idea. Especially over a kitchen island, a dining area in a hallway, or in the bedroom. Bedside table sconces hung on the wall always look chic. Use warm lighting and light bulbs and dimmers whenever possible. Also if you use smart lights, it is recommended to use motion sensors, they are really awesome. Another tip when lighting luxury spaces is to layer your lighting. So, there is not just one overhead light there is usually a mix of different types of lighting. So, recessed pendant lighting, hidden strip lights, ambient lights, down lighting, uplighting, and many more. Definitely look at mixing different types of lighting in your room.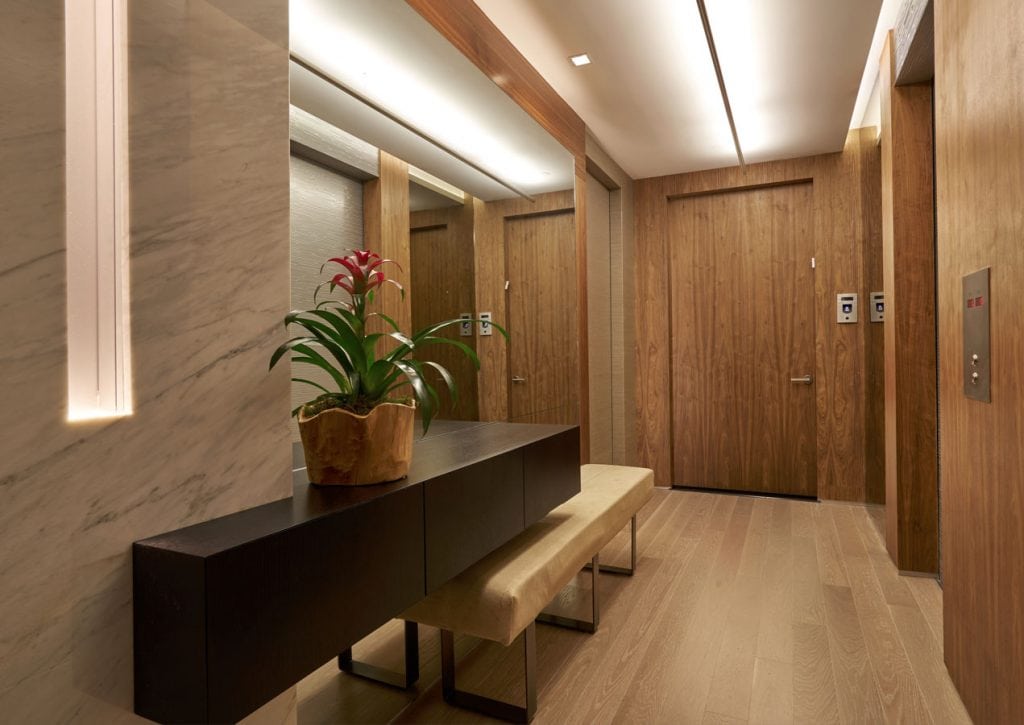 We hope that you find some of these tips useful and help you in framing your dream home more luxurious feel. Share your thoughts in the comments section. Your feedback inspires us to write such blogs for our lovely audience.
Shop among the best Interior Design and Home Furnishing products here. Follow Us on Instagram, Pinterest for more ideas.