Decorating your mandir is indeed the best part of any festival. Everyone loves to be creative and innovative when it comes to any sort of decoration. But how to decorate your puja mandir room at home is a very common question. We have segregated content that will help you to keep your mandir decorative 24/7. From everyday decoration to special day ones. We have all the basics and significant ideas to help you decorate it.
Nothing can be more satisfying and pleasing to the soul than decorating your mandir at home. However, we all would love to have a mandir that is appealing and beautiful all the time. Therefore, we have curated the best of tips that would help you keep your mandir extraordinary from the beginning. Make your sacred space a heavenly space. I bet your mandir will become your favourite space in your home.
Choose Theme for your Mandir Room
Selecting an appropriate theme for your puja mandir room will enhance a cohesive look & feel. You can opt for traditional, contemporary or a fusion of different design elements. While choosing your puja room theme consider your personal preference and what best suits your overall interior style.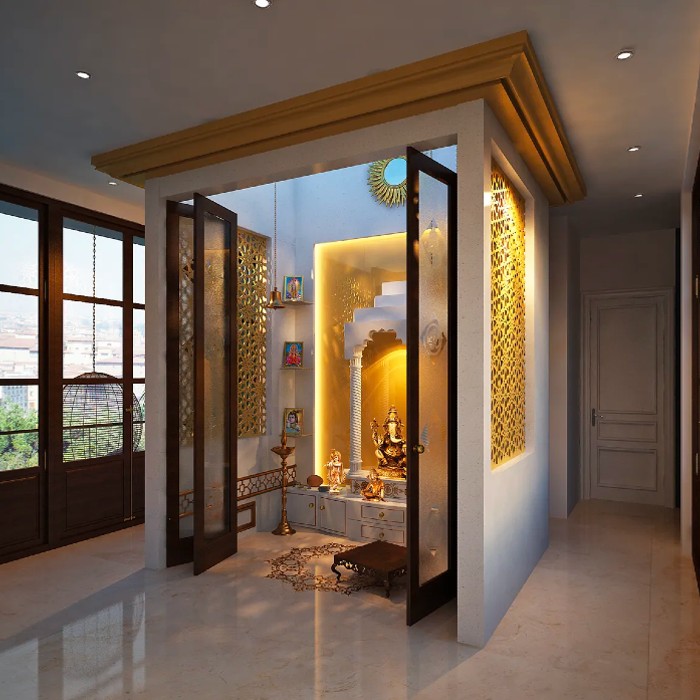 On one side traditional theme focuses on classical Indian aesthetics, while includes carvings, detailing and rich colours. While on other side contemporary theme offers a modern approach. It focuses more on simple texture and simplicity. If you want to opt for best of both world, you can go with fusion theme. It allows you to blend contemporary elements with a traditional touch. You can combine traditional elements like arches or domes with modern elements like glass.
Choose your Wall Colours Smartly
There is nothing new about everyone designing a separate space for the puja and mandir. But the very important thing that needs consideration is the wall colour of that sacred space. Selecting an appropriate colour is the first step towards a perfect decoration. Since it's a small space light shades of color should be given preferences. Bring vibes of Vastu with colour shades of yellow, orange, golden, and the most serene colour that is white. These are some of the colours that will enhance the positivity of your space.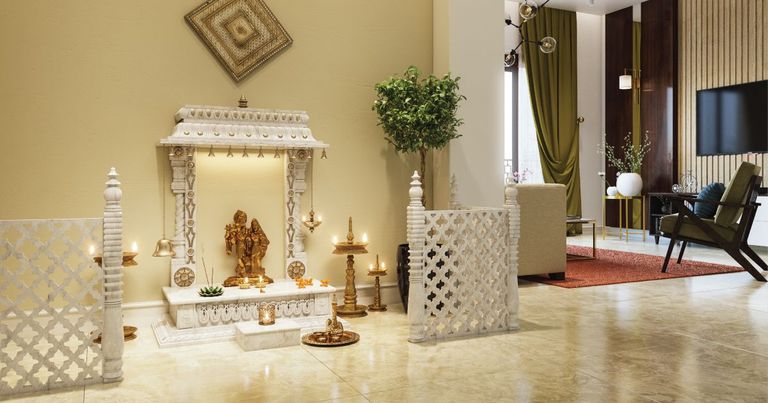 Colors will work only if you have assigned a perfect place. Read your home properly and then decide your space. You can go with the very usual concept of placing a mandir in the living room. Demarcate a rectangular box-like space into the selected wall of your choice. You can design any other shape you like. May be square or long panels. Place a platform and a wooden bench under the structure. And you have a mini puja mandir at home. This is the perfect go-to structure for a small space. However, this is a design that goes well with any space.
You can also make a puja mandir into a wardrobe-like structure with open-close doors. Keeping a mandir behind the doors is really divine. Though you can add curtains too. Any way you choose, make sure it is complementing and blending with the overall interior of your house. Once you have decided on the space and design then is the right time for the Vastu colors.
Appropriate lightning | How to Decorate Puja Mandir Room at Home
The third key role in keeping your puja rooms decorative every time you enter is nothing but light. Blessing your puja room with lights that will enhance the colour of the wall will be the best choice to go with. When decorating the first thing that strikes our mind is candles and Diya anything that brings light. Hence, good lighting is very important.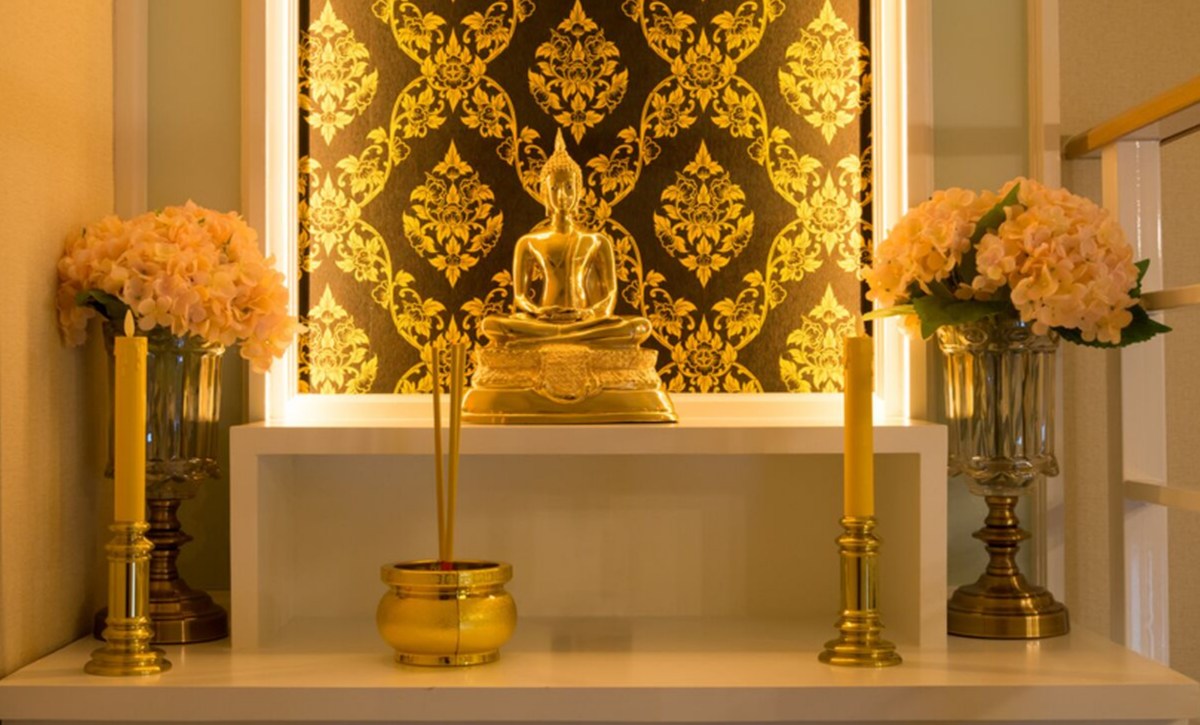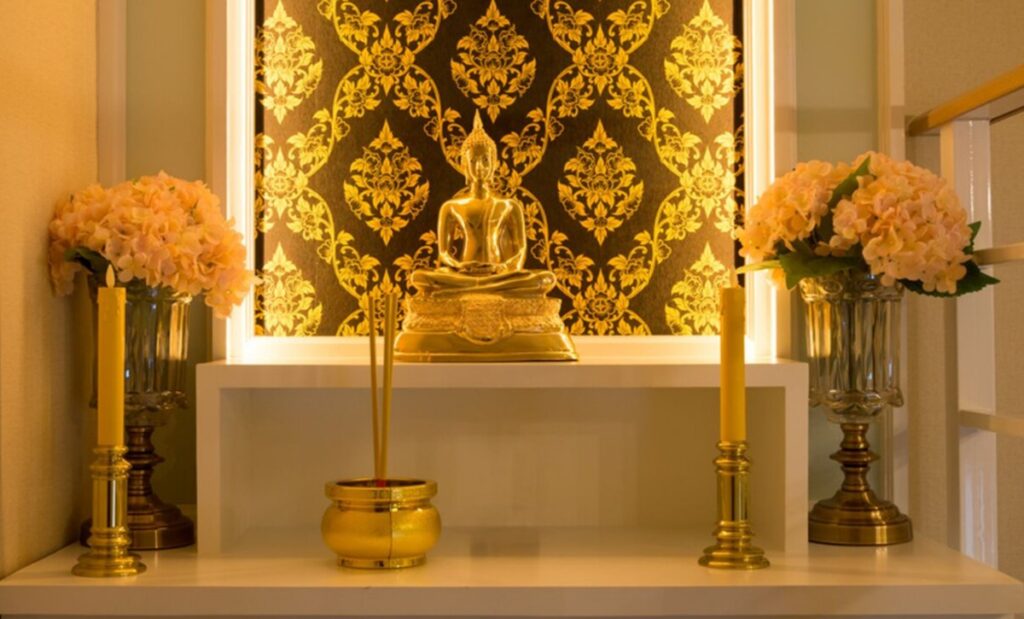 You can add fairy lights behind the divinity or cover the doors or curtains with beads. Or the easiest way is to place an idol that has a pre-lightening feature attached. Check out yourfurnisher.com for such spiritual-inspired decor items for puja room. Adding an idol that has focused light is best in any sphere. They are great at photography too.
You can go for a clever option by adding the pooja lights in the ceiling itself. If you have a small space this is the best you can do. You can even fix mood-changing lights into your box-like structures. Candles and diyas can never go out of fashion. Hence they are always in the picture. These natural sources of light add a top-notch appealing look. However, you can go for electric candles and diyas. They too are great. Did we talk about natural lightening? Well yes if you have space where you have natural light entering. Make sure that space is kept for the puja room. You certainly will have a 24/7 decorative space.
Focus on the Floor
Caught in making rangolis? No, don't. Go for a smarter option focus on your floors. You save so much time and to your please, your puja mandir will always be decorative. Go for contrasted floor in mandirs. They bring attention and are appealing. White Marbles are the first preference for mandir floors. They serve great if you are planning to keep your mandir in the living room.
Beige and Brown are a perfect combo for flooring considering the softness of the area. These help you demarcate the area for puja in the most creative way. You can permanently paint the floor with decorative designs of Rangoli. Or you can also go modern and innovative by having a raised floor for the puja mandir. They are great in defining your sacred space. You get a lot of areas for being decorative. Though, for doing this you need a big space.
Ceramic tiles are another significant option. You can also go for cemented tiles they give you a traditional look. Wooden floors are in trend, they give both a traditional and modern look.
Creative Backdrop | How to Decorate Puja Mandir Room at Home
Whether you have a small space or a big space, having a creative and beautiful backdrop is always a good option. With backdrops, you can assign a theme to your mandir. Backdrops catch instant attention. They help you have a luxurious mandir. With proper lighting in the backdrop, you can have the most illuminating puja room.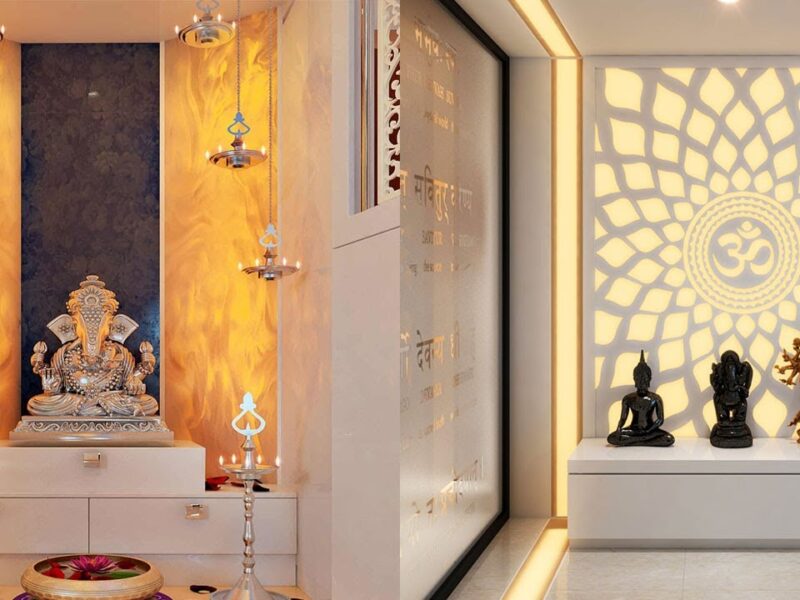 Using backdrops gives you an instant effect of demarcation. You can make a backdrop of your own with the help of flowers. Or you can have an artificial painted backdrop too. Though they are cheap they don't fail to help you have a beautiful look. You can also make backdrops using colored clothes and then add beads or artificial flowers.
In case you wish to constantly update your backdrops you can opt for wallpapers. They are cheap and easily removable. You can also go for the plain white backdrop and then enlighten it with statement lights. Or decorate as you like it may be with fresh flowers or paintings. Always remember to give a lightening effect on your backdrop. Without which they seem incomplete.
Furnishing and Accessories
Furnishing and accessories are completely up to you. How you like it and how you want it to look. However, furnishing and using beautiful accessories can be really fun. When you talk about accessories the best of accessories is going with natural items. Using flowers and petals is the traditional way and is still in trend. You can also add frames of "OM" and aesthetic-looking pictures. Traditional handmade diyas are a great way to stick to natural decoration.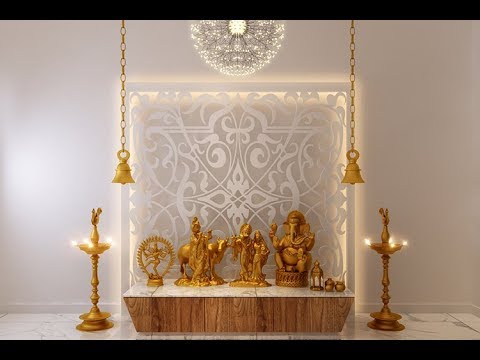 You can also seek colorful rugs and cushions. They create a very classy tone. Try to match your rug and cushion. In case you have chosen curtains over doors. Make sure all these fabricated items complement each other.
Hand-crafted puja items are in trend and enhance the ambiance of your puja room. The regular Chowki, Aarti lamp, Dhuni, and bell can be brought in brass material. And you will be amazed to see how antique and traditional it will make your mandir. Hanging diya's is another cool accessory to have in your puja room.
Remember, the main goal is to create a pleasing environment that will help you enhance your spiritual experience. Balancing sacredness of the puja mandir room with your interior style, will help you create an environment that is both aesthetically pleasing and conductive to prayer.
Hope you find this blog informative and will help you and your loved ones in answering the question, how to decorate puja mandir room at home. There may be other techniques as well but we have tried to narrow it down that we think will make a better impact. Feel free to share your thoughts with us in the comment section.
Shop among the best Interior Design and Home Furnishing products here. Follow Us on Instagram, Pinterest for more ideas.