Don't have a budget for natural flowers? Don't worry we have come to your rescue. Adding a touch of nature and elegance to you home doesn't require fresh flowers only. Artificial flowers can be an great alternative, offering long lasting blooms that with no maintenance. A few right tips and ideas will certainly help you add life to the artificial ones. When the arrangement is done right these artificial flower decoration ideas will last for a longer time than you can think.
Artificial flowers are very versatile and can be reused and replaced at your convenience. Not only decorating with these artificial flowers can help you in festivals but also will help you in enhancing your overall interiors. Anyone and everyone can decorate their home using artificial flowers. However, having the right tips and ideas that will help you in creating a piece that stands out is quite important. Here, goes our top 7 easy ideas that will help you have the best decoration using artificial flowers. Let's dive right in and figure out how you can bring the beauty of artificial flowers into your home.
1. Decorate Your Staircases | Artificial Flower Decoration Ideas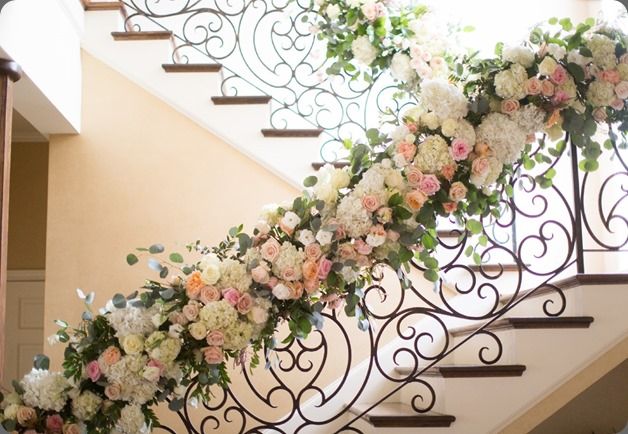 Staircases often work as a focal point in our homes, going with the idea of decorating the staircase and ladders using artificial climbers is indeed the best way. Artificial flowers provide an elegant and low maintenance option. It instantly transforms the overall look of the entire space. Making it the centerpiece of attention. Hence it is important to give attention to the small details of the staircase. Make sure you twine the flowers as per the shape of the ladder. You can also go round about the hand-holders of the staircase. Though it's a traditional way it still makes its place in modern decoration ideas. Since we are talking about ladders you can also hang mini decorative ladders against your walls. Decorate it using these flowers and you will be amazed to see how beautiful it can look. This too will become a focal point of your home. These ideas of twining the flowers work perfectly well in balconies and windows.
2. Prefer Succulent Flowers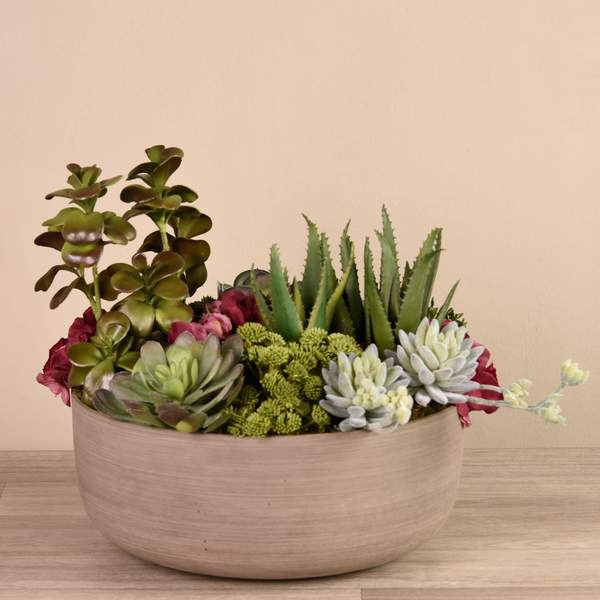 Yes, it is always better to go for succulent flowers. The prime reason behind this is their appearance or look like natural flower features. They can successfully make anyone believe that it's real in its first appearance. Don't we all secretly wish to deceive the guests into believing that it's real? They will always look fresh when kept clean. The best part is their sturdy appearance as they are made of plastic. The good quality flowers have a shine in them that will be worth looking at. You can keep them wherever you like, maybe on the tea table, side table, near your television table or if you have wooden shelves at home you can fill those shelves with these types of flower plants. It will look really beautiful and provide you a complete look. You can easily remove them and clean the shelves whenever you want.
3. Choose Impacting Vases | Artificial Flower Decoration Ideas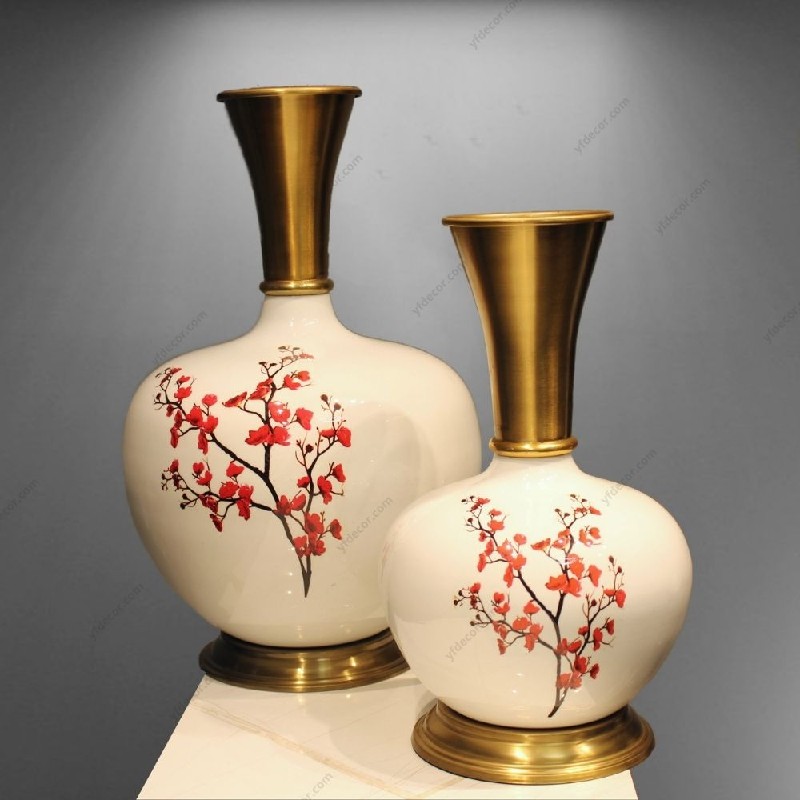 When picking artificial flowers it is really important to choose impactful vases. When right artificial flowers combined with great vases leave a better and improved impact on the viewers. People will hardly care whether the flowers are real or fake. Since the flowers are artificial they will hardly have any side effects. You can arrange them in whatever vase you like. Vases you select will enhance the beauty of your overall home environment. Having to choose only a decorative piece is not that of a big deal. You can easily go by your instinct and choose what pleases your eyes and what can complement your home. By paying attention to the design and shade of the vase, you can create attractive displays that become focal point in you home. Whether you choose Vintage inspired or minimalist modern, these will enhance the over all beauty of your interior and transform it to greater heights.
We have an exclusive range of Metal Vases, offering you a pretty good options to choose from. The best part is that they are made out of Metal, so you will not face any breakage issue.
4. Fake It Like Its Real!
You can undoubtedly create looks that can deceive anyone. Bring in some amount of sand, soil, and some tiny untidy stones. Get yourself some rough jars, bottles, or plant pots. Fill it with sand, soil, and stone, and then plant those artificial flowers. For doing this, you must buy flowers that have a more natural look. You can easily keep them wherever you like on your tables or shelves. Maybe in the kitchen outside your windows, or in the balcony, bedroom, and living room. This will easily find a space in your home. As it is not that fancy rather it is more of a practical look. You can also keep it among your real flowers and plants. And you will be shocked to see how you too can fall into the trap of believing that it is real.
5. Create An Entrance Decor | Artificial Flower Decoration Ideas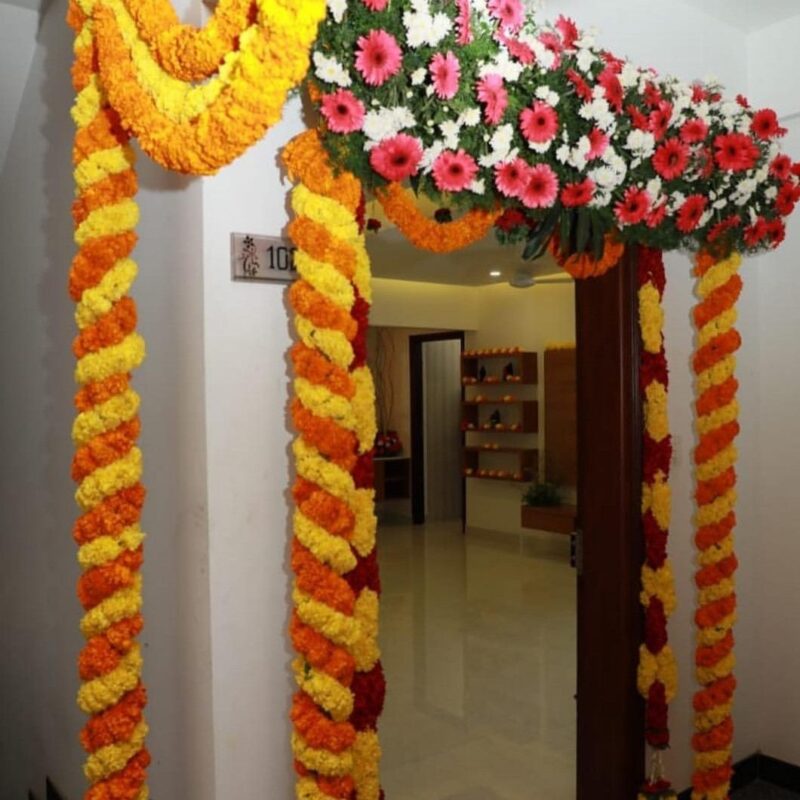 No better place to create a focal point than the entrance. To have a look that impresses everyone on the first go you must decorate your entrance with artificial flowers. Anyone visiting your home will instantly get an idea of your creativity. It is also the best way to save money when you wish to have real flowers at home. So then you can focus the entrance with artificial flowers and decorate the inner home with natural flowers. You can create a very luxurious look by decking up the entire entrance with flowers or go really simple and create drapes using the flowers. You can also simply make the flowers drop down the door and you will have a decorative entrance. One may also stick a pretty backdrop on the door with these flowers and have a stunning design on the entrance.
6. Decorating The Ceiling
Now you will say ceiling? yes, ceiling. Have you ever noticed how a wedding place is made decorative? In most popular cases they make the artificial garlands drop from the ceiling. The look then created is magnanimous and noteworthy. Why not copy that style and create our own mini ceiling decor. We can bring in chandeliers made of artificial flowers and add an LED effect to them. You can also drop the garlands from the edges of the ceilings in a line vise manner. Make sure you go as per the design of your ceiling. Trust me you will be amazed to see how impactful and tremendous it can look. Every person visiting your home will definitely compliment you for this piece of art.
7. Give Focus To The Windowsill | Artificial Flower Decoration Ideas
A very traditional and classic way to display your artificial flowers is by placing them on the windowsill. It can very naturally become the focal point of your room. As already suggested above to pick impacting vases and pots here comes the practical exposure of buying good-looking containers. You hardly will have to do anything to put extra effort. All you have to do is bring those vases and fill them with your favorite flowers and put them to display. It will work like magic. However, one important thing that you should keep in mind is whether or not your flowers are complimenting your overall interiors. It should have some right combinations with the colors of your walls. Then only it will come out in its best form.
Tips You Should Keep In Mind:
Always buy local flowers that are the look like of real flowers.
Buy flowers that are in washable material.
Try to maintain the cleanliess of the flowers, as when the dust accumulates it can make the flowers look dull.
Always keep rotating the pots and also make sure to change their space. As it will help you get a refreshed look.
Choose flowers that have a more realistic color.
Always invest in good quality material, for it helps in giving you a shiny look.
You can always pair the artificial flowers with real flowers.
We hope that you must have found the inspiration and idea for decorating your home with artificial flowers. For a properly furnished home that looks rich and sophisticated decorate your home with the right decor items that will enhance your efforts in decoration.
Hope the blog has been informative enough for you to guide you in planning the right idea for decoration. Feel free to drop in your suggestion in the comment section below.
Shop among the best Interior Design and Home Furnishing products here. Follow Us on Instagram, Pinterest for more ideas.